Skeptic Summary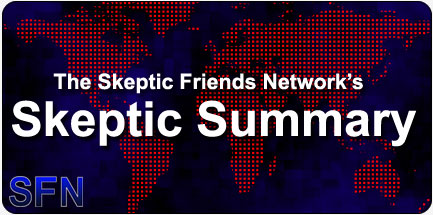 Skeptic Summary #122
By The Staff
Posted on: 12/17/2006

Send Kil, convert or debug, legal literacy, O'Reilly's kneejerking, Carl Sagan and more!



Week ending December 16, 2006 (Vol 3, #49)


Welcome to the Skeptic Summary, a quick week-in-review guide to the Skeptic Friends Network and the rest of the skeptical world.

Special Announcement:
The SFN would like to send Kil back to the Amaz!ing Meeting next January, and you can help!
Forum Highlights:
'Convert or die' game divides Christians - It's not only the message; the game really sucks.

The courts are sorely lacking in science literacy - But, in all honesty, aren't we all?

Editor's Choice: O'Reilly and Dawkins, claiming child abuse? - Three stupidities in one!
Kil's Evil Pick:
The Carl Sagan Portal
Chat Highlights:
Sunday: Movies, old and very old; the STS-116 space mission; the body and prosthetics; relationships; artistic streak and music.

Wednesday: Reminiscing of school years and grad school started up chat. Then, Dr. Mabuse explains how his salary is calculated. Apparently you need a four year degree just to figure it out. Then, onto Christmas as Dave W.'s Lego adventure continues. This time it's Star Wars. Ricky shares another link that makes fun of Macs. Atomic mentions an idea for chess set and everything goes out of control as everyone comes up with their own. Some examples are, "Sunnis vs Shhites," "Catholic vs Science," "Corporeal vs Non Corporeal," "UFOs vs Southern Farmers," "Nerds Who Like Picard vs Nerds Who Like Kirk" and "Zen vs." There were many more, but far to numerous to mention here. The rest of chat was a brainstorming session on how to build a CPU or ALU out of Legos, followed by Dave W. and Ricky playing around with a debugging program.

Come chat with us.
New Members This Week:
1destiny
annie - spannie
Mojo
Astrohawk
Norm Nason
Denwash
bljarvi
rose2008

(Not a member? Become one today!)
---
Elsewhere in the World:
Bad Science

Blasphemy Challenge

CSICOP becomes CSI after thirty years

Skepticality #042 — The Mythbusters (Adam, Jamie and Kari) from TAM 4

What's New by Bob Park

Got some skeptic news items? Send them to us, and we'll think about adding them.
Book of the Week:
Outgrowing the Bible: the Journey from Fundamentalism to Freethinking, by Russell Scott Brinegar.


---
This Week's Most-Viewed Pages:
Forum Topics:

Articles:

There were 4,538 daily visitors this week.
---
More issues of the Skeptic Summary can be found in our archive.

The Skeptic Summary is produced by the staff of the Skeptic Friends Network, copyright 2006, all rights reserved.
---
Read or Add Comments about the Skeptic Summary
Back to Skeptic Summary