Skeptic Summary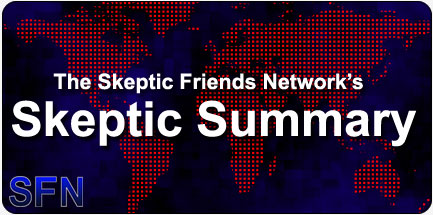 Skeptic Summary #198
By The Staff
Posted on: 7/27/2008

Catholics of course, re-Steined, a Savage attack, oh really?, punishment, energy healing and more!



Week ending July 26, 2008 (Vol 5, #26)


Welcome to the Skeptic Summary, a quick week-in-review guide to the Skeptic Friends Network and the rest of the skeptical world.



Forum Highlights:
A Christian (Catholic) sense of proportion… - Because we all know that a God-given morality prevents evil.

Ben Stein, world's biggest douchebag? - I have no idea why the question mark is there.

Disease on the rise or fraud? - Simple idiocy, really.

Editor's Choice: Real or not? - Not.

This Week's Poll:
The wages of sin - Burn the witch!

Kil's Evil Pick:
"Gary Schwartz's Energy Healing Experiments: The Emperor's New Clothes?" In this Skeptical Inquiry article, The SkepDoc, Harriet Hall, takes a look at a new book by Gary Schwartz, and finds much to comment on. Surprised? From the article:

Gary Schwartz believes many things. He believes in psychics, mediums, and life after death, and he believes there is scientific evidence to support these beliefs. Schwartz is now focusing his powers of belief on a new field: energy medicine. In a new book, The Energy Healing Experiments: Science Reveals Our Natural Power to Heal, he explains that we all emit human energy fields, that we can sense each other's fields, and that healers can influence these fields to heal illnesses and injury. He believes these are not just theories but scientifically supported facts.

Dr. Hall tackles these beliefs of Gary Schwartz without even breaking a sweat. Still, it serves as a fine lesson in critical thinking. Plus, it's a really fun read. Enjoy!
SkeptiQuote:

Where any answer is possible, all answers are meaningless.

— Isaac Asimov

Chat Highlights:
Sunday: Our Sunday chat host is on vacation.

Wednesday: The night started off with PZ Myers and the Cracker and bad light bulb jokes. Much of chat focused around the Boy Scouts and religion, including (of course) religion in the Scouts. Oddly enough, most of the major contention over the Scouts was their desire to sell popcorn. During all this, Ricky and GrouchyOldDave realized they had both attended the same Boy Scout camp and went off on their own tangent. The conversation was less structured as time moved on and eventually turned to information theory. This scared everyone off in no time and chat came to an abrupt end.

Come chat with us.

New Members This Week:
bmnb123
johnsmith
Billy Merwin
Thomson

(Not a member? Become one today!)
---

Elsewhere in the World:
A need for self-reflection

Creationist Research: Semi-Technical, Completely Worthless

The Great Desecration

What's New by Bob Park

Got some skeptic news items? Send them to us, and we'll think about adding them.

Book of the Week:
Sway: The Irresistible Pull of Irrational Behavior, by Ori and Rom Brafman.





"Recently we have seen plenty of irrational behavior, whether in politics or the world of finance. What makes people act irrationally? In a timely but thin collection of anecdotes and empirical research, the Brafman brothers — Ari (The Starfish and the Spire), a business expert, and Rom, a psychologist — look at sway, the submerged mental drives that undermine rational action, from the desire to avoid loss to a failure to consider all the evidence or to perceive a person or situation beyond the initial impression and the reluctance to alter a plan that isn't working. To drive home their points, the authors use contemporary examples, such as the pivotal decisions of presidents Lyndon B. Johnson and George W. Bush, coach Steve Spurrier and his Gators football team, and a sudden apparent epidemic of bipolar disorder in children (which may be due more to flawed thinking by doctors making the diagnoses). The stories are revealing, but focused on a few common causes of irrational behavior, the book doesn't delve deeply into the psychological demons that can devastate a person's life and those around him."

— Publishers Weekly
---

This Week's Most-Viewed Pages:
Forum Topics:

Articles:

There were 30,561 daily visitors this week.
---
More issues of the Skeptic Summary can be found in our archive.

The Skeptic Summary is produced by the staff of the Skeptic Friends Network, copyright 2008, all rights reserved.
---
Read or Add Comments about the Skeptic Summary
Back to Skeptic Summary