Skeptic Summary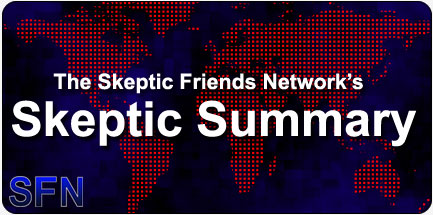 Skeptic Summary #117
By The Staff
Posted on: 11/12/2006

Dennet, politics, synthetic coal, Sagan and more!



Week ending November 11, 2006 (Vol 3, #44)


Welcome to the Skeptic Summary, a quick week-in-review guide to the Skeptic Friends Network and the rest of the skeptical world.

Special Announcement:
The SFN would like to send Kil back to the Amaz!ing Meeting next January, and you can help!
Forum Highlights:
Daniel Dennett's brush with death, blast of prayer - Thank goodness he's still alive.

And there were over 20 new thread in our Politics Folder this week (guess why), and most of them were good for one reason or another, but I'd rather not list them all.

Editor's Choice: Synthetic coal to power the future! - And then some!
Kil's Evil Pick:
Because it's getting close to the 10th anniversary of Carl Sagan's death (December 20th) this may be a good time to remember him and his contributions to science and skepticism.



Interview: a conversation with Ann Druyan




"This week on Skepticality, Dr. Michael Shermer gives us a rare in-depth interview with author and editor Ann Druyan, wife of the late Dr. Carl Sagan. In this insightful hour, Ann gives us a look into Dr. Sagan's thoughts on science, religion, and her decision to collect his acclaimed Gifford Lectures in the new book The Varieties of Scientific Experience: a Personal View of the Search for God."

The sound quality isn't great, but I highly recommend this show.
Chat Highlights:
Sunday: Chat was hostless, and nobody who might have been there offered a summary.

Wednesday: Ricky turned on the sign and went back to his lab. Dave played with numbers and the English language. The election was discussed, of course. @tomic dropped in and a whole lot of shop talk ensued. Halfmooner thought it was great that I (Kil) didn't know any more than he does about how this place works. Many Earth-shattering subjects came up that elude my memory just now. Anyhow, yak yak yak…

Come chat with us.
New Members This Week:
chris01
kwaussi1982
Senetof
seanhr
God Emperor

(Not a member? Become one today!)
---
Elsewhere in the World:
Bad Science

The Dark Ages of the Universe

Fossils unearth big debate

India's space agency approves manned space mission

What's New by Bob Park

Got some skeptic news items? Send them to us, and we'll think about adding them.
Book of the Week:
The Varieties of Scientific Experience: a Personal View of the Search for God, by Carl Sagan and Ann Druyan.





"On the 10th anniversary of his death, brilliant astrophysisist and Pulitzer Prize winner Carl Sagan's prescient exploration of the relationship between religion and science and his personal search for God.

Carl Sagan is considered one of the greatest scientific minds of our time. His remarkable ability to explain science in terms easily understandable to the layman in bestselling books such as Cosmos, The Dragons of Eden, and The Demon-Haunted World won him a Pulitzer Prize and placed him firmly next to Isaac Asimov, Stephen Jay Gould, and Oliver Sacks as one of the most important and enduring communicators of science. In December 2006 it will be the tenth anniversary of Sagan's death, and Ann Druyan, his widow and longtime collaborator, will mark the occasion by releasing Sagan's famous 'Gifford Lectures in Natural Theology,' The Varieties of Scientific Experience: a Personal View of the Search for God.

The chance to give the Gifford Lectures is an honor reserved for the most distinguished scientists and philosophers of our civilization. In 1985, on the grand occasion of the centennial of the lectureship, Carl Sagan was invited to give them. He took the opportunity to set down in detail his thoughts on the relationship between religion and science as well as to describe his own personal search to understand the nature of the sacred in the vastness of the cosmos.

The Varieties of Scientific Experience, edited, updated and with an introduction by Ann Druyan, is a bit like eavesdropping on a delightfully intimate conversation with the late great astronomer and astrophysicist. In his charmingly down-to-earth voice, Sagan easily discusses his views on topics ranging from manic depression and the possibly chemical nature of transcendance to creationism and so-called intelligent design to the likelihood of intelligent life on other planets to the likelihood of nuclear annihilation of our own to a new concept of science as 'informed worship.' Exhibiting a breadth of intellect nothing short of astounding, he illuminates his explanations with examples from cosmology, physics, philosophy, literature, psychology, cultural anthropology, mythology, theology, and more. Sagan's humorous, wise, and at times stunningly prophetic observations on some of the greatest mysteries of the cosmos have the invigorating effect of stimulating the intellect, exciting the imagination, and reawakening us to the grandeur of life in the cosmos."

— Book Description
---
This Week's Most-Viewed Pages:
Forum Topics:

Articles:

There were 4,603 daily visitors this week.
---
More issues of the Skeptic Summary can be found in our archive.

The Skeptic Summary is produced by the staff of the Skeptic Friends Network, copyright 2006, all rights reserved.
---
Read or Add Comments about the Skeptic Summary
Back to Skeptic Summary