Skeptic Summary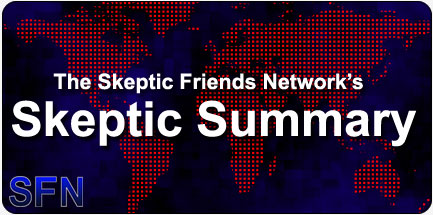 Skeptic Summary #297
By The Staff
Posted on: 8/29/2010

Home again, replying to woo, very old news, fly it with shame, unexplained mysteries and more!



Week ending August 28, 2010 (Vol 7, #32)


Welcome to the Skeptic Summary, a quick week-in-review guide to the Skeptic Friends Network and the rest of the skeptical world.



Forum Highlights:
@Home projects, again - Distributed computing, re-booted.

Need help on replying to Creationist - Theist tactics revisited

We already knew this… - Darwin wasn't wrong, just incomplete.

Editor's Choice: Cultural observation - Observing the rednecks, that is.

Kil's Evil Pick:
Unexplained-Mysteries.com — Your Source for the Paranormal — What an odd resource this site is. For one thing, it isn't all baloney. There are links to links to very real, if odd news stories like "Cows given waterbeds to improve milk" and items of real scientific interest like "Is the sun emitting a mystery particle?" and yes, the kind of paranormal baloney found in stories like "Speeding drivers attempt to raise motorcyclist ghost."

There are columns, an encyclopedia a multimedia gallery and more!




This site categories include:

Bizarre
Conspiracy
Cryptozoology
Extraterrestrial
Ghosts & Hauntings
Metaphysics
Modern Mysteries
Natural World
Occult
Palaeontology
Science & Technology
Space & Astronomy
Spirituality
The UFO Phenomenon

The stories in the above categories mostly come from actual news sources. (No. I'm not saying that because the media reported the stories, they are necessarily credible.) Go and look around. Click links and have some fun. There is a lot to look at, learn about, laugh at and just as often, to laugh with.
SkeptiQuote:

The most common of all follies is to believe passionately in the palpably not true. It is the chief occupation of mankind.

— H. L. Mencken

Chat Highlights:
Wednesday: Fired Ricky. He must have taken it seriously because he didn't do this summary. If he ever comes back, I'll fire him again. Anyhow, people dribbled in all night. We talked about this and that and pretty much solved all the world's problems. You just had to be there. We were awesome. Anyhow, eventually chat wound down. But after chat we all went out for a beer and some more conversation. It was "Free Beers for Skeptics" night at the tavern! That hardly ever happens!!! Gosh, if you weren't there, you really missed it this time.

Come chat with us.

New Members This Week:
Rogah702

(Not a member? Become one today!)
---

Elsewhere in the World:
Acupuncture's dubious past

Atheist doctors 'more likely to hasten death'

B is for Bradbury

Between Spock and McCoy (via Aristotle)

Costly life-saving drugs: you have to draw the line somewhere

Death to Humans! Visions of the Apocalypse in Movies and Literature

Des Liked: How To Argue With an Alternative Health Proponent, in Twenty One Mind-Numbing Steps

Evidence Check: Bryce Wylde's 21 Favourite Papers

A fistful of stents

Free Will: There Are No Easy Answers

George Carlin's Notre Dame

How to make a difference — Responsible vaccine advocacy

"A new theory of evolution proves what Sarah Palin has always known: Darwin was a retard'

On Xenophobia

The Paradox of Time: Why It Can't Stop, But Must

Skepticality #137 — Packing for Mars

Stem Cell Biology and Its Complications

Stem Cell Ruling Will Be Appealed

Turtles could hold the secret to human immortality

What's New by Bob Park

Got some skeptic news items? Send them to us, and we'll think about adding them.

Book of the Week:
Packing for Mars: The Curious Science of Life in the Void, by Mary Roach.





"The best-selling author of Stiff and Bonk explores the irresistibly strange universe of space travel and life without gravity. Space is a world devoid of the things we need to live and thrive: air, gravity, hot showers, fresh produce, privacy, beer. Space exploration is in some ways an exploration of what it means to be human. How much can a person give up? How much weirdness can they take? What happens to you when you can't walk for a year? have sex? smell flowers? What happens if you vomit in your helmet during a space walk? Is it possible for the human body to survive a bailout at 17,000 miles per hour? To answer these questions, space agencies set up all manner of quizzical and startlingly bizarre space simulations. As Mary Roach discovers, it's possible to preview space without ever leaving Earth. From the space shuttle training toilet to a crash test of NASA's new space capsule (cadaver filling in for astronaut), Roach takes us on a surreally entertaining trip into the science of life in space and space on Earth."

— Product Description
---

This Week's Most-Viewed Pages:
Forum Topics:

Articles:

There were 6,029 daily visitors this week.
---
More issues of the Skeptic Summary can be found in our archive.

The Skeptic Summary is produced by the staff of the Skeptic Friends Network, copyright 2008, all rights reserved.
---
Read or Add Comments about the Skeptic Summary
Back to Skeptic Summary