Skeptic Summary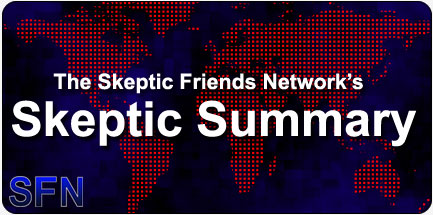 Skeptic Summary #118
By The Staff
Posted on: 11/19/2006

Marriage, ID, liberalism, NASCAR, squirrels and more!



Week ending November 18, 2006 (Vol 3, #45)


Welcome to the Skeptic Summary, a quick week-in-review guide to the Skeptic Friends Network and the rest of the skeptical world.

Special Announcement:
The SFN would like to send Kil back to the Amaz!ing Meeting next January, and you can help!
Forum Highlights:
@tomic Getting Married - Some of us are skeptical…

Go ahead, make fun of ID - We promote self-promotion. Go, Hawks, go!

'Liberalism' raises rapture index by 3 - Obviously, we're all freaking out about it.

Editor's Choice: Taking secular humanism to NASCAR - Don't we wish.
Kil's Evil Pick:
Scary Squirrel World - This is no ordinary, run-of-the-mill squirrel site…
Chat Highlights:
Sunday: Skepticality forum glitches; dummy accounts; annoying tools; Fundies Says the Darndest Things; Seed Magazine podcast; listening to podcasts and audio-books while commuting; motorcycles in various forms and shapes.

Wednesday: Ricky had just returned from a presentation by Mel White, author of Religion Gone Bad, and was detailing some of the arguments presented. Then the conversation turned to current threads and psychiatry as well as an attempt to convert an avatar to audio. It should have been foreseeable that such an attempt would lead playing around with the chat sounds, but it wasn't. Then the choice between marriage and burning all your stuff on your front lawn. Those who haven't gone through marriage may be tempted to choose the first. 404 errors and more shop talk led us back to further discussion on the threads and what not to do about them. This finally spawned off into the recent satirical threads HalfMooner started posting. The rest of the night was poetry which mostly consisted of insulting limericks.

Come chat with us.
New Members This Week:
Montgomery
Lightning Rod
wschwind
dav77
austin

(Not a member? Become one today!)
---
Elsewhere in the World:
Bad Science

The imperilled acupuncture skeptic

Skepticality #40 - Listener Feedback and Commentary

What's New by Bob Park

Got some skeptic news items? Send them to us, and we'll think about adding them.
Book of the Week:
Religion Gone Bad: the Hidden Dangers of the Christian Right, by Mel White.





"…The Reverend Mel White, a deeply religious man who sees fundamentalism as 'evangelical Christian orthodoxy gone cultic,' believes that it is not a stretch to say that the true goal of today's fundamentalists is to break down the wall that separates church and state, superimpose their 'moral values' on the U.S. Constitution, replace democracy with theocratic rule, and ultimately create a new 'Christian America' in their image. White's new book, Religion Gone Bad, is a wake-up call to all of us to take heed.

White is singularly qualified to write this exposé of the Christian Right because he himself was a true believer who served the evangelical movement as pastor, professor, filmmaker, television producer, author, and ghostwriter for such fundamentalist leaders as Pat Robertson, Jerry Falwell, and Billy Graham, all of whom he got to know well. As he writes, 'These are not just Neocons dressed in religious drag. These men see themselves as gurus called by God to rescue America from unrighteousness. They believe this is a Christian nation that must be returned forcibly to its Christian roots'…"

— Book Description
---
This Week's Most-Viewed Pages:
Forum Topics:

Articles:

There were 4,759 daily visitors this week.
---
More issues of the Skeptic Summary can be found in our archive.

The Skeptic Summary is produced by the staff of the Skeptic Friends Network, copyright 2006, all rights reserved.
---
Read or Add Comments about the Skeptic Summary
Back to Skeptic Summary