Skeptic Summary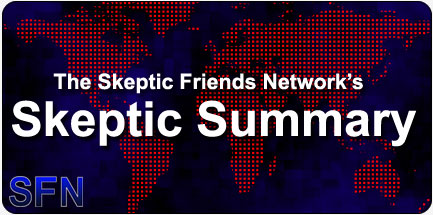 Skeptic Summary #96
By The Staff
Posted on: 6/17/2006

Survival, space, advancements, calls, cures, Bigfoot and more!



Week ending June 17, 2006 (Vol 3, #23)


Welcome to the Skeptic Summary, a quick week-in-review guide to the Skeptic Friends Network and the rest of the skeptical world.

Forum Highlights:
The Enigma of Survival - Up for another Storm of "logic?"

Hawking on Space - Stephen spits up another lecture.

What is the most advanced life form? - It would be nice if we had a metric, but that seems impossible.

Editor's Choice: Amazing Bird Calls - I think the superlative understates their eloquence.

From the Archives The cure for Cancer, a balanced diet - "Every time you take a prescription drug, God kills a kitten."
Kil's Evil Pick:
The Bigfoot Field Researchers Orginzation and Gulf Coast BigFoot Research Organization - Heh… And you all thought Bigfoot was just another myth. Here are some Bigfoot researchers doing real sciency stuff!!!
Chat Highlights:
Sunday: The purpose of the office party, and gossip from one; countries making history; having Wikipedia available is always a good idea; different swords in roleplaying games; gasoline-filled-fluorescent-tube light-sabre; wresling with fluorescent tubes; who are Americans anyway?; etymology of Brazil; exploitation history; speech-recognition software; Soviet cold-war memories from Sweden and Gulf of Tonkin. Also: "BUMBA: From the Bushongo in the Congo comes BUMBA, the African Creator God of Vomit. Yes, vomit." This God puked his guts out and lo the Sun, Moon and the Earth was created.

Wednesday: Ricky gets laid off from his summer job, but not his job at the SFN, thankfully. Cune moves into Ithica, NY, and needs a chiropractor from heavy lifting. Marfknox gets depressed from Fargo. Kil can't seem to get his wireless network working. He doesn't like PCs, and the feeling is apparently mutual. rick1 comes in late, starts talking about hockey and that big grey area north of the US. We have a name for it, I think. And finally, a new record in chat: there wasn't a single pun until four minutes before chat ended. Will we make it all the way through next week? Come join us to find out…

Come chat with us.
New Members Last Week:
Ratatusk
JohnnyHands

(Not a member? Become one today!)
---
Elsewhere in the World:
Bad Science

Meet an ancient member of birds' family tree

Skeptic's Dictionary Newsletter 68

What's New by Bob Park

Got some skeptic news items? Send them to us, and we'll think about adding them.
Book of the Week:
The Wages of Wins: Taking Measure of the Many Myths in Modern Sport, by David J. Berri, Martin B. Schmidt and Stacey L. Brook.





"In The Wages of Wins, the economists David J. Berri, Martin B. Schmidt and Stacey L. Brook come closer than any previous statistical measure to capturing the true value of a basketball player. The algorithm yields what they call a Win Score, because it expresses a player's worth as the number of wins that his contributions bring to his team… [it] is enough to make one wonder what exactly basketball experts — coaches, managers, sportswriters — know about basketball."

— Malcom Gladwell, The New Yorker
---
This Week's Most-Viewed Pages:
Forum Topics:

Articles:
---
More issues of the Skeptic Summary can be found in our archive.

The Skeptic Summary is produced by the staff of the Skeptic Friends Network, copyright 2006, all rights reserved.
---
Read or Add Comments about the Skeptic Summary
Back to Skeptic Summary