Skeptic Summary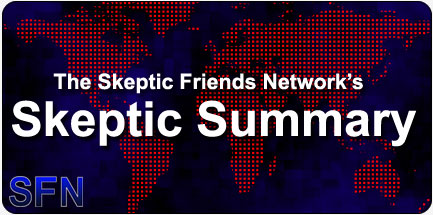 Skeptic Summary #100
By The Staff
Posted on: 7/15/2006

Evading taxes, surviving Rapture, questioning constants, distrusting media, blogging stupidly, attacking science and more!



Week ending July 15, 2006 (Vol 3, #27)


Welcome to the Skeptic Summary, a quick week-in-review guide to the Skeptic Friends Network and the rest of the skeptical world.

Forum Highlights:
Evangelist arrested on tax evasion… Guess who! - There must be a god.

Rapture Imminent, the tiff in the holy land - Buy your personal tank today!

Scientists question nature's fundamental laws - Questioning drug laws, however, is still forbidden.

See my corporate media thread on JREF - Let us know how we can trust any news source.

Editor's Choice: The Planet's Most-Dense Blogger - I've never seen anyone back himself so far into a corner.
Kil's Evil Pick:
"The War on Science," by Robert Carroll — Follow the links…
Chat Highlights:
Sunday: Football World Cup: the "wrong" nation won as usual; pink dress for Canada's Hockey Women, a ridiculous idea; what was the "First Nation," Native Americans, Leif Ericsson or Christopher Columbus? More World Cup; hiking, arduous but rewarding.

Wednesday: Pandora and science books started off chat, but things quickly (d)evolved into computer talk as some were having problems with the copy and paste feature of chat. After some more music talk, a lengthy discussion-turned-debate was had on the Sokal affair. This in turn became a discussion on postmodernism and how, or rather if, it conflicts with our view of science. It then moved into a debate on whether morality can be justified by logic and reason or emotions, which ended chat.

Come chat with us.
New Member This Week:
craiger

(Not a member? Become one today!)
---
Elsewhere in the World:
Bad Science

No one here but us Critical Analysis-ists…

What's New by Bob Park

Got some skeptic news items? Send them to us, and we'll think about adding them.
Book of the Week:
Misquoting Jesus: the Story Behind Who Changed the Bible and Why, by Bart D. Ehrman.





"Since the advent of the printing press and the accurate reproduction of texts, most people have assumed that when they read the New Testament they are reading an exact copy of Jesus's words or Saint Paul's writings. And yet, for almost fifteen hundred years these manuscripts were hand copied by scribes who were deeply influenced by the cultural, theological, and political disputes of their day. Both mistakes and intentional changes abound in the surviving manuscripts, making the original words difficult to reconstruct. For the first time, Ehrman reveals where and why these changes were made and how scholars go about reconstructing the original words of the New Testament as closely as possible.

Ehrman makes the provocative case that many of our cherished biblical stories and widely held beliefs concerning the divinity of Jesus, the Trinity, and the divine origins of the Bible itself stem from both intentional and accidental alterations by scribes — alterations that dramatically affected all subsequent versions of the Bible."

— The Publisher
---
This Week's Most-Viewed Pages:
Forum Topics:

Articles:

There were 3,900 daily visitors this week.
---
More issues of the Skeptic Summary can be found in our archive.

The Skeptic Summary is produced by the staff of the Skeptic Friends Network, copyright 2006, all rights reserved.
---
Read or Add Comments about the Skeptic Summary
Back to Skeptic Summary