Skeptic Summary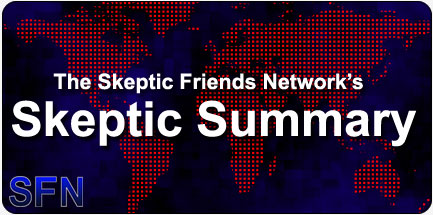 Skeptic Summary #123
By The Staff
Posted on: 12/31/2006

Send Kil, Xmas, flatulence, Kwanzaa, stickers, predictions, podcasts and more!



Week ending December 30, 2006 (Vol 3, #50)


Welcome to the Skeptic Summary, a quick week-in-review guide to the Skeptic Friends Network and the rest of the skeptical world.

Special Announcement:
The SFN would like to send Kil back to the Amaz!ing Meeting next January, and you can help!
Forum Highlights:
Christmas - It's that time of year again, when we look back and reflect on why we all hate love this season!

Dembski wants Richard Dawkins' farts - It's a sick, sad, ID world.

Kwanzaa, knowledge, ignorance, and pointless pc - A misunderstood American tradition.

School board gives up on anti-evolution stickers - But my High School Sticker Book will be missing part of its set!

Editor's Choice: Official 2007 SFN psychic predictions contest - Last chance, folks. By this time next week, the thread will be locked.
Kil's Evil Pick:
Point of Inquiry podcasts - R. Joseph Hoffman - The Scientific Study of Religion

"In this discussion with D.J. Grothe, Dr. Hoffmann explores the implications of science for religion, and how to study religion in a scientific way, including from scientific perspectives such as cognitive neuroscience, textual criticism and philology, and through the application of the historical sciences. He also examines bias in the study of religion, from various quarters in the academy, and how the scientific approach to religious studies can help avoid such pitfalls."

While on the Point of Inquiry site be sure to also listen to the interview with Susan Blackmore - In Search of the Light:

"In this far-ranging discussion with D.J. Grothe, Susan Blackmore talks about her research into the paranormal and near death experiences and why she left that field of study, memetics and religion as a meme, free will and the question of moral responsibility, consciousness and the illusory nature of the self, and Zen Buddhism and meditative practice, among other topics. She also explores why is it more important than ever for scientists to speak out about important issues of concern in the world today."

These are two great interviews that I highly recommend.
Chat Highlights:
Sunday (the 17th): Attendance of the Sunday Chat was low, but though we had a few visitors, no record was kept of the chat.

Wednesday (the 20th): Chat started off with the popularity of the SFN: Location in a Google search, number of posters in the last 30 days, and more statistics. Also, the idea to create an SFN Wikipedia article was suggested. Then onto birthdays and funeral. Briefly discussed was when priests use funerals as a way to go after non-believers. Next was motorcycles and dogs, and boron10 explaining how to solve problems by kicking them. Then some good news came in, one of marfknox's science fiction stories has been published in Aiofe's Kiss. Talk of upcoming Christmas presents lead the conversation into guitars and the night ended out with a series of music puns.

Wednesday (the 27th): Dave and Kil (me) compared holiday illnesses. Seems that while we both had fevers, our main symptoms were not the same except in one area that need not be mentioned here. Between us we pretty much had every possible flu symptom covered. In the meantime, while in chat, dglas performed the miracle of getting the Randi forum to link to us in their resource section. (Guess I can stop kvetching about that now.) Cool! Anyhow, there was more TAM talk, of course. It's getting close now. Also, why critical thinking matters if we can't even be sure what reality is, was discussed. I can't tell you what was resolved on the reality issue because I was too busy being a teapot…

Come chat with us.
New Members This Week:
196
david77
subkanojia_88

(Not a member? Become one today!)
---
Elsewhere in the World:
Bad Science

A Christmas Gift for Dembski

What's New by Bob Park

Got some skeptic news items? Send them to us, and we'll think about adding them.
Book of the Week:
Skepticism: a Contemporary Reader, by Keith DeRose and Ted A. Warfield (editors).





"Recently, new life has been breathed into the ancient philosophical topic of skepticism. It has been the subject of some of the best and most provocative work in contemporary philosophy by both today's top epistemologists and also by the world's leading philosophers working in other areas of the discipline. This book collects the most important contributions to each of the major approaches to skepticism that have dominated the recent discussion…"

— Book Description
---
This Week's Most-Viewed Pages:
Forum Topics:

Articles:

There were 4,069 daily visitors this week.
---
More issues of the Skeptic Summary can be found in our archive.

The Skeptic Summary is produced by the staff of the Skeptic Friends Network, copyright 2006, all rights reserved.
---
Read or Add Comments about the Skeptic Summary
Back to Skeptic Summary