Skeptic Summary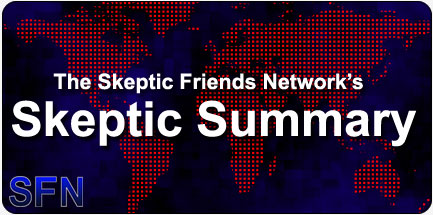 Skeptic Summary #129
By The Staff
Posted on: 2/10/2007

Atheism, vaccines, victims, Randi down under, Libertarianism and more!



Week ending February 10, 2007 (Vol 4, #6)


Welcome to the Skeptic Summary, a quick week-in-review guide to the Skeptic Friends Network and the rest of the skeptical world.

Forum Highlights:
Q's on Atheism - No, really, they are questions.

Religion versus vaccines — sound familiar? - Why yes… yes it does.

Editor's Choice: CNN bashes atheists, blaming the victim - And Schlussel is wallowing in the hate mail.
Kil's Evil Pick:
James Randi in Australia - An oldie but goodie… It's about 44 minutes long.
This Week's Poll:
Libertarianism
Chat Highlights:
Sunday: The humour of different Blackadder seasons, the change of writers apparent; football, American and soccer; Rodney King riots vs. sporting-event riots and mob psychology; 'net neutrality; online RPG playing; Superbowl; submarine finding game and carriers; Bill Nye on CNN debunking the "latest compelling UFO photos"; Ghost Hunters; Dr. Mabuse saves the day over at the Skepticality Forum again; Siberia dreams about an unidentified Skeptic Friend.

Wednesday: How to solve global warming using LEGO bricks; LEGO/building puns; TAM gets moved to the summer; a suggestion for a new poll; banning God from SFN chat; politics.

Come chat with us.
New Members This Week:
linda5001
prettywoman
biggestbrain
ejdalise

(Not a member? Become one today!)
---
Elsewhere in the World:
Bad Science

Climate Change Verdict: Science Debate Ends, Solution Debate Begins

A Princeton Lab on ESP Plans to Close Its Doors

Skepticality #045 — TAM Audio: James Randi, Tory Belleci, Julia Sweeney, Jill Sobule, Michael Shermer and God

What's New by Bob Park

Got some skeptic news items? Send them to us, and we'll think about adding them.
Book of the Week…
…is on vacation this week, too.
---
This Week's Most-Viewed Pages:
Forum Topics:

Articles:

There were 5,242 daily visitors this week.
---
More issues of the Skeptic Summary can be found in our archive.

The Skeptic Summary is produced by the staff of the Skeptic Friends Network, copyright 2007, all rights reserved.
---
Read or Add Comments about the Skeptic Summary
Back to Skeptic Summary