Skeptic Summary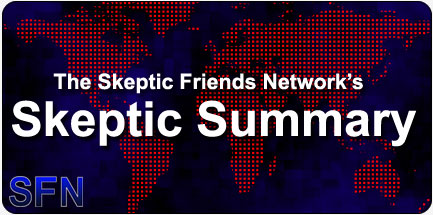 Skeptic Summary #194
By The Staff
Posted on: 6/22/2008

UFOs, hamming it up, water proof, TAM6, banana-nono, harm-shmarm and more!



Week ending June 21, 2008 (Vol 5, #22)


Welcome to the Skeptic Summary, a quick week-in-review guide to the Skeptic Friends Network and the rest of the skeptical world.



Forum Highlights:
Does UFO now mean 'Alien Spaceship?' - Only when E.T. opts to fly in a Northrop Grumman X-47 Pegasus.

Ken Ham?! At Pentagon prayer breakfast - He and his eggs are quite green.

Proof! Water ice found on Mars - But is there pudding?

Editor's Choice: TAM6: here I go again… - Vote now: dribbling or formality?

From the Archives: Banana Ignorance - Ray Comfort's (and Robb's) worst nightmare.

Kil's Evil Pick:
What's the Harm? - This is a great site that I only learned about today at TAM6. The site was created by Tim Farley who mentioned it during his paper presentation, "Building Internet Tools for Skeptics: Weapons for the War on Woo." It's a great site with lots of useful links.
SkeptiQuote:

If Jesus had been killed twenty years ago, Catholic school children would be wearing little electric chairs around their necks instead of crosses.

— Lenny Bruce

Chat Highlights:
Sunday: Withdrawal symptoms; telemarketeers; socialized medicine pros and… pros; a quick report from Oslo.

Wednesday: The night started off with tech talk as Firefox releases version 3; 8 million downloads in 24 hours. This lead into LOLcats as well as some FAILs. With Kil going to TAM6, the topic changed over to, oddly enough, surfing. A story about ripping a wet suit led to some odd suggestions on how to properly store it: grease and conditioner. At least odd to me, anyways. Then a lesbian lawsuit, burning crosses, and fire puns landed us in a discussion which brought on this week's SkeptiQuote. Some videos on Eddie Izzard (1, 2, 3), math books, Star Trek, the status of last year's TAM report, and a semi-final farewell to Kil ended the night.

Come chat with us.

New Members This Week:
Capn Refsmmat
Pangloss
Zarva
errezzaki
armanie
Real Skeptic

(Not a member? Become one today!)
---

Elsewhere in the World:
The consequences of the erosion of critical thinking

The Firing of John Freshwater

What's New by Bob Park

Why reading should not be believing

Got some skeptic news items? Send them to us, and we'll think about adding them.

Book of the Week:
Fads and Fallacies in the Name of Science, by Martin Gardner.





"Fair, witty appraisal of cranks, quacks, and quackeries of science and pseudoscience: hollow earth, Velikovsky, orgone energy, Dianetics, flying saucers, Bridey Murphy, food and medical fads, more."

— Book Description
---

This Week's Most-Viewed Pages:
Forum Topics:

Articles:

There were 10,151 daily visitorss this week.
---
More issues of the Skeptic Summary can be found in our archive.

The Skeptic Summary is produced by the staff of the Skeptic Friends Network, copyright 2008, all rights reserved.
---
Read or Add Comments about the Skeptic Summary
Back to Skeptic Summary