Skeptic Summary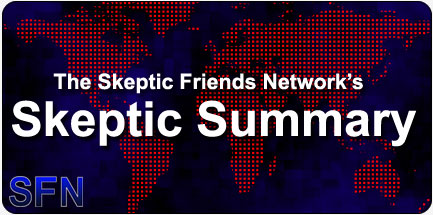 Skeptic Summary #152
By The Staff
Posted on: 8/11/2007

Our third Summer Spectacular!



Week ending August 11, 2007 (Vol 4, #29)


Welcome to the Skeptic Summary, a quick week-in-review guide to the Skeptic Friends Network and the rest of the skeptical world.

Of course, not just the week. This issue also happens to be the third anniversary of this SFN feature, and like last year, we will be bringing highlights from the whole past year along with our normal weekly items.

Forum Highlights:
Kent Hovind's unusual prison odyssey - Apparently, the jail hasn't been built that can hold Kent for long.

Opinions regarding select UFO sightings - I'd like to take issue with the question of the opinion of the question, thanks.

Who's really censoring science? - Those opposed to it, of course.

Editor's Choice: Do Star Trek 'Redshirts' really die more often? - Have you ever kissed a girl?
Hightlights from the Year that Was:
20 books to die for - Death be not Proud, To Kill a Mockingbird, Death of a Salesman…

Ding, dong the witch is dead - Fare-not-so-well to Falwell.

Flying cars stifled by politics, politics, and war - Or, a primer in the extortion of strangers on the Internet.

Kurt Vonnegut dead at age 84 - Would he care?

Lawn watering arrest again - Somebody doesn't understand Hiibel V. Nevada (2004).

The Lost World Museum update - Curiosity has killed the… cat.

Evangelist arrested on tax evasion… guess who! - Mr. Hovind goes to jail.

Possum on the Half Shell - Another not-to-be-missed piece from filthy.

Presenting: the Standard Humor Matrix - It's funny 'cause it's funny.

Taking back the default position - The point is important, try to ignore the semantic arguments.

Too good to be true? You bet - A stunning rebuke of science, or a hoax?

What I don't get… - And after 15 pages, ergo123 still didn't get it.

www.notjustatheory.com - I thought this issue was settled decades ago.

Special Mention:

The failed "Total Truth Takeover" of our forums:
Back to Skeptic Summary