Skeptic Summary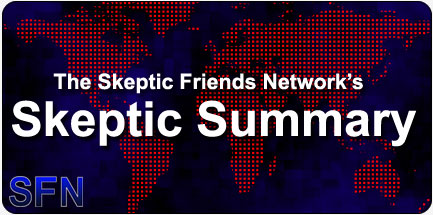 Skeptic Summary #344
By The Staff
Posted on: 9/26/2011

Ripping the Bible, petitioning for help, buzzing about physics, stopping the atheists, skepticism done wrong, NASA on climate change and more!



Week ending September 25, 2011 (Vol 8, #32)


Welcome to the Skeptic Summary, a quick week-in-review guide to the Skeptic Friends Network and the rest of the skeptical world.



Forum Highlights:
Atheist group to rip Bible pages - How un-christian are they?

Dennis Markuze petition - Update: the professional diagnosis is in.

The physics world is abuzz with news that a group - Faster-than-light neutrinos reported, but are the measurements reliable?

Stop your child from becoming an atheist - A satire too obvious to be a Poe.

Editor's Choice: Skepticism about the Big Bang - That's about all there is to that.

Kil's Evil Pick:
Global Climate Change: Vital Signs of the Planet — This is NASA's online in depth look at the indicators, the evidence, the causes, the effects and the uncertainties of, what else? Climate change. NASA's role in the area of earth science in general and climate science in particular has increased over the years as an outgrowth of its exploration of other planets, and an important broadening of focus, when it became apparent that NASA was positioned with a unique view of earth science. Space.




The Earth Observing System era

…Fast forward to 2007, and NASA had 17 space missions collecting climate data. In recent years its Earth science budget has ranged from $1.2 to $1.4 billion per year. Today, it runs programs to obtain and convert data from Defense Department and NOAA satellites as well as from certain European, Japanese and Russian satellites. NASA also sponsors field experiments to provide "ground truth" data to check space instrument performance and to develop new measurement techniques.

Instruments on NASA's Terra and Aqua satellites have provided the first global measurements of aerosols in our atmosphere, which come from natural sources such as volcanoes, dust storms and man-made sources such as the burning of fossil fuels. Other instruments onboard the Aura satellite study the processes that regulate the abundance of ozone in the atmosphere. Data from the GRACE and ICESat missions and from spaceborne radar show unexpectedly rapid changes in the Earth's great ice sheets, while the OSTM/Jason-2 and Jason-1 missions are recording sea level rise at an increasing rate. NASA's Earth Observing System's weather instruments have enabled the first improvement in weather forecasting skill in more than a decade.

These capabilities — nearly 30 years of satellite-based solar and atmospheric temperature data — helped the Intergovernmental Panel on Climate Change come to the conclusion in 2007 that "Most of the observed increase in global average temperatures since the mid-20th century is very likely due to the observed increase in anthropogenic greenhouse gas concentrations." But there's still a lot to learn about what the consequences will be. How much warmer will it get? How will sea level rise progress? What will happen to soil moisture, and therefore agricultural production, in a warmer world? NASA scientists and engineers will help answer these and other critical questions in the future.


What I love about the Global Climate Change site is that it really cuts to the chase. Each category on the menu links to a section that is concise, includes easy understanding descriptions of the science, along with graphs and photos, presented in such a way that they really do serve to educate and to drive home whatever point is being made. Everything is fully explained without being overly technical. And that makes sections like "The Evidence" the perfect go-to when a question like, "how do they know?" comes up. And it comes up often!

There is also a Climate Kids section and a guide For Educators that includes Tips and Tricks for Teachers, which includes a three-page PDF file on how to use Global Climate Change website in the classroom.




I would love to only have to say that as a resource, the site gives us a way to keep up with the current science of climate change, which it does, but let's face it: it's also very useful in a debate. It's just too bad we are still having the debate.

Check out NASA's Global Climate Change website, if you haven't already.
SkeptiQuote:

Faith may be defined briefly as an illogical belief in the occurrence of the improbable.

— H. L. Mencken

Chat Highlights:
Wednesday: We started out discussing Angie Dickinson and her appearances. A visit to a Humanist meeting was nicer than expected. Even though beauty is a social construct, it's still in the eye of the beer-holder. Reasons for not having the death penalty, other than "It's barbaric." Innocents convicted because of witness tampering, coercion, pressured confessions, etc. Possibly innocent Troy Davis, and the West Memphis Three are just two out of many examples. We talked about the weather, and how rain drives all kinds of insects to come indoors instead. Being an artist is a struggle if you want to make it for a living. The Life of Brian. More reasons for not having the death penalty. Chat ended with some brief reflections on Braille porn.

Come chat with us.

New Members This Week:
sanbaby
CRUX
justintime
kellydest
james22

(Not a member? Become one today!)
---

Elsewhere in the World:
Challenging Einstein is usually a losing venture

Children's Book On Evolution, Not Published In The US, Gets An Award in Canada

The dangers of cherry-picking evidence

"Dave Mabus" Diagnosed and In Treatment

Scam Everlasting: After 25 Years, Debunked Faith Healer Still Preaching Debt Relief Scam

'First Irish case' of death by spontaneous combustion

Happy Birthday, Stephen Jay Gould!

ID Creationism and Bacterial Chemotaxis

Reaction to Faster Than Light Claims Expose Anti-Skeptic Myth

Scientists discover virus that kills all types of breast cancer 'within seven days'

'Switchblade' claw reveals how dinosaur fought

Got some skeptic news items? Send them to us, and we'll think about adding them.

Book of the Week:
Someone Else's Twin: The True Story of Babies Switched at Birth, by Nancy L. Segal.





"Identical twins Delia and Begona were born thirty-seven years ago in Spain's Canary Islands. Due to chaotic conditions at the hospital or simple human error, Delia was unintentionally switched with another infant in the baby nursery.

In this fascinating story, Dr. Nancy L. Segal, herself a twin and an expert on twin research, describes the consequences of this unintentional separation of identical twin sisters. She considers not only the effects on these particular sisters, but the implications of this and similar cases for questions concerning identity, familial bonds, nature-nurture, and the law.

Delia and Begona grew up never knowing the truth about their birth, and their parents had no idea that an error had been made. When one twin was confused for the other by a friend during a chance encounter in a clothing store, the twins finally met at the age of twenty-eight. Once the startling discovery of the twins' actual identities was made, the families were in shock. The newly reunited sisters experienced mixed emotions and deep confusion, as did their parents, brothers, and sisters. Eventually, the case led to worldwide publicity and a lawsuit that lasted for years.

Based on her extensive research into the psychology of twins and interviews with family members, Dr. Segal explores many questions of universal human significance: How do mothers know who their biological children are? How much does our family contribute to our sense of self? Are we more like the people who raised us or the people we are born to? Can the legal system ever compensate parents for a mistake that really has no remedy?

Beyond the case of Delia and Begona, Dr. Segal discusses prior cases of twins and non-twins switched at birth. She also examines custodial decisions concerning children who are the result of donated sperm or eggs by individuals outside the rearing family. She further elucidates the benefits to children from adoption.

The combination of a riveting true story and cutting-edge twin research makes Someone Else's Twin an irresistible page-turner."

— Product Description
---

This Week's Most-Viewed Pages:
Forum Topics:

Articles:

There were 6,916 daily visitors this week.
---
More issues of the Skeptic Summary can be found in our archive.

The Skeptic Summary is produced by the staff of the Skeptic Friends Network, copyright 2011, all rights reserved.
---
Read or Add Comments about the Skeptic Summary
Back to Skeptic Summary