Skeptic Summary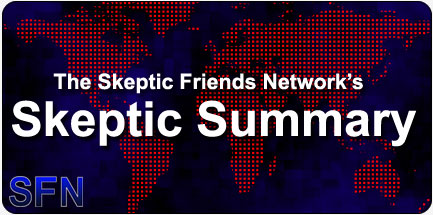 Skeptic Summary #364
By The Staff
Posted on: 5/28/2012

Illustration, salt, marriage, Rothamsted, Neil Armstrong and more!



Week ending May 27, 2012 (Vol 9, #13)


Welcome to the Skeptic Summary, a quick week-in-review guide to the Skeptic Friends Network and the rest of the skeptical world.



Forum Highlights:
Experiment, evidence, and theory - A good illustration.

Natural salt - Unnatural ideas.

Supporting a delusional Bible-based marriage - While you're at it, give me money.

Editor's Choice: Rothamsted - They'll burn science books, next.

Kil's Evil Pick:
An Audience with Neil Armstrong — The subject of this pick is timely, fascinating, rare and well worth the time it takes to watch (I wish it were longer) the four-part interview with Neil Armstrong. He was, of course, famously the first astronaut to step on the lunar surface, and the first of only twelve astronauts to have ever walked on the Moon. Since the Apollo program ended in 1972, no other human has been to the Moon. Our manned space priorities have changed. We had won the race to the Moon and that was that for that. With the final Shuttle mission having been flown less than a year ago, we don't even have a manned space program right now.




This pick is also unusual in a few ways, not the least of which is that this rare interview with Neil Armstrong was produced and appears online on CPA Australia. Yes indeed. That's CPA as in Certified Practicing Accountant, which is the Australian version of what we here call Certified Public Accountant. They are one of the sponsors of a series called evoTV's The Bottom Line, that usually features business-oriented interviews.

evoTV's The Bottom Line — An intimate look into what shapes, defines and drives our most influential leaders and thinkers. Celebrate their successes, learn from their experience as host The Naked CEO, Alex Malley asks the questions you want answered. evoTV's The Bottom Line — leadership lessons for the next generation; because experience is the best teacher.


I'm not knocking it. They got the interview after all. And An Audience with Neil Armstrong covers a lot of territory with regard to the Apollo missions, and at that, it's covered by our most celebrated and private astronaut. Way cool!

Here's what they said over at Wired about the interview:

Neil Armstrong is a household name, yet, in contrast to his crew-mate Buzz Aldrin, he has studiously stayed out of the spotlight in the decades since he walked on the Moon. He frequently passes on interview and advertising requests, all the while beating back unwelcome advances on his legacy. (Hallmark used his voice recording without permission on a Christmas ornament in 1994, and in a creepier episode, his longtime barber secretly sold a lock of Armstrong's hair for $3,000 in 2005.)

So it was a coup of sorts for the Certified Practicing Accountants organization of Australia to score an extended interview with Armstrong, a connection that seems about as natural as a two-headed kangaroo. (CEO Alex Malley had developed the relationship, sharing his concerns about long-term strategic planning both in business and politics with Armstrong. The interview was a part of CPA Australia's 125th anniversary celebration.)


So that's how CPA Australia scored! And I can't really say if a more science-oriented interviewer than Alex Malley would have done a better job. He manages to ask the right questions, most of the time.

Another way this pick is unusual, is I rarely link to a site for a single purpose. That's to say, here's a video, and that's all there is. In this case I feel it's enough, and I have done it once or twice before. And last but not least, I scavenged the link from a thread on our forum, posted this week by SFN member Randy. I checked the link he posted and loved what I saw. So a hat-tip goes out to Randy! I might not have seen this interview if not for him.




Anyhow, enough! If you love science, space, the moon missions, and even the politics behind the reason we went to the moon, plus and a chance to get all that from an astronaut who doesn't really do interviews, go watch An Audience with Neil Armstrong.
SkeptiQuote:

An assertion that outstrips the evidence is not only a blunder, but a crime.

— Thomas Huxley

Chat Highlights:
Wednesday: Chat started out discussing Asian food and spices. Then we shifted into talking about TAM. Alienist reported from the Women in Secularism conference, and Dr. Mabuse reported about an undercover investigative piece Swedish TV made about misogynistic views of Islamic imams in the 10 largest mosques in Sweden. Chat ended early with some economy and politics.

Come chat with us.

New Members This Week:
chino_catane
ColonelGluon
mrchris
carbon18
rlewis

(Not a member? Become one today!)
---

Elsewhere in the World:
100-Year Starship: Mae Jemison reaches for the stars

4G Reality Check: Beware of These Cons and Lies

Ancient History of Circumarctic Peoples Illuminated

Ancient Turtle Was as Big as Small Car

Ancient walking gets weirder

Anti-science and anti-contraception

Bible marketing: Ponzi scheme took many investors

Brian Greene: Welcome to the Multiverse

Coffee Drinkers Have Lower Risk of Death, Study Suggests

DNA tracks ancient Mediterranean farmers to Scandinavia

Do the Eyes Have It?: Dog domestication may have helped humans thrive while Neandertals declined

Doubtful Newsblog

Electrical Engineer Can Feel Magnetic Fields Through Magnets Implanted in His Fingertips

Emotionally Intelligent People Are Bad at Spotting Liars

GPS loss kicked off fatal drone crash

Hitler Used Cocaine and Had Fart Problem, Medical Records Show

How stone age man invented the art of raving

Humanity's Best Friend: How Dogs May Have Helped Humans Beat the Neanderthals

Intelligent Design and the cruelty of nature

Jurassic Pain: Giant 'Flea-Like' Insects Plagued Dinosaurs 165 Million Years Ago

Kids off to the Congo to look for dinos and giant spiders

"Map of Life" Shows the Location of All Organisms, Large and Small

Memristors in silicon promising for dense, fast memory

More than 2,000 wrongfully convicted people exonerated in 23 years, researchers say

My Dog Is A Very Good Listener, But How Much Can He Understand?

NASA to launch rubber chicken in Rugby woman's knitted suit

New finding may hold key to Gaia hypothesis of Earth as living organism

The New Planetary Habitability Index

Number of asteroids that pose risk to Earth is doubled

Particles Walk Through Walls While Physicists Watch

Prehistoric "Panda' Found in Spain — Giant Panda Has European Roots?

RNA breakthrough transforms idea of gene control

Skepticality #182 — Laugh, It's Science!

Steps of First Native Americas Traced From the Arctic

Sumatran orang-utans delay puberty to build up strength

Suspicion Resides in Two Regions of the Brain: Our Baseline Level of Distrust Is Distinct and Separable from Our Inborn Lie Detector

Texas's war on history

What Happened to Camping's Followers?

Where the Wild Things Aren't Just Jewish

Why Peace Is So Tricky for Humans

World's Oldest Deep-Sea Fishermen

Got some skeptic news items? Send them to us, and we'll think about adding them.

Book of the Week:
Space Chronicles: Facing the Ultimate Frontier, by Neil deGrasse Tyson.





"A thought-provoking and humorous collection on NASA and the future of space travel.

Neil deGrasse Tyson is a rare breed of astrophysicist, one who can speak as easily and brilliantly with popular audiences as with professional scientists. Now that NASA has put human space flight effectively on hold — with a five- or possibly ten-year delay until the next launch of astronauts from U.S. soil — Tyson's views on the future of space travel and America's role in that future are especially timely and urgent. This book represents the best of Tyson's commentary, including a candid new introductory essay on NASA and partisan politics, giving us an eye-opening manifesto on the importance of space exploration for America's economy, security, and morale. Thanks to Tyson's fresh voice and trademark humor, his insights are as delightful as they are provocative, on topics that range from the missteps that shaped our recent history of space travel to how aliens, if they existed, might go about finding us."

— Book Description
---

This Week's Most-Viewed Pages:
Forum Topics:

Articles:

There were 6,336 daily visitors this week.
---
More issues of the Skeptic Summary can be found in our archive.

The Skeptic Summary is produced by the staff of the Skeptic Friends Network, copyright 2012, all rights reserved.
---
Read or Add Comments about the Skeptic Summary
Back to Skeptic Summary