Skeptic Summary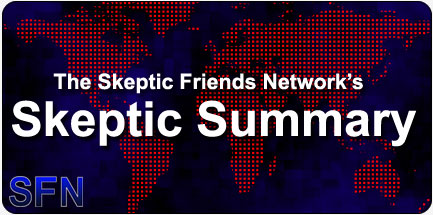 Skeptic Summary #167
By The Staff
Posted on: 11/24/2007

Trolling tactics, bad fields of knowledge, time to die, blatant plagiarism, tobacco, data gone wild and more!



Week ending November 24, 2007 (Vol 4, #44)


Welcome to the Skeptic Summary, a quick week-in-review guide to the Skeptic Friends Network and the rest of the skeptical world.

Forum Highlights:
Ad homonym attacks - Yeah, I thought it was a typo at first, too.

Bad archaeology - More resources are always a good thing.

Does the death penalty deter crime? New studies - Or is it supposed to deter crime in the first place?

Editor's Choice: Discovery Institute rips off Harvard animation - Even though nothing will change, this event is important to remember.

From the Archives: Tobacco — friend or foe? - And so much more!
Kil's Evil Pick:
Hans Rosling: Debunking third-world myths with the best stats you've ever seen.

About this Talk:

You've never seen data presented like this. With the drama and urgency of a sportscaster, Hans Rosling debunks myths about the so-called "developing world" using extraordinary animation software developed by his Gapminder Foundation. The Trendalyzer software (recently acquired by Google) turns complex global trends into lively animations, making decades of data pop. Asian countries, as colorful bubbles, float across the grid — toward better national health and wealth. Animated bell curves representing national income distribution squish and flatten. In Rosling's hands, global trends — life expectancy, child mortality, poverty rates — become clear, intuitive and even playful.

Why you should listen to him: Hans Rosling: Global health expert; data visionary.

Okay… look, I know this is a step outside of my usual picks but hey, this guy can also swallow a sword!
SkeptiQuote:
He is less remote from the
truth who believes nothing
than he who believes what
is wrong.
— Thomas Jefferson
Chat Highlights:
Sunday: The Sunday chat is still on vacation, but it will return on November 25th!

Wednesday: Oddly, and perhaps randomly, enough, chat started with the history of the fax machine, which apparently started back in 1843. This led into why Mac computers still come with modems, which Kil was taking advantage of because of Time-Warner Cable. Things got a bit more serious when the discussion moved its way over to polygamy and other -gamys. Some were worried about the trouble such marriages would cause, others on how it would affect legal standing and divorce, but nearly everyone agreed having multiple wives is not a good thing. As time went on, the topic drifted into education and why we suck at it. The night ended with forum talk, making a room into a ball pit, and ancient computer science (i.e. 15 years ago).

Come chat with us.
New Members This Week:
No new members this week.

(Not a member? Become one today!)
---
Elsewhere in the World:
Anti-vaccination movement

Now for ID cards — and the biometric blues

Science versus Intelligent Design: A reader explains

Skepticality #065 — A Secret of the Universe — Interview: Author Stephen L. Gibson

What is Dark Matter?

What's New by Bob Park

Got some skeptic news items? Send them to us, and we'll think about adding them.
Book of the Week:
Evil Genes: Why Rome Fell, Hitler Rose, Enron Failed and My Sister Stole My Mother's Boyfriend, by Barbara Oakley.





"Have you ever met a person who left you wondering, 'How could someone be so twisted? So evil?' Prompted by clues in her sister's diary after her mysterious death, author Barbara Oakley takes the reader inside the head of the kinds of malevolent people you know, perhaps all too well, but could never understand.

Starting with psychology as a frame of reference, Oakley uses cutting-edge images of the working brain to provide startling support for the idea that 'evil' people act the way they do mainly as the result of a dysfunction. In fact, some deceitful, manipulative, and even sadistic behavior appears to be programmed genetically — suggesting that some people really are born to be bad. But there are unexpected fringe benefits to 'evil genes.' We may not like them — but we literally can't live without them.

Oakley deftly ties together the big picture implications of revolutionary neuroscientific and genetic discoveries, showing the eerily similar behavioral tics of Mao, Stalin, Hitler, and Slobodan Milosevic. The dramatic recent scientific findings presented in Evil Genes shed light not only on dictators far afield, but on politics at home, as well as business, religion, and everyday life. In fact, history itself has been shaped by the strange confluence of genes and environment that science is just now beginning to understand.

Oakley links the latest findings of molecular research to a wide array of seemingly unrelated historical and current phenomena, from the harems of the Ottomans and the chummy jokes of 'Uncle Joe' Stalin, to the remarkable memory of investor Warren Buffet. Throughout, she never loses sight of the personal cost of evil genes as she unravels the mystery surrounding her sister's enigmatic life — and death.

Evil Genes is a tour-de-force of popular science writing that brilliantly melds scientific research with intriguing family history and puts both a human and scientific face to evil."

— Book Description
---
This Week's Most-Viewed Pages:
Forum Topics:

Articles:

There were 9,094 daily visitors this week.
---
More issues of the Skeptic Summary can be found in our archive.

The Skeptic Summary is produced by the staff of the Skeptic Friends Network, copyright 2007, all rights reserved.
---
Read or Add Comments about the Skeptic Summary
Back to Skeptic Summary