Skeptic Summary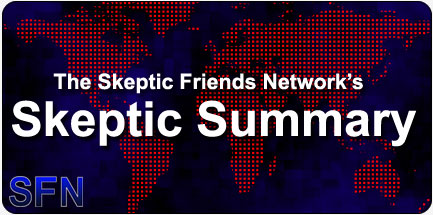 Skeptic Summary #187
By The Staff
Posted on: 4/27/2008

Expelled (of course), blinkies, altmed, a big pony and more!



Week ending April 26, 2008 (Vol 5, #15)


Welcome to the Skeptic Summary, a quick week-in-review guide to the Skeptic Friends Network and the rest of the skeptical world.



Forum Highlights:
Expelled: No Intelligence Allowed! (Part 2) - Just when you thought it was safe…

Phoenix Lights - Now you see 'em…

Editor's Choice: Neti pots, sinus disease, and migraines - Well, he seemed serious for a while.

Kil's Evil Pick:
Inside Creationism's Trojan Horse - This talk by Barbara Forrest at the Center for Inquiry, is some pre-Expelled stuff. This title of this talk comes from her book, co-written with Paul R. Gross, which can be read online.

While there is nothing exactly new here, this is an in-depth perspective from one of the expert witnesses at the Kitzmiller v. Dover Area School District case. Her talk also goes into some detail on the evolution of the ID movement itself. The talk is often funny and always fascinating.

While at the CFI digital media site, be sure to check out other films being offered online, in full.

Also, visit Barbara Forrest's website, Creationism's Trojan Horse.
SkeptiQuote:
People who don't like their beliefs being
laughed at shouldn't have such funny beliefs.
— Unknown

Chat Highlights:
Sunday: Our chat host may be returning to work on May 4th!

Wednesday: As June is getting rather close now, chat started up with talk of the next TAM. Then things switched over to recent activity at the SFN, as well as how the forum seems to have slowed a bit. Mixed in all of this was talk of Kansas vs. Darwin. Kil talked of creating his own podcast, but unfortunately there are not many who can translate Kilbonics. Then some tech talk ended things for this week.

Come chat with us.

New Members This Week:
ZeeKrey
mulkerin

(Not a member? Become one today!)
---

Elsewhere in the World:


Celebs decry evidence on vitamin pills

Florida: Open Letter on Learning from History

Six Things in Expelled That Ben Stein Doesn't Want You to Know…

What's New by Bob Park

When will Maj. Freddy J. Welborn be court-martialed?

Got some skeptic news items? Send them to us, and we'll think about adding them.

Book of the Week:
Bonk: the Curious Coupling of Science and Sex, by Mary Roach.





"In her previous books, Stiff and a follow-up, Spook, Mary Roach set out to make creepy topics (cadavers, the afterlife) fun. In Bonk, she turns to sex, covering such territory as dried animal excreta used as vaginal 'drying agents'; a rat's tail 'lost' in a penis; and a man named William Harvey, patent-holder for a rolling toaster-size metal box outfitted with a motorized 'resiliently pliable artificial penis.' In short, she takes an entertaining topic and showcases its creepier side. And then she makes the creepy funny. Intended as much for amusement as for enlightenment, Bonk is Roach's foray into the world of sex research, mostly from Alfred Kinsey onward, but occasionally harking back to the ancient Greeks and medievals (equally unenlightened)… Roach can't be faulted for having fun with sex. Even if purely for the purposes of research."

— Pamela Paul, New York Times
---

This Week's Most-Viewed Pages:
Forum Topics:

Articles:

There were 10,703 daily visitors this week.
---
More issues of the Skeptic Summary can be found in our archive.

The Skeptic Summary is produced by the staff of the Skeptic Friends Network, copyright 2008, all rights reserved.
---
Read or Add Comments about the Skeptic Summary
Back to Skeptic Summary