Skeptic Summary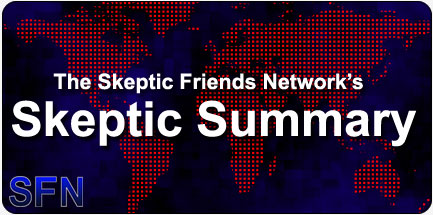 Skeptic Summary #308
By The Staff
Posted on: 11/14/2010

Climate change, Olbermann, precognition, dickishness, symphonies and more!



Week ending November 13, 2010 (Vol 7, #43)


Welcome to the Skeptic Summary, a quick week-in-review guide to the Skeptic Friends Network and the rest of the skeptical world.



Forum Highlights:
Climate change: science answers the deniers - Who still aren't listening.

Keith Olbermann's suspension - Not as permanent as some people hoped.

Study suggests precognition… - We can't predict if it will be replicated.

Editor's Choice: Am I being a dick? - Not enough of one, actually.

Kil's Evil Pick:
The Symphony of Science — By now you have seen at least some of the videos that were put together, composed really, by John Boswell using clips of famous scientists, most notably Carl Sagan, putting their actual words to music by electronic means. The results are stunning.

About the Symphony of Science:

Hey — I'm John Boswell, the head musician and producer behind the Symphony of Science. The goal of the project is to bring scientific knowledge and philosophy to the public, in a novel way, through the medium of music. Science and music are two passions of mine that I aim to combine, in a way that is intended to bring a meaningful message to listeners, while simultaneously providing an enjoyable musical experience.

The project owes its existence in large measure to the wonderful work of Carl Sagan, Ann Druyan, and Steve Soter, with their production of the classic PBS Series Cosmos, as well as all the other featured figures and visuals.

I began to experiment with production and composition in high school, taking a strong interest in music theory and electronic music. This hobby grew throughout college, where I quickly developed a love for science and philosophy, while gradually gathering better musical equipment and experience. After recently graduating with a degree in economics, I started a formal electronica project called Colorpulse and also began to focus more and more on recording and production, co-producing a comedic RnB album using auto-tune software.

Inspiration from The Gregory Brothers and DJ Steve Porter, coupled with my experience with remixing, composition, and auto-tune, led to experiments with remixing scientists, culminating in Carl Sagan's "A Glorious Dawn" in Fall of 2009.

This first video's highly positive reception provided motivation to elaborate on the theme of remixing scientists, which spawned the Symphony of Science project. The second video, "We Are All Connected", was released in October 2009 on the heels of A Glorious Dawn with much success. Although the methods of remixing and tuning spoken word, combined with original electronic music and similarly themed footage, are unorthodox in the context of other science-themed music, the results have often been inspiring, humbling, and of course humorous.

The project has now produced six full length music videos (see the home page), and expanded to include and rely on much more input from the community and collaborations with peers. Since its launch in Fall 2009, Symphony of Science has been featured on NPR, Wired, The Scientist, Attack of the Show, The Skeptics Guide to the Universe, Bad Astronomy, Coast to Coast AM, The Examiner, net@night, and many more radio shows, magazines and websites. The videos have attracted over 8 million views online, contributing to the release of the first song, A Glorious Dawn, on a special 7" 45rpm vinyl single through Jack White's record label Third Man Records…

If you haven't seen these videos, or have only seen one or two of them, go over to the Symphony of Science, where they are all available for viewing in one place. There are extras on the site as well including several fascinating remixes. Enjoy!
SkeptiQuote:

To understand the things that are at our door is the best preparation for understanding those things that lie beyond.

— Hypatia

Chat Highlights:
Wednesday: Well now. Here I am again (Kil) doing the chat summary. My job now I guess. Not that I'm complaining. (Yes I am.) I do have the log that Dr_Mabuse was kind enough to take and send to me. So let's see… Chat started with a discussion about insurance. Health insurance first and then we segued into auto insurance because Dave was rear-ended by an uninsured motorist. I mentioned that one of our founders, Dawn, has found us on facebook. Cool beans! Eventually, a bit of talk about the economy lead to Mooner posting a song by Roy Zimmerman called "End of the Ship." Cool song! There were a few bad spelling jokes and age jokes at my expense, some stuff about taxes and Philipino politics and women and matters of great importance before the fade out… Oh yeah. And we saved the world again.

Come chat with us.

New Members This Week:
mydickens
sabella

(Not a member? Become one today!)
---

Elsewhere in the World:
The Best Idea We've Had So Far

Brains of Neanderthals and Modern Humans Developed Differently

Child Abuse Rate At Zero Percent In Lesbian Households, New Report Finds

Detailed Dark Matter Map Yields Clues to Galaxy Cluster Growth

The devil is the latest thing

Dumb questions online: is there an "impenetrable wall" between humans and other creatures?

Educational Mythology

Finding One's Place in the Skeptiverse

John Stone: Too Smart For Me

Louisiana Panel Endorses Textbooks, Despite Evolution Critics

Missing from the lifestyle pages: the evidence of how Boob Job works

Mother's fears after Noah's Ark explorer disappears

NASA's Fermi Telescope Finds Giant Structure in our Galaxy

Reflections of an atheist teaching in faith schools

Scientists discover how to turn human skin into blood

What's New by Bob Park

Got some skeptic news items? Send them to us, and we'll think about adding them.

Book of the Week:
Spinning the Law: Trying Cases in the Court of Public Opinion, by Kendall Coffey.





"High-profile courtroom dramas fascinate our nation, especially when they concern the rich and famous. And while the American public has come to realize that the spin factor is a prime ingredient in political tactics and marketing campaigns, many are unaware of the strategies for shaping public opinion when it comes to major courtroom battles.

This behind-the-scenes analysis of media strategies presents an intriguing, often entertaining curriculum that they do not teach in law school or journalism classes. As the lead counsel in some of the country's most notable cases and a savvy legal commentator with hundreds of television appearances, author Kendall Coffey brings a distinctive combination of depth as a legal practitioner and experience as a media analyst to this insightful, provocative, and practical book.

He begins with an historic election fraud trial, relying on his personal experience with the basics of law spin. He then guides the reader through an abbreviated, engrossing tour of spinning cases through the ages — including Socrates and Joan of Arc, as well as the Charles Lindbergh kidnapping case. Modern cases include the O. J. Simpson trial, the author's own experiences in the international Elian Gonzalez controversy — and his thoughts on the possible overwhelming effect that that controversy had on Florida in the 2000 presidential election between Gore and Bush.

Coffey also examines the most famous cases of recent times — those of Michael Jackson, Kobe Bryant, Martha Stewart, Scott Peterson, Gordon 'Scooter' Libby, and the shenanigans of impeached former Governor Rod Blagojevich.

Along the way, the author exposes many of the myths associated with the law, debunking assumptions about legal concepts ranging from circumstantial evidence and cooperating witnesses to so-called prosecutors' vendettas.

Coffey's many entertaining examples and explanations make this book ideal reading for everyone fascinated by celebrity legal problems but must reading for lawyers, public relations professionals, journalists, and media students."

— Product Description
---

This Week's Most-Viewed Pages:
Forum Topics:

Articles:

There were 6,777 daily visitors this week.
---
More issues of the Skeptic Summary can be found in our archive.

The Skeptic Summary is produced by the staff of the Skeptic Friends Network, copyright 2008, all rights reserved.
---
Read or Add Comments about the Skeptic Summary
Back to Skeptic Summary