Skeptic Summary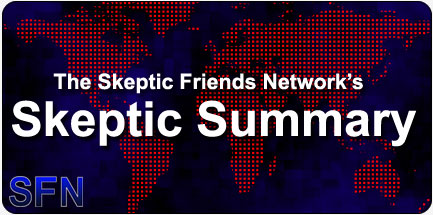 Skeptic Summary #133
By The Staff
Posted on: 3/10/2007

Flying saucers, lost worlds, testing religion, chess, BJU and more!



Week ending March 10, 2007 (Vol 4, #10)


Welcome to the Skeptic Summary, a quick week-in-review guide to the Skeptic Friends Network and the rest of the skeptical world.

Forum Highlights:
A flying saucer design - And once the math is done, the design is undone.

The Lost World Museum update - Curiosity has killed the… cat.

Religious test - But how does the test itself rate?

Editor's Choice: Chess? - Greetings, Professor Falken. Shall we play a game?
Kil's Evil Pick:
Nobojo - Just for fun, let's take a look inside Bob Jones University. A survivor of that Bob Jones bastion of higher education set up the site.
This Week's Poll:
If frogs had wings…
Chat Highlights:
Sunday: Dr. Mabuse late to log in becuase of city-wide power outage; comic strip; emergency numbers in different countries; Skepticality's new forum software advantages; greetings to Skepticality guests; how different tourist nationalities are percieved in different countries; Brazilian waxing; chasing old Nazis, but how many of them haven't choked of age? Also: Steven King movies; other movies; elemental jokes.

Wednesday: This week was the first official Wednesday SFN-Skepticallity joint chat session. Throughout the night, the most recent poll was discussed as the votes came in. Other forum talk included a disappearance of civility as well as vanishing forum trolls. The topic shifted into ways getting your caffeine fix: coffee, Mountain Dew or Jolt Cola. Everything shifted when talk of time travel lead into a weird form of Zeno's Paradox and the continuity of time and space. The night ended with racketball and past and future career plans.

Come chat with us.
New Members This Week:
Wings
ferhad
chefcrsh
ravensmart19
freewest4ever
somewhen
allaboutme
cactusmush
zazabard

(Not a member? Become one today!)
---
Elsewhere in the World:
Bad Science

A Short History of Psi Research

Skepticality #047 - More from TAM: Hal Bidlack, Kylie Sturgess and Michael McRae.

What's New by Bob Park

Got some skeptic news items? Send them to us, and we'll think about adding them.
Book of the Week:
Spook: Science Tackles the Afterlife, by Mary Roach.





"If author Mary Roach was a college professor, she'd have a zero drop-out rate. That's because when Roach tackles a subject — like the posthumous human body in her previous bestseller, Stiff: The Curious Lives of Human Cadavers, or the soul in the winning Spook: Science Tackles the Afterlife — she charges forth with such zeal, humor, and ingenuity that her students (er, readers) feel like they're witnessing the most interesting thing on Earth. Who the heck would skip that? As Roach informs us in her introduction, 'This is a book for people who would like very much to believe in a soul and in an afterlife for it to hang around in, but who have trouble accepting these things on faith. It's a giggly, random, utterly earthbound assault on our most ponderous unanswered question.' Talk about truth in advertising. With that, Roach grabs us by the wrist and hauls butt to India, England, and various points in between in search of human spiritual ephemera, consulting an earnest bunch of scientists, mystics, psychics, and kooks along the way. It's a heck of a journey and Roach, with one eyebrow mischievously cocked, is a fantastically entertaining tour guide, at once respectful and hilarious, dubious yet probing. And brother, does she bring the facts. Indeed, Spook's myriad footnotes are nearly as riveting as the principal text… While rigid students of theology might take exception to Roach's conclusions (namely, we're just a bag of bones killing time before donning a soil blanket) it's hard to imagine anyone not enjoying this impressively researched and immensely readable book. And since, as Roach suggests, each of us has only one go-round, we might as well waste downtime with something thoroughly fun."

— Amazon.com
---
This Week's Most-Viewed Pages:
Forum Topics:

Articles:

There were 5,401 daily visitors this week.
---
More issues of the Skeptic Summary can be found in our archive.

The Skeptic Summary is produced by the staff of the Skeptic Friends Network, copyright 2007, all rights reserved.
---
Read or Add Comments about the Skeptic Summary
Back to Skeptic Summary