Skeptic Summary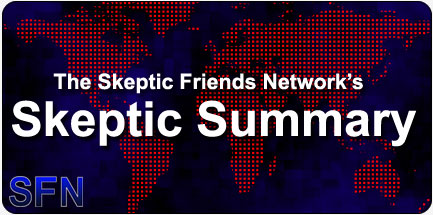 Skeptic Summary #139
By The Staff
Posted on: 4/21/2007

Massacre, Egnor, season opener, Hovind update, vices, Stonehenge and more!



Week ending April 21, 2007 (Vol 4, #16)


Welcome to the Skeptic Summary, a quick week-in-review guide to the Skeptic Friends Network and the rest of the skeptical world.

Forum Highlights:
Baghdad Tech massacre - SFN discusses the tragedy at Virginia Tech, and then some.

From Dembski's folly &amp one Dr. Michael Egnor… - Egnor makes it more difficult for neurosurgeons to talk up chicks.

A great opener for the '07 Crop Circle season! - Just going 'round and 'round.

Editor's Choice: Evangelist arrested on tax evasion… guess who! - Denied!
This Week's Poll:
Naughty, naughty
Kil's Evil Pick:
Building Stonehenge - Ricky linked to this video in chat (which means I will put off firing him for another week, anyway). It is so cool that I am making it my pick for this week. It's probably been around for a while, but hey… I just saw it for the first time.
Chat Highlights:
Sunday: "Giants of Patagonia" on IMAX; Who's the better singer: Donald Sutherland or William Shatner? Brent Spiner & Irving Berlin. Also Rating musicals; car entertainment systems; SONY Root-Kit fiasco; ice-hockey.

Wednesday: Chat started off with talk of the Virginia Tech Massacre which had taken place two days prior. Gun control and rights soon followed. Vices were next, as this week's poll went up. Chat focused much around drugs, sex, and TV, as it usually does. Then Skepticality, TAM5, and global destruction. Conversation went back full circle to Virginia Tech, at which point it was late and everyone went to bed (or back to work).

Come chat with us.
New Members This Week:
fc1001
bilbo3
jasonpopcrack
Pimp
rockshard

(Not a member? Become one today!)
---
Elsewhere in the World:
Bad Science

The Birth of Dark Energy

From Jaw to Ear: Transition Fossil Reveals Ear Evolution in Action

Popular Crackpot — You won't believe what people believe

Skepticality #050 — Interview: Scott Sigler

Skeptic's Dictionary Newsletter 77

Still Waiting: Gravity Experiment Reports Partial Success

What's New by Bob Park

Got some skeptic news items? Send them to us, and we'll think about adding them.
Book of the Week:
Uncertainty: Einstein, Heisenberg, Bohr, and the Struggle for the Soul of Science, by David Lindley.





"'Anyone who is not shocked by quantum theory has not understood it,' physicist Niels Bohr once said. This is particularly true of Werner Heisenberg's famous Uncertainty Principle, which holds that an experimenter cannot simultaneously measure the velocity and position of a moving particle. Young Heisenberg and his mentor, Bohr, embraced it; Albert Einstein declared it nonsense. God, Einstein asserted, does not play dice. Science writer and former astrophysicist David Lindley recounts the birth of the principle amid a maelstrom of doubt, insecurity, and skepticism, layering keen human drama on top of mind-bending scientific advancement."

— Stephen Ornes (Discover)
---
This Week's Most-Viewed Pages:
Forum Topics:

Articles:

There were 6,566 daily visitors this week.
---
More issues of the Skeptic Summary can be found in our archive.

The Skeptic Summary is produced by the staff of the Skeptic Friends Network, copyright 2007, all rights reserved.
---
Read or Add Comments about the Skeptic Summary
Back to Skeptic Summary