Skeptic Summary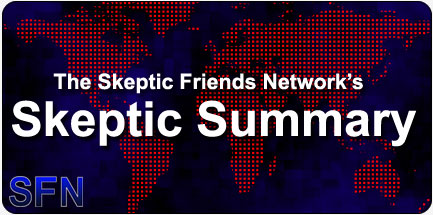 Skeptic Summary #161
By The Staff
Posted on: 10/13/2007

Peaceful Gore, inducted Falwell, singular AI, rubberized Pastor, Chinese Moon, challenged psychics and more!



Week ending October 13, 2007 (Vol 4, #38)


Welcome to the Skeptic Summary, a quick week-in-review guide to the Skeptic Friends Network and the rest of the skeptical world.

Forum Highlights:
Gore wins Peace Prize! - Conservatives: attack!

Jerry Falwell's induction interview - What does satire mean if you can't laugh at it?

Strong AI and the Singularity - Can computers be intelligently designed?

Editor's Choice: A Baptist minister goes to heaven, in rubber suit - Some parts of the story have been left untold.

From the Archives: Chinese plan a Moon base - An article projected man in space by 2005, but China did it by October, 2003…
Kil's Evil Pick:
I Watched Psychic Challenge So You Don't Have To - Here is a hilarious review of a new show from the Lifetime Channel called America's Psychic Challenge. From Rebecca Watson's Memoirs of a Skepchick blog:

First of all, every contestant claimed to get the heebie-jeebies or feel some kind of lingering spirits. From an abandoned hospital? You don't say! Why is this test even happening in an old hospital? I already see the excuses coming a mile away: oh noes, the spirits led me to another room where surely something awful happened! And yeah, they all used that excuse, because none of them picked correctly.

Though no one chose the correct room, Douche still got points, for choosing an adjoining room. Wait a second, that increases the odds of a contestant scoring a hit from 1 out of 30 to 1 out of 10. Huh. But wait, there's more!

Rebecca Watson is, of course, the founder of Skepchick International.
SkeptiQuote:
When I was a kid I used to pray
every night for a new bicycle.
Then I realised that the Lord
doesn't work that way so I stole
one and asked Him to forgive me.
— Emo Philips
Chat Highlights:
Sunday: Nobody knows what happened. Well, chat happened, obviously. And some newbies got all sorts of freaked by the goings-on. We, the staff, continue to extend our apologies. — Dave W.

Wednesday: As is the usual, bad puns were about. However, they came in greater numbers than most weeks. At one point, curiosity about the limit of simultaneous users got the better of us. As a result, there were 37 "people" signed onto chat. Luckily someone checked the Parachat Website and found that the limit was actually 100. Toward the end, there was also talk of some posts on the forum, coding, and website updates.

Come chat with us.
New Members This Week:
aalap
gill123
Alecia
SamoanEagle
Dr. Science

(Not a member? Become one today!)
---
Elsewhere in the World:
After Madeleine, why not Bin Laden?

The problem with herbalists

What's New by Bob Park

What's the harm (in herbs)?

Got some skeptic news items? Send them to us, and we'll think about adding them.
Book of the Week:
Everyday Math for Everyday Life: a Handbook for When It Just Doesn't Add Up, by Mark Ryan.





"Too often, part of being a skeptic is having a firm grasp of mathematics. When a pundit or politician tells is that we should do something about the alarming rise in crime, we're tempted to agree. But what does that statistic really mean? As the name of the book implies, you'll get lots of lessons on practical applications of what may be considered basic math. But you'll also learn about probability and statistics. Is that crime trend really a trend, or just expected fluctuations within one standard deviation? This easy-to-read book refreshes all that high school math in an easy way."

— Cuneiformist
---
This Week's Most-Viewed Pages:
Forum Topics:

Articles:

There were 14,315 daily visitors this week.
---
More issues of the Skeptic Summary can be found in our archive.

The Skeptic Summary is produced by the staff of the Skeptic Friends Network, copyright 2007, all rights reserved.
---
Read or Add Comments about the Skeptic Summary
Back to Skeptic Summary