Skeptic Summary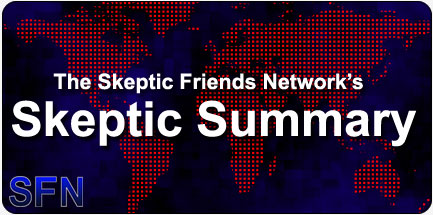 Skeptic Summary #165
By The Staff
Posted on: 11/11/2007

Questionable prophet, questionable politics, questionable religion, questionable greatness, questionable reproduction, questionable beliefs and more!



Week ending November 10, 2007 (Vol 4, #42)


Welcome to the Skeptic Summary, a quick week-in-review guide to the Skeptic Friends Network and the rest of the skeptical world.

Forum Highlights:
Question this! - Okay.

The state of US politics - Whatever it is, it ain't pretty.

What is religion? - Not an easy question to answer.

Editor's Choice: Theists win themselves the greatest atheist… - Well, winning certainly isn't everything (especially when you cheat to do so), and "greatest" is very arguable.

From the Archives: Biblical brothers and sisters doing it? - This age-old question get tackled in SFN style.
Kil's Evil Pick:
Why Is Religion Natural?

Is religious belief a mere leap into irrationality as many skeptics assume? Psychology suggests that there may be more to belief than the suspension of reason.

This article by Pascal Boyer for Skeptical Inquirer magazine (March, 2004) seems a natural given the discussion on our forum, "What is religion?" It begins:

Religious beliefs and practices are found in all human groups and go back to the very beginnings of human culture. What makes religion so 'natural'? A common temptation is to search for the origin of religion in general human urges, for instance in people's wish to escape misfortune or mortality or their desire to understand the universe. However, these accounts are often based on incorrect views about religion… and the psychological urges are often merely postulated. Recent findings in psychology, anthropology, and neuroscience offer a more empirical approach, focused on the mental machinery activated in acquiring and representing religious concepts.
SkeptiQuote:

I believe in God,
only I spell it Nature.

— Frank Lloyd Wright
Chat Highlights:
Sunday: The Sunday chat is still on vacation.

Wednesday: Time Warner Cable sucks. Alternate solutions were proposed, such as MNW (My Neighbor's Wireless). This was all being discussed while ig was popping in and out of chat faster than your eyes would if you saw Kil in a dress. Then some new t-shirt ideas were proposed and forgot about. Things started going downhill when a competition on who could come up with a good pun on the word "lowercase" started.

Come chat with us.
New Members This Week:
melb_me
Daniel The Prophet
twild
lorddix

(Not a member? Become one today!)
---
Elsewhere in the World:
Fastball-Strength Cosmic Rays Traced to Black Holes

What's New by Bob Park

Got some skeptic news items? Send them to us, and we'll think about adding them.
Book of the Week:
The New Encyclopedia of Unbelief, by Richard Dawkins (foreword) and Tom Flynn (editor).





"Successor to the highly acclaimed Encyclopedia of Unbelief (1985), edited by the late Gordon Stein, the New Encyclopedia of Unbelief is a comprehensive reference work on the history, beliefs, and thinking of America's fastest growing minority: those who live without religion. All-new articles by the field's foremost scholars describe and explain every aspect of atheism, agnosticism, secular humanism, secularism, and religious skepticism. Topics include morality without religion, unbelief in the historicity of Jesus, critiques of intelligent design theory, unbelief and sexual values, and summaries of the state of unbelief around the world. More than 130 respected scholars and activists worldwide served on the editorial advisory board and over 100 authoritative contributors have written in excess of 500 entries.

In addition to covering developments since the publication of the original edition, the New Encyclopedia of Unbelief includes a larger number of biographical entries and much-expanded coverage of the linkages between unbelief and social reform movements of the 19th and 20th centuries, including the labor movement, woman suffrage, anarchism, sex radicalism, and second-wave feminism."

— Book Description
---
This Week's Most-Viewed Pages:
Forum Topics:

Articles:

There were 8,131 daily visitors this week.
---
More issues of the Skeptic Summary can be found in our archive.

The Skeptic Summary is produced by the staff of the Skeptic Friends Network, copyright 2007, all rights reserved.
---
Read or Add Comments about the Skeptic Summary
Back to Skeptic Summary