Skeptic Summary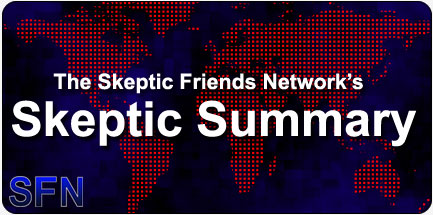 Skeptic Summary #193
By The Staff
Posted on: 6/14/2008

Darwin, Christianity, hair and flamingos, math, 9/11, skepticism and more!



Week ending June 14, 2008 (Vol 5, #21)


Welcome to the Skeptic Summary, a quick week-in-review guide to the Skeptic Friends Network and the rest of the skeptical world.



Forum Highlights:
Darwin's debt to Christianity - Uhmmm… nothing?

If I get a hair cut - It still doesn't mean I know what a phenotype is!

Editor's Choice: Is anyone good at chi-square calculations? - Math attack: fail.

From the Archives: Anyone for 9/11? - It's hard to decide between the and the smilies here.

Kil's Evil Pick:
"The Myth of Consistent Skepticism," the cautionary case of Albert Einstein:

Being a skeptic implies that we consistently apply the methods of skepticism to all claims. However, all skeptics, even Einstein, are, at best, selectively skeptical.

This article from Skeptical Inquirer says that we are all selectively skeptical. You may doubt that but I doubt that you will…
SkeptiQuote:
How would we react if a newspaper published a daily columm that read
something like this: "Germans: It is in your nature to be hard-working
and methodical, which should serve you well at work today. In your
personal relationships, especially this evening, you will need to curb
your natural tendency to obey orders. Chinese: Inscrutability has many
advantages, but it may be your undoing today. British: Your stiff
upper lip may serve you well in business dealings, but try to relax
and let yourself go in your social life.
— Richard Dawkins on astrology

Chat Highlights:
Sunday: Formula-1 race in Canada; fossils in different strata; the weather; will Dr. Mabuse keep his daytime job? Why the pink of flamingos is phenotype; why hassle with a PC when you're trouble-free with a Mac?

Wednesday: With TAM 6 almost here, Kil is contemplating joining the 21st century by blogging about it while attending. In other news, talk of the most recent SFN spammer erupted when several more junk emails were received. Derek from Skepticality handled the spam in this post quite well. In an unrelated story, Randi's forum, JREF, went down for several days, forcing skeptics and crackpots alike to go outside for a little while. In fashion, Kil looks lovely as always in a dress. Finally we leave off with politics where everyone seems to be in full agreement that Obama is the superior orator, and McCain likes to give speeches with marshmallows in his mouth.

Come chat with us.

New Members This Week:
Killer Bud
thequestionist
d-d
no1nose
tomato
MuhammedGoldstein

(Not a member? Become one today!)
---

Elsewhere in the World:
Ad hominem fallacy

How being swindled can make you feel better

If you're reading this, I guess the world didn't end after all

What's New by Bob Park

Got some skeptic news items? Send them to us, and we'll think about adding them.

Book of the Week:
Just How Stupid Are We? Facing the Truth About the American Voter, by Rick Shenkman (hat-tip to Dude).





"Levees break in New Orleans. Iraq descends into chaos. The housing market teeters on the brink of collapse. Americans of all political stripes are heading into the 2008 election with the sense that something has gone terribly wrong with American politics. But what exactly? Democrats blame Republicans and Republicans blame Democrats. Greedy corporate executives, rogue journalists, faulty voting machines, irresponsible defense contractors — we blame them, too. The only thing everyone seems to agree on, in fact, is that the American people are entirely blameless. In Just How Stupid Are We?, best-selling historian and renowned myth-buster Rick Shenkman takes aim at our great national piety: the wisdom of the American people. The hard truth is that American democracy is more direct than ever — but voters are misusing, abusing, and abdicating their political power. Americans are paying less and less attention to politics at a time when they need to pay much more: Television has dumbed politics down to the basest possible level, while the real workings of politics have become vastly more complicated. Shenkman offers concrete proposals for reforming our institutions — the government, the media, civic organizations, political parties — to make them work better for the American people. But first, Shenkman argues, we must reform ourselves."

— Book Description
---

This Week's Most-Viewed Pages:
Forum Topics:

Articles:

There were 10,856 daily visitors this week.
---
More issues of the Skeptic Summary can be found in our archive.

The Skeptic Summary is produced by the staff of the Skeptic Friends Network, copyright 2008, all rights reserved.
---
Read or Add Comments about the Skeptic Summary
Back to Skeptic Summary