Skeptic Summary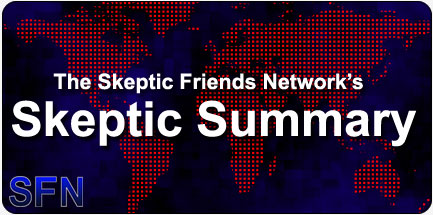 Skeptic Summary #303
By The Staff
Posted on: 10/9/2010

Faux News, birthday time, one wrong letter, still number one, medical artifacts and more!



Week ending October 09, 2010 (Vol 7, #38)


Welcome to the Skeptic Summary, a quick week-in-review guide to the Skeptic Friends Network and the rest of the skeptical world.



Forum Highlights:
The epitome of stupidity - Is Fox News really a gigantic Poe?

Happy birthday - A Skeptic Friends Network founder is getting older.

Refuting Bible skeptics - In the world of computers, a misspelling can take you someplace entirely different.

Editor's Choice: Atheists and agnostics are #1 - Bill tries to burn another straw man to the ground.

Kil's Evil Pick:
Museum of Historical Medical Artifacts — Here is curator Dr. M. Donald Blaufox's introduction to this fabulous site:

The concept for this web site evolved over a period of about thirty years. It was my original intent to develop a collection of antique medical instruments that could serve as a nidus for a museum of medical history as evidenced by the objects that contributed to its development.

It soon became apparent, unlike the situation in Europe, that there was little or no interest in the creation of a medical museum in the United States although there are a large number of antique medical instrument collectors and dealers. In Europe, most cities and many hospitals have significant historic medical collections. In the United States these collections are few and far between. In lieu of a physical museum, the concept began to evolve in 2007 of creating a book to showcase my collection of over 1000 objects and to include detailed descriptions and commentary.

Such a project would be impractical because of the publication costs. However, with further thought I realized that the web is the perfect site for such an endeavor. A website of medical historic objects could be quite large, easily searched and could have countless photos. In addition the images could be magnified to show detail that could not be appreciated in a physical museum.

I have taken well over a thousand photos of the objects representing a wide range of medical practice and of craftsmanship. Some objects were acquired simply because they have some medical significance, others for their beauty, but all of them because they help to understand the evolution of medicine over the centuries. This site is a gigantic undertaking and will evolve over many years. The material presented here is a first effort. I welcome comments, corrections and criticisms.

I would also like to point out an additional reference source, the Proceedings of the Medical Collectors Association, a group that I founded. These discussions can be found on the website generously established by Jim Edmundson. A variety of other very useful sites can be found in the links page. It also should be noted that the a listing of the manufacturers and their locations can be found on the tab for the glossary.

There are many categories to choose from. I have looked at all of the categories including Civil War, Quackery, Electricity and Psychology among others, and by golly, everything there is fascinating. Here is one from the Health Aids category:

Category: Health Aids
Estimated Date: 1908
Name: E. Fougera's Strong Mustard Plasters
Manufacturer: E. Fougera Mfg. Co.

Description: 5" × 4" × .5" yellow tin with label stating directions and claiming for the prompt relief of such general internal inflammations as: neuralgia, ear ache, inflamed gums, toothache, sore throat, bronchitis, etc… Contains 5 original plasters each 4.5"×3.5" with label and directions warranted to contain pure mustard.

It's worth noting that many of the devices and aids are not quackery related. But a lot has changed in the world of medical sciences and you probably wouldn't want your doctor to come at you with most of the devices or aids displayed on this site. Go to the Museum of Historical Medical Artifacts and look around. You won't be disappointed. You might be horrified, but not disappointed.
SkeptiQuote:

The most incomprehensible thing about the Universe is that it is comprehensible.

— Albert Einstein

Chat Highlights:
Wednesday: A third total failure at logging chat, and nobody even has any memories of anything said in particular. But like the Summer of Love, we all agreed it was fantastic, and if you missed it, your life will be full of regret.

Come chat with us.

New Members This Week:
SgtShaeffer
Lorien
Dmitri
Mental5
Daniel Kretchmar

(Not a member? Become one today!)
---

Elsewhere in the World:
Are We Wired For Monogamy?

Atheists Ignore Richard Dawkin's Advice

Big Bang Alternatives: Could my light just get tired?

Creationists Destroy Creationism with Their Own Words

Drug-filled Mice Airdropped Over Guam to Kill Snakes

Fact or Faked: Faked!

Insane Clown Posse: And God created controversy

A genetic cause for ADHD won't necessarily reduce the stigma attached

Mr. Bryan's Address to the Jury in the Scopes' Case, The Speech Which Was Never Delivered

The Oldest Animal Fossils?

The Scientific Case for Masturbation

The Skeptic's Dictionary Newsletter #120

Wellesley professor unearths a horror: Syphilis experiments in Guatemala

What's New by Bob Park

The Wisdom of Not Understanding

Got some skeptic news items? Send them to us, and we'll think about adding them.

Book of the Week:
Cooking for Geeks: Real Science, Great Hacks, and Good Food, by Jeff Potter.





"Are you the innovative type, the cook who marches to a different drummer — used to expressing your creativity instead of just following recipes? Are you interested in the science behind what happens to food while it's cooking? Do you want to learn what makes a recipe work so you can improvise and create your own unique dish?

More than just a cookbook, Cooking for Geeks applies your curiosity to discovery, inspiration, and invention in the kitchen. Why is medium-rare steak so popular? Why do we bake some things at 350 F/175 C and others at 375 F/190 C? And how quickly does a pizza cook if we overclock an oven to 1,000 F/540 C? Author and cooking geek Jeff Potter provides the answers and offers a unique take on recipes — from the sweet (a 'mean' chocolate chip cookie) to the savory (duck confit sugo)…

…Gain firsthand insights from interviews with researchers, food scientists, knife experts, chefs, writers, and more, including author Harold McGee, TV personality Adam Savage, chemist Hervé This, and xkcd."

— Product Description
---

This Week's Most-Viewed Pages:
Forum Topics:

Articles:

There were 9,082 daily visitors this week.
---
More issues of the Skeptic Summary can be found in our archive.

The Skeptic Summary is produced by the staff of the Skeptic Friends Network, copyright 2008, all rights reserved.
---
Read or Add Comments about the Skeptic Summary
Back to Skeptic Summary