Skeptic Summary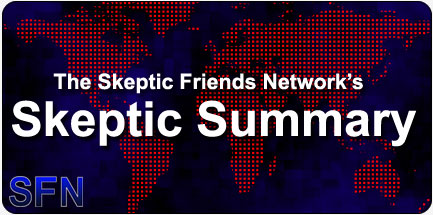 Skeptic Summary #366
By The Staff
Posted on: 6/17/2012

Dark Matter, placebos for sale, social justice, SpaceX and more!



Week ending June 17, 2012 (Vol 9, #15)


Welcome to the Skeptic Summary, a quick week-in-review guide to the Skeptic Friends Network and the rest of the skeptical world.



Forum Highlights:
Dark Matter misconception? - Our resident "rocket scientist" weighs in.

Placebo Mart - Wares for people who believe it's all in your mind.

Rationalism in a world of unfairness - How can Skeptics build a better world?

Kil's Evil Pick:
SpaceX.com — I became mildly interested in Space Exploration Technologies (SpaceX) a few years ago. The idea of commercial space vehicles capable of what only a handful of governments have been able to accomplish was fun to think about, but the actual reality of it didn't really sink in for me until last months successful launch of a real-deal mission. It should have. This wasn't the first successful launch by the company, but it was the first mission that demonstrated its viability, as real player, in what had previously been a government-only enterprise.




What did SpaceX do? It launched its own low-orbit vehicle, Dragon, a free-flying, reusable spacecraft, atop of a Falcon 9 rocket, also built exclusively by SpaceX, with a payload destined to successfully rendezvous and attach to the International Space Station. It carried supplies for the space station and returned to Earth with cargo from the station. After a few days delay because of an initial last-second glitch, the entire mission from lift-off to return went off without a problem.




With my interest finally piqued, I started exploring the SpaceX.com site. And there's a lot there. The goal of the company is to create a less-expensive, viable alternative to government-run programs, by engineering and building most parts of the space vehicle in-house, using existing and new technologies. They include manned missions as a part of their plans, as well as a more cost-effective commercial and defense mission capability than the government can produce, with a plan for making all parts of the spacecraft safer and fully reusable. Quite a goal!




Make no mistake about it. SpaceX is a commercial project, and so the SpaceX.com is part sales pitch. But what the hey… Here's their main spiel:

In an era when most technology based products follow a path of ever-increasing capability and reliability while simultaneously reducing costs, launch vehicles today are little changed from those of 40 years ago. SpaceX aims to change this paradigm by developing a family of launch vehicles which will ultimately reduce the cost and increase the reliability of space access by a factor of ten. Coupled with the newly emerging market for private and commercial space transport, this new model will re-ignite humanity's efforts to explore and develop Space.

Our company is based on the philosophy that simplicity, low-cost, and reliability can go hand in hand. By eliminating the traditional layers of management, internally, and sub-contractors, externally, we reduce our costs while speeding decision making and delivery. Likewise, by keeping the vast majority of manufacturing in house, we reduce our costs, keep tighter control of quality, and ensure a tight feedback loop between the design and manufacturing teams. And by focusing on simple, proven designs with a primary focus on reliability, we reduce the costs associated with complex systems operating at the margin.

Established in 2002 by Elon Musk, the founder of PayPal and the Zip2 Corporation, SpaceX has already developed two brand new launch vehicles, established an impressive launch manifest, and been awarded COTS funding by NASA to demonstrate delivery and return of cargo to the International Space Station. Supported by this order book and Mr. Musk's substantial resources, SpaceX is on an extremely sound financial footing as we move towards volume commercial launches.

Although drawing upon a rich history of prior launch vehicle and engine programs, SpaceX is privately developing the Dragon crew and cargo capsule and the Falcon family of rockets from the ground up, including main and upper stage engines, the cryogenic tank structure, avionics, guidance & control software and ground support equipment.


A couple of things are clear. With the retirement of the Space Shuttle, right now, SpaceX is the only game in town (the USA) for delivering heavy goods into space and returning again. And unless I'm very much mistaken, it's my guess that SpaceX, in cooperation with NASA, along with some other privately-owned companies, represents our future in space travel, like it or not. So get used to it.




SpaceX is already delivering on its promise. And that was brought home to me by its recent visit to the International Space Station. SpaceX.com is an interesting and valuable resource. And I have to tell you, if you just stay for the photos and the videos, it's still worth the price of admission. SpaceX.com is a glimpse at our future in space travel.


SkeptiQuote:

Humanity has the stars in its future, and that future is too important to be lost under the burden of juvenile folly and ignorant superstition.

— Isaac Asimov

Chat Highlights:
Wednesday: We started out discussing loans, the ethicalness of bankers' practises and collection agencies. Eyewitness reports, some of them are shady… Having licenses are important if you do work in a field in which licenses are required. We also discussed immigrant labor, how much tax an illegal alien pays, and how much of a tax liability they are. Actually, a lot of time was spent discussing illegal aliens. The upcoming TAM and what is going to happen there, what to expect. Penn Jilette will be performing (perhaps like this) with his band. By the end of the chat we moved on to the sexual-harassment controversy. HalfMooner dropped by just as we started to close down for the night.

Come chat with us.

New Members This Week:
x1999x

(Not a member? Become one today!)
---

Elsewhere in the World:
Alien Earths Have Been Around for a While

Ancient effect harnessed to produce electricity from waste heat

The Antiskeptics

AVN commentator alleges that McCafferys took money to promote vaccines

The basic building blocks of life to be rethought after one discovered to be missing

Belief In God Plummets Among Youth (CHART)

The Christian case for gay marriage

Color this chimp amazing

Coroner: Dingo Snatched, Killed Infant Azaria

Data from Voyager 1 point to interstellar future

Death threat #10

Doubtful Newsblog

Explorers reveal bit of Baltic sea floor mystery. Lots of hype, little substance.

Freaky squid story is TRUE

Fuel Cell Runs on Brain Power

Genetically-modified mosquito designed to avoid malaria spread

Genetically Modified Cotton Brings Back Nature's Pest Control: Predators

Gorillas Seen Using "Baby Talk" Gestures—A First

Homeowners accused of crime file defamation suit against psychic tipster

How Crows Recognize Individual Humans, Warn Others, and Are Basically Smarter Than You

In God We Teach

I got a bone to pick with John the Baptist

Is religion irrational? Also, on certainty

Living Stem Cells Discovered in 17-Day-Old Human Corpses

The Long, Ongoing Dream of Undersea Colonies

A Modest Proposal

Muslim cleric declares jihad in response to polio vaccination campaign

Mysterious 'Forest Boy' Identified as a Fraud

New evidence supporting theory of extraterrestrial impact found

New Roolz: Occupy must organize

Pew survey: Doubt of God growing quickly among millennials

Phantom hand mapped for the first time

Pseudoscientific expedition: the North Pole Inner Earth project

Radiation scare in Indiana sparks allegations of nuclear coverup

Revealed At Last: Sexually Depraved Penguins

Skepticality #184 — Learn Like a Sponge

Some newfound planets are something else

Sudden Aggression in Dogs Often a Sign of Pain

These little guys could make it on Mars

Thoughts of Death Make Only the Religious More Devout

The unbelievable reality of House Hunters and "reality" TV shows

Virginia Lawmaker Says 'Sea Level Rise' Is A 'Left Wing Term,' Excises It From State Report On Coastal Flooding

Vicious web site attacks prominent skeptic James Randi and others

What is Dunbar's Number?

What's New by Bob Park

Why smart people are stupid

You Have Grandpa's Chromosome Tips

Got some skeptic news items? Send them to us, and we'll think about adding them.

Book of the Week:
Merchants of Doubt: How a Handful of Scientists Obscured the Truth on Issues from Tobacco Smoke to Global Warming, by Naomi Oreskes and Erik M. M. Conway.





"Merchants of Doubt was one of the most talked-about climate change books of recent years, for reasons easy to understand: It tells the controversial story of how a loose-knit group of high-level scientists and scientific advisers, with deep connections in politics and industry, ran effective campaigns to mislead the public and deny well-established scientific knowledge over four decades. The same individuals who claim the science of global warming is 'not settled' have also denied the truth about studies linking smoking to lung cancer, coal smoke to acid rain, and CFCs to the ozone hole. 'Doubt is our product,' wrote one tobacco executive. These 'experts' supplied it."

— Book Description
---

This Week's Most-Viewed Pages:
Forum Topics:

Articles:

There were 8,062 daily visitors this week.
---
More issues of the Skeptic Summary can be found in our archive.

The Skeptic Summary is produced by the staff of the Skeptic Friends Network, copyright 2012, all rights reserved.
---
Read or Add Comments about the Skeptic Summary
Back to Skeptic Summary