Skeptic Summary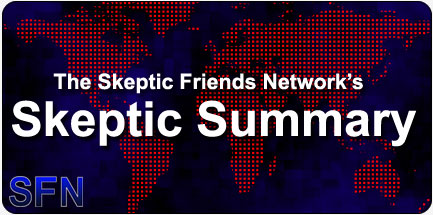 Skeptic Summary #382
By The Staff
Posted on: 3/25/2013

Prohibiting drugs, an awesome ticket, Sandy Hook truthers, Pope resigns, Gish dies, a return, the Media Guide, the Evil Pick and more!



Week ending March 24, 2013 (Vol 10, #4)


Welcome to the Skeptic Summary, a quick, bi-weekly review of the Skeptic Friends Network and the rest of the skeptical world.

Please, if you can, help Send Kil to TAM 2013!



Forum Highlights:
Arguments for the prohibition of drugs - "Because your arguments against are not good enough."

Michelle and Hillary for 2016?? - How much bang-for-the-buck can we get?

Newton, Connecticut - Another Skeptic Friend returns.

Pope to resign - What'll be his new job, and who will take over?

RIP: Duane Gish - The inventor of the Gish gallop gets a send-off.

Um, hi - The prodigal daughter returns!

Editor's Choice: The Media Guide to Skepticism - It's only got a couple problems.

Kil's Evil Pick:
So here's the deal. I'm seriously thinking of changing the direction of this space in our Summary. My space. After years of highlighting sites, it's getting a bit thin out there. I am sure there are many more sites worth a once-over and worthy of our attention, but I feel that much of what I highlight, most of you skeptics out there already know about. I'm not going to stop picking sites that excite me, but I think I should break for a bit and go in another direction. At least, that's what I think I should do when I'm feeling a bit burned out or when I'm just pressing to get something into this spot. (Perhaps I should point out that I do have a great pick for an upcoming Summary, but I have decided to wait for now, because I just wasn't coming up with anything fresh to say about it, and I was bumming myself out trying.)




Heck. It's very possible that if I decorate this blog with a few photos, as usual, neither one of my regular readers will even notice the change. If you do, let me know about it. Let me know what you think in the comment area. Oh wait! There is no comment area. That way I never have to put up with crappy comments about me, or this thing that I do. Of course, there is the SFN forum for that sort of thing. Just sayin'.




And then there is this other dilemma. Let's say, just for the sake of arguing with myself, that I did write a skeptical blog in this spot. I suppose it would have to be something like a short Kil Report (you have read all those, right? And you are hungry for more!) Do you know what the Internet needs, and especially what the skeptical community needs? Another freaking skeptical blog written by another lay skeptic. Yippy!




Oh, don't get me wrong. I do enjoy reading a lot of skeptical blogs out there written by people who aren't really investigators of extraordinary phenomena or dubious claims and just happen to be good science writers, reporters, or have something of interest to say about how skepticism works in their lives. That is, in fact, something that I do from time to time. But I don't do that here in our Skeptic Summary.

What to do? What to do?


SkeptiQuote:

It annoys me that the burden of proof is on us. It should be: "You came up with the idea. Why do you believe it?" I could tell you that I have super powers. But I can't go up to people and say "Prove I can't fly." They'd go: "What do you mean prove you can't fly? Prove you can!"

— Ricky Gervais

Chat:
Please come join us for chat every Wednesday at 10 PM Eastern time (7PM Pacific). More information can be found in this forum post.

New Members This Week:
Plaid42
Mary Goldwin
GailG

(Not a member? Become one today!)
---

Elsewhere in the World:
5 Ways Statistics Are Used to Lie to You Every Day

6 Outrageously Wealthy Preachers Under Federal Investigation

The 19-Year-Old Kid Who's Giving Creationists A Run For Their Money

Big sun-diving Comet ISON might be spectacular in late 2013

The decline (and Probable Fall) of the Scientology Empire

Doubtful News

Dr. Amen's Love Affair with SPECT Scans

The Earth's most powerful telescope goes online next week

Flintstones Archaeology

Global Temperatures Highest in 4,000 Years

'Healer' infects 16 people with HIV in Switzerland

I Doubt It and Maybe You Should, Too

The junk science clowns behind the GMO scare

Lawyers fall for Nigerian scam

Mo. Representative Pushes For Gluten-Labeling On Shampoos

New Type of Bacteria Reportedly Found in Buried Antarctic Lake

Psychics to refund $50,000 to woman who paid to vanquish evil spirits

Rhinos and cancer cures — Follow the money

Sandy Hook truthers are not giving up

Scientists Resurrect Bonkers Extinct Frog That Gives Birth Through Its Mouth

Skepticality #203 — The Rocks Don't Lie

Solar Wind Energy Source Discovered

Tory Shepherd: When anti-scientists go on the attack

Truther mockumentary asks: Was the destruction of the Death Star an inside job?

Twilight Of The Gullible

Got some skeptic news items? Send them to us, and we'll think about adding them.

Book of the Week:
Going Clear: Scientology, Hollywood, and the Prison of Belief, by Lawrence Wright.





"A clear-sighted revelation, a deep penetration into the world of Scientology by the Pulitzer Prize-winning author of The Looming Tower, the now-classic study of al-Qaeda's 9/11 attack. Based on more than two hundred personal interviews with current and former Scientologists — both famous and less well known — and years of archival research, Lawrence Wright uses his extraordinary investigative ability to uncover for us the inner workings of the Church of Scientology.

At the book's center, two men whom Wright brings vividly to life, showing how they have made Scientology what it is today: The darkly brilliant science-fiction writer L. Ron Hubbard, whose restless, expansive mind invented a new religion. And his successor, David Miscavige — tough and driven, with the unenviable task of preserving the church after the death of Hubbard.

We learn about Scientology's complicated cosmology and special language. We see the ways in which the church pursues celebrities, such as Tom Cruise and John Travolta, and how such stars are used to advance the church's goals. And we meet the young idealists who have joined the Sea Org, the church's clergy, signing up with a billion-year contract.

In Going Clear, Wright examines what fundamentally makes a religion a religion, and whether Scientology is, in fact, deserving of this constitutional protection. Employing all his exceptional journalistic skills of observation, understanding, and shaping a story into a compelling narrative, Lawrence Wright has given us an evenhanded yet keenly incisive book that reveals the very essence of what makes Scientology the institution it is."

— Book Description
---

This Week's Most-Viewed Pages:
Forum Topics:

Articles:

There were 8,165 daily visitors this week.
---
More issues of the Skeptic Summary can be found in our archive.

The Skeptic Summary is produced by the staff of the Skeptic Friends Network, copyright 2013, all rights reserved.
---
Read or Add Comments about the Skeptic Summary
Back to Skeptic Summary