Skeptic Summary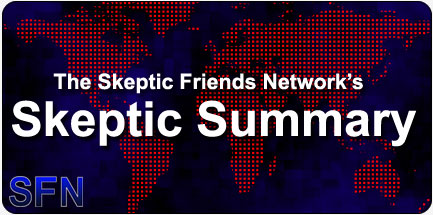 Skeptic Summary #120
By The Staff
Posted on: 12/3/2006

Madness, swearing, humor, compatibility, pranks and more!



Week ending December 2, 2006 (Vol 3, #47)


Welcome to the Skeptic Summary, a quick week-in-review guide to the Skeptic Friends Network and the rest of the skeptical world.

Special Announcement:
The SFN would like to send Kil back to the Amaz!ing Meeting next January, and you can help!
Forum Highlights:
The madness of Ken Ham… - As member Neurosis concisely puts it, "Evolution is a religion and religions are stupid and illogical, therefore you must believe in MY religion!"

Swearing on the Quran - When the Good Book ain't good enough.

And perhaps as a backlash to all the political talk a month ago, our Humor Folder has had over 20 active threads this week.

Editor's Choice: Are skepticism and Buddhism compatible? - That will depend on whether you listen to the answers.
Kil's Evil Pick:
"Pranks, Frauds, and Hoaxes from Around the World," by Robert Carroll - "It's pretty easy to hoax people. We all want to be deceived, but only up to a point. Some hoaxes are fun and pleasant, others malicious and unpleasant. We'd like a way to tell the difference."
Chat Highlights:
Sunday: Siberia's graduation thesis passed! Congratulations! More discussions around programming and programmers. Sleipner, the 8-legged Norse god Oden's horse, and how it's pronounced. Isaac Asimov's untimely demise on someone's birthday. Humour reviews. Scottish accents on TV, like StarGate Atlantis.

Wednesday: Problems with Skepticality's server. Mac vs. PC, as the battle rages on between Kil and all other SFN members. Militant agnostics, Richard Dawkins, and South Park. Chat ended with Lego robots and Guild Wars.

Come chat with us.
New Members This Week:
sandraben
Pachomius
perrodetokio
alexlife
an_atheist

(Not a member? Become one today!)
---
Elsewhere in the World:
Bad Science

Skepticality #041 - Naked Skeptics and The Amazing Meeting

What's New by Bob Park

Got some skeptic news items? Send them to us, and we'll think about adding them.
Book of the Week:
Don't Believe Everything You Think: the 6 Basic Mistakes We Make in Thinking, by Thomas E. Kida.





"Do you believe that you can consistently beat the stock market if you put in the effort? That some people have extrasensory perception? That crime and drug abuse in America are on the rise? Many people hold one or more of these beliefs although research shows that they are not true. And it's no wonder since advertising and some among the media promote these and many more questionable notions. Although our creative problem-solving capacity is what has made humans the successful species we are, our brains are prone to certain kinds of errors that only careful critical thinking can correct. This enlightening book discusses how to recognize faulty thinking and develop the necessary skills to become a more effective problem solver…"

— Booklist
---
This Week's Most-Viewed Pages:
Forum Topics:

Articles:

There were 4,552 daily visitors this week.
November's Most-Viewed Pages:
Forum Topics:

Articles:

There were 19,345 daily visitors in November.
---
More issues of the Skeptic Summary can be found in our archive.

The Skeptic Summary is produced by the staff of the Skeptic Friends Network, copyright 2006, all rights reserved.
---
Read or Add Comments about the Skeptic Summary
Back to Skeptic Summary