Skeptic Summary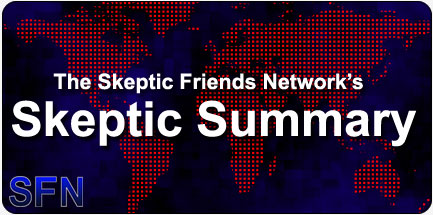 Skeptic Summary #179
By The Staff
Posted on: 2/24/2008

A christian, a messiah, a terrorist act, an argument, a cave-in, an artist and more!



Week ending February 23, 2008 (Vol 5, #7)


Welcome to the Skeptic Summary, a quick week-in-review guide to the Skeptic Friends Network and the rest of the skeptical world.



Forum Highlights:
Conservative Christian - Gimme one more time: start at the beginning.

Jesus the evidence - What, exactly?

Prof's home attacked by suspected ALF terrorists - What is a terrorist?

Editor's Choice: More ID - A new old argument.

From the Archives: ID finally caving in? - Uh, no.

Kil's Evil Pick:
Laurie Anderson — Only An Expert

Last Wednesday evening in chat, Dave and I talked a bit about Laurie Anderson and what she is up to these days. I found this video, which is a newish song for an upcoming album. Here she plays it live. I had to laugh when I heard it because two things struck me. First, the song is almost a skeptical anthem that cautions, in its way, the problem with arguments from authority or expert opinion. Second, it is so thoroughly Laurie Anderson.

So please indulge me. This is the first time I have picked a song or an artist as my evil pick, and I probably won't make a habit of it.
SkeptiQuote:
The skeptic does not mean him who
doubts, but him who investigates or
researches, as opposed to him who
asserts and thinks that he has found.
— Miguel de Unamuno

Chat Highlights:
Sunday: Our chat host was busy recovering.

Wednesday: We started out with a game of "Diagnose-my-medical-problem," which is a game where no one really wins. Then skepticism in politics: why is it that skeptics are associated with Libertarians? There was some fierce debate, but eventually everyone agreed that privately owned roads are the only plausible solution to this country's problems. Then bad jokes and finally the format war with HD-DVD and Blu-Ray to end out the night.

Come chat with us.

New Members This Week:
jc072
cpfh
visible_sincere
Michael J. Bihn
timothwc
Herold
O1eepj
der74hva3

(Not a member? Become one today!)
---

Elsewhere in the World:
Brain Gym (Skeptic's Dictionary)

Did Life Evolve in Ice?

Florida now requires evolution instruction

Is this going to be the major creationist strategy?

Shermer's The Mind of The Market

Skepticality #071 — Dr. Karl Explains it All — Interview: Dr. Karl Kruszelnicki

The Skeptic's Dictionary Newsletter

Ticking the boxes before trying to save lives

What's New by Bob Park

Got some skeptic news items? Send them to us, and we'll think about adding them.

Book of the Week:
The Mystery of the Missing Antimatter, by Helen R. Quinn and Yossi Nir.





"Using remarkably clear prose and analogies drawn from everyday experience (hunting for rabbits, waves crashing into a sea wall), physicists Quinn and Nir (of the Stanford Linear Accelerator and the Weizman Institute in Israel, respectively) examine both historical and cutting-edge research into particle physics, the study of the most basic components of the universe — including both matter and antimatter, the universal imbalance of which provides one of the discipline's central puzzles (and this book's title). A thorough account, this examination takes readers through the basics (physical constants, the expanding universe, 'What is Matter?') before breaking out concepts like neutrinos and quarks, rules of energy and symmetry, and dark matter. Quinn, an active participant in the particle physics community since the 1960s, contributes charming personal accounts that present pioneering researchers and their work in endearingly human terms, capturing well the club's excitement over particularly important discoveries. Though it's far from light reading, this book is will prove highly stimulating and illuminating for anyone who ever wondered, 'Just what is dark matter anyway?' without realizing that even physicists don't know yet. A time line of particle physics discoveries is usefully appended, but a bibliography is missed."

— Publisher's Weekly
---

This Week's Most-Viewed Pages:
Forum Topics:

Articles:

There were 10,959 daily visitors this week.
---
More issues of the Skeptic Summary can be found in our archive.

The Skeptic Summary is produced by the staff of the Skeptic Friends Network, copyright 2008, all rights reserved.
---
Read or Add Comments about the Skeptic Summary
Back to Skeptic Summary