Skeptic Summary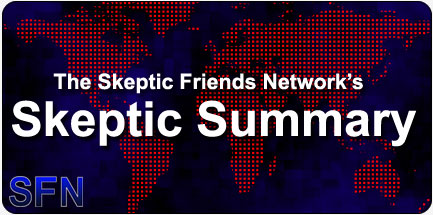 Skeptic Summary #391
By The Staff
Posted on: 9/30/2013

Shooting blind, leaping frog, busting Robertson, mystery man, horrible verses, federal agency and more!



Week ending September 29, 2013 (Vol 10, #13)


Welcome to the Skeptic Summary, a quick, bi-weekly review of the Skeptic Friends Network and the rest of the skeptical world.



Forum Highlights:
Being blind as a bat shouldn't be a problem… - Because I have rights. 2nd Amendment rights.

One small step for man, one giant leap for frogs - Relocated in the name of rocket science.

Pat Robertson finally busted? We can but hope. - Looks like evidence of fraud, will he get away?

Who the hell is this guy?! - Someone who didn't live up to his own expectations.

Editor's Choice: What are the worst verses in the Bible? - Bring your favorite chapter and verse.

Kil's Evil Pick:
U.S. The Food and Drug Administration (FDA) — Okay, look. Much is written about the FDA. And not all of it is about what a swell job they are doing, protecting our food and drug supply from the evildoers often referred to in some of those criticisms as "Big Pharma." The FDA is a regular target of many interest groups, from those who think the FDA is an example of big government and would do away with almost any agency that has regulatory powers over (you name it), to those who think that there is a conflict of interest based on who works at the FDA, to full-blown conspiracy theories that allege that the FDA is in on a scheme to keep people sick because cures are not profitable. Though I strongly doubt that the FDA wants to keep you sick, there are some criticisms that might be valid. I really don't know. I'm not going to get into that here. What I do know is that we need the FDA. We need some regulatory agency looking out for the safety of the food we eat and the safety and efficacy of the drugs we are prescribed or are purchased over the counter.




Here is a description of the FDA's mandate:

FDA Fundamentals

The Food and Drug Administration (FDA) is an agency within the U.S. Department of Health and Human Services. It consists of the Office of the Commissioner and four directorates overseeing the core functions of the agency: Medical Products and Tobacco, Foods and Veterinary Medicine, Global Regulatory Operations and Policy, and Operations.

FDA is responsible for

Protecting the public health by assuring the safety, effectiveness, quality, and security of human and veterinary drugs, vaccines and other biological products, medical devices, most of our nation's food supply, all cosmetics, dietary supplements, and products that give off radiation


Regulating tobacco products.


Protecting the public health by assuring that foods (except for meat from livestock, poultry and some egg products which are regulated by the U.S. Department of Agriculture) are safe, wholesome, sanitary and properly labeled; ensuring that human and veterinary drugs, and vaccines and other biological products and medical devices intended for human use are safe and effective


Protecting the public from electronic product radiation


Assuring cosmetics and dietary supplements are safe and properly labeled


Regulating tobacco products


Advancing the public health by helping to speed product innovations


The focus of this pick is on the FDA's consumer pages of their website. And boy howdy, is there a lot of good information the FDA site. There are several menus on the page, ranging from Consumer Updates, which lists new information and updates on warnings about quack products and procedures, and even things not to worry about. You can subscribe to a newsletter from the page, which I have just done. Also from the consumer page is a menu item called, Protect Yourself. That page offers a list of menu items for such things as warnings for buying medication over the Internet, warnings and enforcement actions taken by the FDA, consumer safety alerts and that sort of thing. There is a menu item called 6 Tip-offs to Rip-offs: Don't Fall for Health Fraud Scams that can be very helpful for avoiding a scam and to pass along to someone you know who just told you about something they heard about and are planning to do that just doesn't sound right. There is even a page for reporting unlawful sales of medical products on the internet. A good thing! There is even a monthly updated Med Watch List which includes more product warnings phone numbers and this little but important ditty:

After products approved by the Food and Drug Administration (FDA) are on the market, the agency continues to monitor them for problems.

FDA encourages health care professionals and consumers to report problems with medical products, including

unexpected and undesirable side effects


quality problems, such as a drug with an unusual odor or color, or a device with defective parts


unclear or confusing instructions


failure to deliver the expected benefit.

Report problems to FDA's MedWatch Adverse Event Reporting Program either online, by regular mail, by fax, or by phone.





The site more than touches on the importance and efficacy of vaccines, biogenetics (GMOs), medical devices, nutrition, chidrens health and I could go on and on. Every page is packed with info and more links relevant to the topics. There is even a multi-media page, plus a link to the FDA's consumer YouTube videos. There are lots of good ones there, so check them out.




Whatever debates exist about the FDA, and really, my guess is most of them are agenda driven, the FDA's consumer website is a goldmine of great information. I have been using it for years to get more of a low-down on some questions that have come up on certain products or their take on controversies like GMOs. No matter how you come down on some of the things covered by the FDA, there is no question that the consumer pages are a fantastic resource.
SkeptiQuote:

Facts do not cease to exist because they are ignored.

— Aldous Huxley

Chat:
Wednesday, September 11th: Chatters celebrated the first visit from Dr. Mabuse since his summer vacation. We started with a stock report and quickly turned to retirement plans. Things to do when we have the time, and things we did (also when we had the time). Art for art's sake (money for God's sake). There was some chit-chat about the weather before Mexico became a hot topic. We also discussed the definition of third-world countries. One regular outed himself as a little more close-minded than we thought. The chat ended with talks around the rift due to sexism.

Come chat with us.

New Members This Week:
fred328
vikashbubble
apikoros
yuyunchen
gewisn

(Not a member? Become one today!)
---

Elsewhere in the World:
5 Things They Say Give You Cancer (And Why They're Wrong)

The 6 Most Humiliating Public Failures by Celebrity Psychics

All About Fracking

An animal with gears!

Beware of Illegally Sold Diabetes Treatments

Blue-Man Metal

The Breaking News Consumer's Handbook

Did I Participate In A Pyramid Scheme?

Doubtful News

Family outraged by psychic's claims

Ghosts, Knowing, And A Lesson At Bedtime

A guide to fallacious arguments, illustrated with funny animals

Infomercial king Kevin Trudeau thrown in jail after lavish spending

Is Health Canada bringing measles back by approving ineffective homeopathic remedies?

Let Narendra Dabholkar's murder turn the tide for reason

The most absurd "scientific" research project you've seen all day

Most depressing brain finding ever

People Are Literally Getting Palm Line Surgery for Better Fortunes

Perception and the Paranormal: The Tea Box Ghost

The Science Behind Bigfoot and Other Monsters

Skepticality #214 — Reality Check!

Skepticality #215 — Do You Believe In Magic?

TEDx tries to be more evidence-based

Testicle-eating fish? Bollocks!

Tools for monitoring skeptic-relevant legislation in the US

What Shakespeare really sounded like

Got some skeptic news items? Send them to us, and we'll think about adding them.

Book of the Week:
Bad Science: Quacks, Hacks, and Big Pharma Flacks, by Ben Goldacre.





"Have you ever wondered how one day the media can assert that alcohol is bad for us and the next unashamedly run a story touting the benefits of daily alcohol consumption? Or how a drug that is pulled off the market for causing heart attacks ever got approved in the first place? How can average readers, who aren't medical doctors or Ph.D.s in biochemistry, tell what they should be paying attention to and what's, well, just more bullshit?

Ben Goldacre has made a point of exposing quack doctors and nutritionists, bogus credentialing programs, and biased scientific studies. He has also taken the media to task for its willingness to throw facts and proof out the window. But he's not here just to tell you what's wrong. Goldacre is here to teach you how to evaluate placebo effects, double-blind studies, and sample sizes, so that you can recognize bad science when you see it. You're about to feel a whole lot better."

— Amazon Description
---

This Week's Most-Viewed Pages:
Forum Topics:

Articles:

There were 10,952 daily visitors this week.
---
More issues of the Skeptic Summary can be found in our archive.

The Skeptic Summary is produced by the staff of the Skeptic Friends Network, copyright 2013, all rights reserved.
---
Read or Add Comments about the Skeptic Summary
Back to Skeptic Summary