Skeptic Summary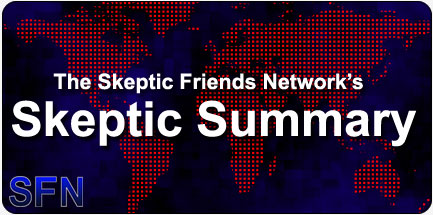 Skeptic Summary #98
By The Staff
Posted on: 7/1/2006

Consciousness, matter, a pyramid, ucky stuff, separation and more!



Week ending July 1, 2006 (Vol 3, #25)


Welcome to the Skeptic Summary, a quick week-in-review guide to the Skeptic Friends Network and the rest of the skeptical world.

Forum Highlights:
Consciousness, the border of the universe… - Or, maybe it's just standard fare for forum-spam.

Matter and the Big Bang - SFN member Robb probably regrets asking this question.

UNESCO scientists to investigate 'Ice Age pyramid' - What a waste.

Editor's Choice: Do not look at this thread - No, really, do not look at it.
Kil's Evil Pick:
From Point of Inquiry, the Center for Inquiry podcast show, "Edward Tabash — True Meaning of Church/State Separation." Although this show was recorded in May, it is a timely listen to now that the subject is being actively discussed in our forums.
Chat Highlights:
Sunday: Pay deduction for Dr. Mabuse for not being on time; absent but not forgotten members; Summer Solstice celebration and the may-pole; snowing in New Zealand; Google Earth; photographic evidence. Also, testosterone machines, the crawler and the excavator; sports, football world cup and F1; working hours; work with dress-codes; Mel Gibson movies.

Wednesday: Bullshit psychics and why cable TV loves 'em. Nanaca-Crash gets revived at the same time chat gets killed. Trolls, and why they come out from the bridges they live under just to post here. More evidence of chat devolution: Big Slam, to Grand Slam (at Denny's), to stomach and food puns. More Nanaca-Crash. Started playing around with the chat sounds, staging a fight with the several different punch sounds that were at our disposal. Back to Nanaca-Crash. Then back to chat sounds as Dave and Ricky make a traffic jam with various car horn sounds. A few words about Ricky' new job, mostly whining. Chat ended with a discussion about how to give a seven-minute speech defending the pro-choice stance, a bit similar to the one Ricky had to do the next day. Odd how that came up as a topic. Oh, did I mention Nanaca-Crash?

Come chat with us.
New Members This Week:
lifeloss
dismay
Rudeonline

(Not a member? Become one today!)
---
Elsewhere in the World:
Archaeologists unveil newest pharaonic tomb in Egypt's Valley of Kings

Bad Science

Is Natural Selection a Tautology?

Supreme Court takes on global warming

What's New by Bob Park

Got some skeptic news items? Send them to us, and we'll think about adding them.
Book of the Week:
Field Notes from a Catastrophe, by Elizabeth Kolbert.





"Elizabeth Kolbert's Field Notes, based on a series of articles she wrote for The New Yorker, is illuminating and sobering… The reader is introduced to some of the world's leading climate researchers who explain the dangers in reasonably nontechnical language but without sacrificing scientific accuracy. The book includes fascinating accounts of how climate changes affected the planet in the past, and how such changes are occurring in different parts of the world right now."

— Jim Hansen, New York Review of Books
---
This Week's Most-Viewed Pages:
Forum Topics:

Articles:

There were 3,523 daily visitors this week.
June's Most-Viewed Pages:
Forum Topics:

Articles:

There were 15,709 daily visitors in June.
---
More issues of the Skeptic Summary can be found in our archive.

The Skeptic Summary is produced by the staff of the Skeptic Friends Network, copyright 2006, all rights reserved.
---
Read or Add Comments about the Skeptic Summary
Back to Skeptic Summary