Skeptic Summary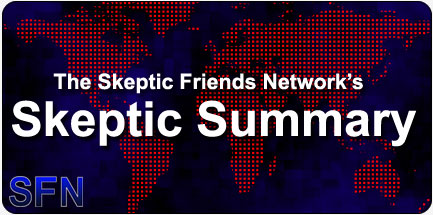 Skeptic Summary #127
By The Staff
Posted on: 1/27/2007

Magic, neutrality, slurs, metaphors, bad stuff, Websurdities and more!



Week ending January 27, 2007 (Vol 4, #4)


Welcome to the Skeptic Summary, a quick week-in-review guide to the Skeptic Friends Network and the rest of the skeptical world.

Forum Highlights:
Do you believe in magic? - Yes, but only in a young girl's heart.

Net Neutrality — We must fight to protect it! - And confuse as many people as we can about the internet!

Subliminal slurs in Bush's speech - Apparently, the "Democrat Party" doesn't like the "Republican't" manner of speech…

Editor's Choice: Metaphorical? - Just beautiful.

From the Archives: Who is 'the LORD' and why does he do 'bad' stuff? - By 'bad' do you mean "debate religion for 16 pages?"
Kil's Evil Pick:
Websurdity - Dedicated to the Weird, the Bizarre, the Silly, and the Absurd.
Chat Highlights:
Sunday: How thick is the snow were you are? Troubleshooting SQL; Kil Ricky shows up, disguised as Kil; Dr. Mabuse is berated for not being critical enough; comparing screen sizes and resolutions; McQ gives Siberia a heart attack; how to give speeches.

Wednesday: Waiting for Kil's writeup on TAM5: we want our money's worth; drinking at work… (water); freezing weather reports; Ali G. & Borat are good comedy; forum codes; temperatures, global warming, and floods; Canadian schools and the metric system.

Come chat with us.
New Members This Week:
quanahs
EdwardTBabinski
gloria4u
kieranct
marduk
samus1225

(Not a member? Become one today!)
---
Elsewhere in the World:
Bad Science

Researchers Create Memory Circuit the Size of a Human White Blood Cell

What's New by Bob Park

Got some skeptic news items? Send them to us, and we'll think about adding them.
Book of the Week:
Camera Clues: a Handbook for Photographic Investigation, by Joe Nickell.





"In Camera Clues, Joe Nickell shares his methods of identifying and dating old photos and demonstrates how to distinguish originals from copies and fakes. Particularly intriguing are his discussions of camera tricks, darkroom manipulations, retouching techniques, and uses of computer technology to deceive the eye. Camera Clues concludes with a look at allegedly 'paranormal' photography, from nineteenth-century 'spirit photographs' to UFO snapshots."

— Book Description
---
This Week's Most-Viewed Pages:
Forum Topics:

Articles:

There were 5,357 daily visitors this week.
---
More issues of the Skeptic Summary can be found in our archive.

The Skeptic Summary is produced by the staff of the Skeptic Friends Network, copyright 2007, all rights reserved.
---
Read or Add Comments about the Skeptic Summary
Back to Skeptic Summary