Skeptic Summary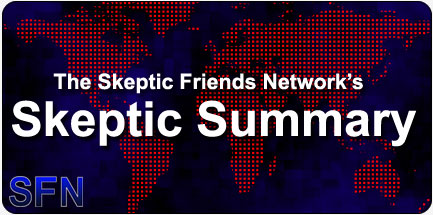 Skeptic Summary #154
By The Staff
Posted on: 8/25/2007

Anti-gay crusaders, huge void, woo clubs, unscience, lawsuit, Moon hoax, email scam, Sleights of Mind and more!



Week ending August 25, 2007 (Vol 4, #31)


Welcome to the Skeptic Summary, a quick week-in-review guide to the Skeptic Friends Network and the rest of the skeptical world.

Forum Highlights:
Another anti-gay crusader turns out to be gay - And, surprisingly enough, the rest are still jerks.

Intergalactic void 1BLY wide found - Much ado about what?

Let's start a Creation Club! - And an astrology club and a homeopathy club and…

This is not a scientific poll - What do you mean? Anonymous Internet polls with no statistical analysis or relevance aren't scientific?

Editor's Choice: Pivar sues PZ for libel - Damn crackpot.

From the Archives: We never went to Mars, Saturn and the Moon - If only those NASA buffoons had… ahem… bigger brains…
New Article this Week:
Ms Christel - Stringing the scammers along, tra-la!
Kil's Evil Pick:
Lifted from the thread Teller/Randi Magic Fun posted by Derek at Skepticality, I offer Sleights of Mind as my Evil Pick for the week. It's a wonderful article on the science of magic.

"This wasn't just a group of world-class performers," said Susana Martinez-Conde, a scientist at the Barrow Neurological Institute in Phoenix who studies optical illusions and what they say about the brain. "They [the magicians] were hand-picked because of their specific interest in the cognitive principles underlying the magic."

A wonderful article!
Chat Highlights:
Sunday: Preparations for the Dragon*Con trip; media circus at Virginia Tech as semester starts; delivering spam; Storm's back on the forum after a hiatus; puns on gauss meters; arguments about numerical infinity. Also: more puns; manifolds: numerical, mechanical, and fictional. Teaser: a new Kil Report in the making.

Wednesday: Vista issues and solutions from Google. Apparently, Vista won't search for text inside ASP files. Windows users across the globe are in a major uproar. More tech talk about databases and atomic access which subsided when Ricky showed his latest motor vehicle accident: hitting an eagle at 70mph (pictures 1, 2, 3). A rather lengthy discussion on bans, moderation, and respect that the SFNers give was had. Some wanted to see changes made, many like it how it is. Much of the rest of chat was spent on gender issues such as how it is condescending at times to refer to someone as a lady, the differences in perception and thought between men and women, and how one should not take general trends in the sexes and apply them to individuals. But the women had dinners to make, the men had things to build, and so chat ended.

Come chat with us.
New Members This Week:
maledoro
Jim H.
woodro

(Not a member? Become one today!)
---
Elsewhere in the World:
Bad Science

Creationists for Genocide

I'm gonna be a 'MOVIE STAR'

Skepticality #059 - Engineers, Astronomers, Lobbyists Updates: Kelly Comstock, Dr. Pamela Gay, Lori Lipman Brown

Study Finds Many Older Americans Sexually Active

Voyagers' Records Wait for Alien Ears

What's New by Bob Park

Got some skeptic news items? Send them to us, and we'll think about adding them.
Book of the Week:
Bait and Switch: the (Futile) Pursuit of the American Dream, by Barbara Ehrenreich.





"Barbara Ehrenreich's Nickel and Dimed explored the lives of low-wage workers. Now, in Bait and Switch, she enters another hidden realm of the economy, the world of the white-collar unemployed. Armed with a plausible resume of a professional in transition, attempts to land a middle-class job undergoing career coaching and personality testing, then begins trawling a series of est-like boot camps, job fairs, networking events, and evangelical job-search ministries. She gets an image makeover to prepare her for the corporate world and works hard to project the winning attitude recommended for a successful job search. She is proselytized, scammed, lectured and, again and again, rejected. Bait and Switch highlights the people who've done everything right — gotten college degrees, developed marketable skills, and built up impressive resumes — yet have become repeatedly vulnerable to financial disaster and not simply due to the vagaries of the business cycle. Today's ultra-lean corporations take pride in shedding their surplus employees — plunging them, for months or years at a stretch, into the twilight zone of white-collar unemployment, where job-searching becomes a full-time job in itself. As Ehrenreich discovers, there are few social supports for the new disposable workers, and little security even for those who have jobs. Like the now classic Nickel and Dimed, Bait and Switch is alternately hilarious and tragic, a searing exposé of economic cruelty where we least expect it."

— Book Description
---
This Week's Most-Viewed Pages:
Forum Topics:

Articles:

There were 5,249 daily visitors this week.
---
More issues of the Skeptic Summary can be found in our archive.

The Skeptic Summary is produced by the staff of the Skeptic Friends Network, copyright 2007, all rights reserved.
---
Read or Add Comments about the Skeptic Summary
Back to Skeptic Summary