Skeptic Summary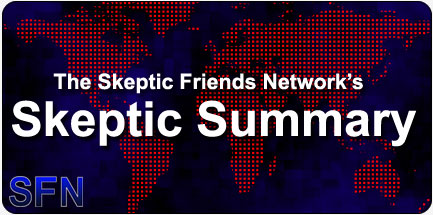 Skeptic Summary #232
By The Staff
Posted on: 4/18/2009

Holy man, Hitchens, pirates, unranking, scary debate, SkeptiCamp, porno (!!) and more!



Week ending April 18, 2009 (Vol 6, #14)


Welcome to the Skeptic Summary, a quick week-in-review guide to the Skeptic Friends Network and the rest of the skeptical world.



Forum Highlights:
Harvard Chaplain supports death for apostates - Or maybe he doesn't, really.

Hitchens SLAPS Todd Friel, evangelical idiot! - Who said debating religionists can't be fun?

Somali pirates: the rest of the story - Arrrrrrgh, not the Flyin' Spagetti Monster's pirates: these are baddies!

Editor's Choice: Outrage as Amazon "deranks" gay books - Massive flagging, hack or internal decision? Time will tell.

From the Archives: Be afraid… be very afraid - A scary debate with a non-religious(?) ID-ist (starting on page 15).

New Article This Week:
SkeptiCamp Atlanta: A Personal Overview - Our own Simon went to SkeptiCamp Atlanta, and all he got was a T-shirt and a bunch of new ideas.

Kil's Evil Pick:
"Green Porno" — Whoa! Here is the series of short videos produced, directed by and starring Isabella Rossellini for the Sundance Channel, on the reproductive habits of animals. And hey, these shorts are great. They are a creatively original concept, realized, and also happen to be scientifically accurate, mostly.

The link above takes you to Green Porno 2, which is the channel's default link to the series. I could find no direct link that starts you out at the beginning of the series. There is a link on the site to all the Green Porno 1 episodes, so don't fret about it.

The first episode of the Green Porno 2 features is called Why Vagina. Rossellini explores the wonder of compatible vaginas and penises. You don't want to miss that, do you?
SkeptiQuote:

There are two possible outcomes: if the result confirms the hypothesis, then you've made a measurement. If the result is contrary to the hypothesis, then you've made a discovery.

— Enrico Fermi

Chat Highlights:
Wednesday: Chat started with giraffes fighting, the Cox-Zucker Machine, bus driving and a US Navy rescue. Things got a bit more serious when talk migrated over to politics and the recent teabagging, though obviously not by much. This was followed by forum talk and the birth and evolution of writing. Eventually the conversation morphed into the origin of religious celebrations, mostly pertaining to Pagan and Christian holidays. The night ended with bad jokes, at least for me anyways…

Come chat with us.

New Members This Week:
StevenB
twhart

(Not a member? Become one today!)
---

Elsewhere in the World:
Cancer jabs, good or bad? The Mail's in two minds

PodBlack Cat: Review Of Supersense: Why We Believe In The Unbelievable

The Skeptics' Circle #109: The Credibility Crisis Edition

What if Fox News threw a tea party and nobody came?

What's New by Bob Park

Got some skeptic news items? Send them to us, and we'll think about adding them.

Book of the Week:
SuperSense: Why We Believe in the Unbelievable, by Bruce M. Hood.





"The majority of the world's population is religious or believes in supernatural phenomena. In the United States, nine out of every ten adults believe in God, and a recent Gallup poll found that about three out of four Americans believe in some form of telepathy, déjà vu, ghosts, or past lives. Where does such supernatural thinking come from? Are we indoctrinated by our parents, churches, and media, or do such beliefs originate somewhere else? In SuperSense, award-winning cognitive scientist Bruce M. Hood reveals the science behind our beliefs in the supernatural.

Superstitions are common. Many of us cross our fingers, knock on wood, step around black cats, and avoid walking under ladders. John McEnroe refused to step on the white lines of a tennis court between points. Wade Boggs insisted on eating a chicken dinner before every Boston Red Sox game. President Barack Obama played a game of basketball the morning of his victory in the Iowa primary and continued the tradition on every subsequent election day.

Supernatural thinking includes loftier beliefs as well, such as the sentimental value we place on photos of loved ones, wedding rings, and teddy bears. It also includes spiritual beliefs and the hope for an afterlife. But in this modern, scientific age, why do we hold on to these behaviors and beliefs?

It turns out that belief in things beyond what is rational or natural is common to humans and appears very early in childhood. In fact, according to Hood, this 'super sense' is something we're born with to develop and is essential to the way we learn to understand the world. We couldn't live without it!

Our minds are designed from the very start to think there are unseen patterns, forces, and essences inhabiting the world, and it is unlikely that any effort to get rid of supernatural beliefs, or the superstitious behaviors that accompany them, will be successful. These common beliefs and sacred values are essential in binding us together as a society because they help us to see ourselves connected to each other at a deeper level."

— Product Description

Hat tip to Kylie Sturgess. PodBlack Cat: Review Of Supersense: Why We Believe In The Unbelievable
---

This Week's Most-Viewed Pages:
Forum Topics:

Articles:

There were 9,879 daily visitors this week.
---
More issues of the Skeptic Summary can be found in our archive.

The Skeptic Summary is produced by the staff of the Skeptic Friends Network, copyright 2008, all rights reserved.
---
Read or Add Comments about the Skeptic Summary
Back to Skeptic Summary