Skeptic Summary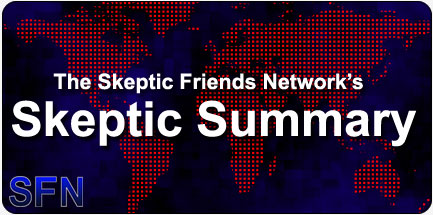 Skeptic Summary #258
By The Staff
Posted on: 10/31/2009

Clark, Inhofe, Scott, Comfort, Johnny, Bert and more!



Week ending October 31, 2009 (Vol 6, #40)


Welcome to the Skeptic Summary, a quick week-in-review guide to the Skeptic Friends Network and the rest of the skeptical world.



Forum Highlights:
Hulda Clark has died - From cancer, of course.

The last Flat-Earther - Going over the edge.

Scott and Comfort debate - Great Scott, that's uncomfortable.

Kil's Evil Pick:
Hey! Lets all get down with Rubber Johnny!!!

(This video works best played with the lights down and the sound way up.)

Happy Halloween.

Also, Bert is evil!

We have reason to believe that Bert of Sesame Street is evil and you should keep your children away from him. Here in these pages are collected incriminating images and documents that prove that Bert is not the lovable harmless geek he so successfully makes us think he is.




The evidence part I

Collected here are documents and images that show that Bert is Evil. Many of these documents were submitted by anonymous sources who choose not to be revealed. All the files have been verified and cross-referenced with the FBI and other Intelligence Agencies.

There is much more about Bert on this site. Don't fool yourself into beliving what you thought you knew about Bert. He is evil!!!
SkeptiQuote:

It is difficult or impossible to respond coherently to something that is incoherent.

— Christopher J. Date

Chat Highlights:
Wednesday: Electric circuits, model rockets, and Tesla coils; Kurtz forum talk; Myoss Gamma; Old Star Trek vs TNG; and how to properly get away with depositing a bag of cash.

Come chat with us.

New Members This Week:
Green_Raker

(Not a member? Become one today!)
---

Elsewhere in the World:
A Flowchart to Determine What Religion You Should Follow

Influence from the Sun and the Moon

Internet rules and laws: the top 10, from Godwin to Poe

It's been a bad, bad week for Scientology

Skepticality #112 — The Men Who Stare At Goats

What's New by Bob Park

Got some skeptic news items? Send them to us, and we'll think about adding them.

Book of the Week:
Pride and Prejudice and Zombies: The Classic Regency Romance — Now with Ultraviolent Zombie Mayhem!, by Jane Austen and Seth Grahame-Smith.





"This may be the most wacky by-product of the busy Jane Austen fan-fiction industry — at least among the spin-offs and pastiches that have made it into print. In what's described as an 'expanded edition' of Pride and Prejudice, 85 percent of the original text has been preserved but fused with 'ultraviolent zombie mayhem.' For more than 50 years, we learn, England has been overrun by zombies, prompting people like the Bennets to send their daughters away to China for training in the art of deadly combat, and prompting others, like Lady Catherine de Bourgh, to employ armies of ninjas. Added to the familiar plot turns that bring Elizabeth and Mr. Darcy together is the fact that both are highly skilled killers, gleefully slaying zombies on the way to their happy ending. Is nothing sacred? Well, no, and mash-ups using literary classics that are freely available on the Web may become a whole new genre. What's next? Wuthering Heights and Werewolves?"

— Booklist
---

This Week's Most-Viewed Pages:
Forum Topics:

Articles:

There were 19,365 daily visitors this week.
---
More issues of the Skeptic Summary can be found in our archive.

The Skeptic Summary is produced by the staff of the Skeptic Friends Network, copyright 2008, all rights reserved.
---
Read or Add Comments about the Skeptic Summary
Back to Skeptic Summary