Skeptic Summary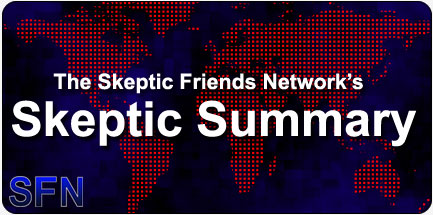 Skeptic Summary #292
By The Staff
Posted on: 7/19/2010

Cancer, AZ, RPGs, JVP, WWYD, TAM8, Climate Change, Tone Evidence and more!



Week ending July 17, 2010 (Vol 7, #27)


Welcome to the Skeptic Summary, a quick week-in-review guide to the Skeptic Friends Network and the rest of the skeptical world.



Forum Highlights:
Christopher Hitchens' cancer - Unfortunately not religion this time.

Governor reveals new AZ police uniform - Arizona immigration law re-examined.

Skepticism and role-playing - Imagine you're a wizard…

StopJVP (James Van Praagh) - Sylvia Browne, check. James next.

What would you do? - When a family member's request clashes with your ideology.

Editor's Choice: TAM8 - Kil had lots of fun.

Kil's Evil Pick:
Climate Change — Meet the Scientists — After posting a link to a Science Daily article about a study that looked at who the experts really were who were doing climate science, based on the number of research papers they did, called Scientific Expertise Lacking Among 'Doubters' of Climate Change, Says New Analysis both here and on a Facebook thread, Jim Lippard responded by posting a link to the great video that I have chosen for this week's pick. It's really very good! Once you get into it, and eliminate those who are unqualified to call themselves "experts" in the field of climate science, who also come down against man-made global warming, it's slim pickings on that side of things, and really rather pathetic.

If you haven't seen this video before now, watch it. It's nicely done and a real lesson in the fallacy of appeals to authority.

Bonus Pick, and on a different subject, I want to also recommend Daniel Loxton's SkepticBlog entry, BRING ON THE SCIENCE OF HONEY AND VINEGAR. The debate is on, and Loxton would like to see actual studies that support the views of those who argue on both sides of the "tone" issue. He opens:

Alongside the moral and ethical arguments about "tone," skeptical debate about the effectiveness of various communication strategies goes 'round and 'round perpetually.

But why is the effectiveness question so often treated as a debate between competing intuitions? In a recent comment, Steven Novella suggested to me that skeptics should "be tolerant of each other's different approaches to the public, since no one has the final answer. As the psychological literature progresses, however, we may have better informed opinions."

But is the psychological jury still out? Science has been looking at people, our interactions, and the ways in which we learn and communicate for quite a while. (Did you know there's a substantial body of scientific research on just the topic of smiling?)

Therefore, as a skeptic, I want to know: what has science learned about communication?

Bring On the Science

And so, I throw open this thread for discussion of the data. I invite psychologists, marketers, educators, lay skeptics, and the world at large to share specific citations of specific scientific research bearing on the issue of tone. Let's leave aside instincts, opinions, ethics, and morality, and just look at the empirical question:

What has science discovered about the roles of likability, empathy, aggression, and ridicule in communication, marketing, and education? Nominate (and describe) relevant research papers in the comments field below.

Interesting stuff. And it's about time someone asked for studies to support whatever side of the debate we happen to be on to support our position on the question of "tone."
SkeptiQuote:

Whenever morality is based on theology, whenever right is made dependent on divine authority, the most immoral, unjust, infamous things can be justified and established.

— Ludwig Feuerbac

Chat Highlights:
Wednesday: I created chat logs for the last two weeks, really I did, but it turns out that I (Dave) am no good at turning those logs into summaries. Suffice it to say that lots of nifty stuff was discussed, and a good time had by all, even the new folks that we met (including Kil's other son).

Come chat with us.

New Members This Week:
kytheskeptic
theDeaf
flimp

(Not a member? Become one today!)
---

Elsewhere in the World:
BioLogos has lost it

Bizarre Deep-Sea Reef Creatures Discovered

Can Science Answer Moral Questions?

The chicken may have come before the egg, sort of

Comer loses appeal

Diabetes drug 'victory' is really an ugly story about incompetence

Did You See That?!

Fish oil salesmen find EU in the way

Fossilized Eggshells Yield DNA

How Microbes Defend and Define Us

"No One Dies in Lily Dale" (A NICKELL-odeon Review)

Skepticality #133 — The Arts and Sciences

Was Wolfgang Amadeus Mozart actually murdered by his rival composer Antonio Salieri?

What's New by Bob Park

Got some skeptic news items? Send them to us, and we'll think about adding them.

Book of the Week:
The Atheist Camel Chronicles: Debate Themes & Arguments for the Non-Believer (and those who think they might be), by Dromedary Hump.





"It's not often one finds an opinionated camel with humor, biting wit, cutting sarcasm, unabashed irreverence, outright blasphemy, and on-point arguments for rational thought and against religious delusion. An advocate of reason and common sense, the author debunks traditional believer apologetics and challenges theist platitudes, while providing food for thought and debate fodder for the neophyte to intermediate atheist. With more than one hundred no-holds-barred, plain-speaking rants and essays on a variety of religious subjects, The Atheist Camel Chronicles is the go-to book to find a burr to place under the saddle of the holier than thou, or to glean retorts to the banal 'Truths' that religionists use to bolster their faith in the face of the Scientific Age and 21st century reality. Sometimes funny, always hard hitting and thought provoking, this book belongs in the library of every atheist, agnostic and skeptic who engages in debate and discourse with the religiously afflicted."

— Product Description
---

This Week's Most-Viewed Pages:
Forum Topics:

Articles:

There were 11,806 daily visitors this week.
---
More issues of the Skeptic Summary can be found in our archive.

The Skeptic Summary is produced by the staff of the Skeptic Friends Network, copyright 2008, all rights reserved.
---
Read or Add Comments about the Skeptic Summary
Back to Skeptic Summary