Skeptic Summary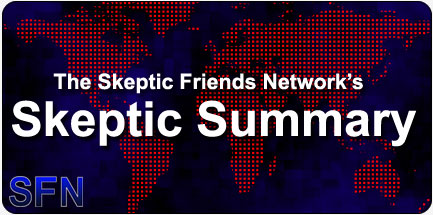 Skeptic Summary #311
By The Staff
Posted on: 12/18/2010

Winter blues, unbelievable nonsense, gift ideas and more!



Week ending December 18, 2010 (Vol 7, #46)


Welcome to the Skeptic Summary, a quick week-in-review guide to the Skeptic Friends Network and the rest of the skeptical world.



Forum Highlights:
The Most Wonderful Time Of The Year? Bah Humbug! - Maybe it's just the cold.

Sometimes you just have to shake your head - Still waiting for Smell-O-Vision.

Kil's Evil Pick:
Here's my extra special and fairly late gift idea list to online venders for geeky, usually science-oriented gift ideas. This list covers both the kids on your list and those of us who are still kids at heart when it comes to science and just plain old geeky and educational fun things to play with.

I see no need to say much about these online stores other than to tell you that they definitely follow a theme and that if you act quickly, it may not be too late to get that special gift for those smarty-pants loved ones, budding skeptics, budding scientists and friends who just might love a 3D solar system kit, a perpetual calendar or a book about how many ways the universe can wipe out life on our planet!





Forget about it. You can't buy this from any site on my list.


Here is my list of recommended sites:
SkeptiQuote:

Better to keep your mouth shut and be thought a fool than open it and remove all doubt.

— Mark Twain

Chat Highlights:
Wednesday: Chat started out slowly. Then people started showing up and it picked up speed and got interesting. After a while, people had to leave and chat slowed down again. Somewhere in there we talked about sex and healthcare and how personal freedom trumps living in a civilized country. (Well… That was how I saw the other side of the debate.)

Come chat with us.

New Members This Week:
skepticalover
SezMe

(Not a member? Become one today!)
---

Elsewhere in the World:
6 Animals That Just Don't Give A F#@k

After 5 years, Dover intelligent design ruling's impact still felt

Age Doesn't Matter: New Genes Are as Essential as Ancient Ones

Beneath the Dead Sea, Scientists Are Drilling for Natural History

The Best NASA Photographs of 2010

China uncovers 2,400-year-old soup: state media

Dannon's Activia, DanActive health claims draw $21M fine

Does 'Black Swan' Encourage Anorexia?

Dodgy dealings in tough year for whistleblowers

European court to rule on Irish abortion rights

Free will similar in animals, humans — but not so free

The flu — Part 1: The virus

The flu — Part 2: The vaccine

Gift ideas for the ten major species of science fiction fan

Google Books Ngram Viewer — Steven Novella

Indie Skeptics: Powerless to Powerful

No Creationism in Louisiana Textbooks

Novartis Scam: Whistleblower's Career-Ending Expose

Prehistoric People Ate Each Other, Bones Show

Pythagoras, a math genius? Not by Babylonian standards

Science's Breakthrough of the Year: The First Quantum Machine

Science geek holiday gifts: books!

Skepticality #145 — The Season of Reason

Stem Cell Transplant Cures HIV In 'Berlin Patient'

Towards a scientific concept of free will as a biological trait: spontaneous actions and decision-making in invertebrates

Trial draws fire: Nobel laureate to test link between autism and infection

Wealthy People Live Longer

What's New by Bob Park

Got some skeptic news items? Send them to us, and we'll think about adding them.

Book of the Week:
How I Killed Pluto and Why It Had It Coming, by Mike Brown.





"The solar system most of us grew up with included nine planets, with Mercury closest to the sun and Pluto at the outer edge. Then, in 2005, astronomer Mike Brown made the discovery of a lifetime: a tenth planet, Eris, slightly bigger than Pluto. But instead of its resulting in one more planet being added to our solar system, Brown's find ignited a firestorm of controversy that riled the usually sedate world of astronomy and launched him into the public eye. The debate culminated in the demotion of Pluto from real planet to the newly coined category of 'dwarf' planet. Suddenly Brown was receiving hate mail from schoolchildren and being bombarded by TV reporters — all because of the discovery he had spent years searching for and a lifetime dreaming about.

Filled with both humor and drama, How I Killed Pluto and Why It Had It Coming is Mike Brown's engaging first-person account of the most tumultuous year in modern astronomy — which he inadvertently caused. As it guides readers through important scientific concepts and inspires us to think more deeply about our place in the cosmos, it is also an entertaining and enlightening personal story: While Brown sought to expand our understanding of the vast nature of space, his own life was changed in the most immediate, human ways by love, birth, and death. A heartfelt and personal perspective on the demotion of everyone's favorite farflung planet, How I Killed Pluto and Why It Had It Coming is the book for anyone, young or old, who has ever dreamed of exploring the universe — and who among us hasn't?"

— Product Description
---

This Week's Most-Viewed Pages:
Forum Topics:

Articles:

There were 6,714 daily visitors this week.
---
More issues of the Skeptic Summary can be found in our archive.

The Skeptic Summary is produced by the staff of the Skeptic Friends Network, copyright 2008, all rights reserved.
---
Read or Add Comments about the Skeptic Summary
Back to Skeptic Summary