Skeptic Summary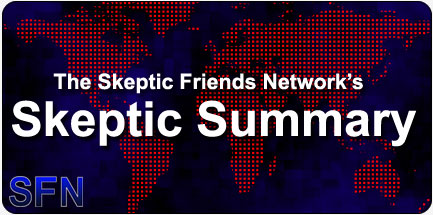 Skeptic Summary #124
By The Staff
Posted on: 1/6/2007

Kil sent, born again atheist, grab the default, extra-cool, reDiscovery and more!



Week ending January 6, 2007 (Vol 4, #1)


Welcome to the Skeptic Summary, a quick week-in-review guide to the Skeptic Friends Network and the rest of the skeptical world.

Special Announcement:
We made our goal, folks. Thanks a lot to everyone for helping to send Kil back to the Amaz!ing Meeting later this month!
Forum Highlights:
Local column on faith, by a 'new born' atheist - Very nice.

Taking back the default position - The point is important, try to ignore the semantic arguments.

Editor's Choice: How cool is this? - It's incredibly cool! A huge congratulations to SFN member beskeptigal!
Kil's Evil Pick:
The reDiscovery Institute - From their mission statement:

Our goals are to Teach the Controversies, all of them, each and every one. The reDiscovery Institute promotes better education of children, and re-education of certain adults; those on our current Enemies List. The reDiscovery Institute supports Fellows, who write letters to editors, testify at trials, post 'articles' on the Web, but never publish peer-reviewed papers. Journalists present our Fellows to the public as bonafide scientists.
Chat Highlights:
Sunday: Dr. Mabuse was on vacation.

Wednesday: Everything started up with some discussion on a few of the current threads. Then more on Legos as Dave's new goal got set at 1,000,000 pieces. This will cost about $65,000 US, but he's prepared for the long haul. A new abbreviation was created, however because of its overuse, I refuse to make any further mention of it here. You wouldn't get it anyways. More from Kil as donations come in for his trip to TAM5. Then ordering an anvil through the mail and other ways to piss off your postal carrier. Also, the names from HalfMooner's SFN album cover are finally revealed. Sorry if you missed it, perhaps they'll be retold again next week…

Come chat with us.
New Members This Week:
MalumRegnat
tallulah
TOR Hershman

(Not a member? Become one today!)
---
Elsewhere in the World:
Bad Science

Free-Falling Atoms Offer New Test of Gravity's Strength

On Capitol Hill, Mixing Faith and Politics

Skepticality #043 — Skeptic's Caltech Lecture Series: Sam Harris

What's New by Bob Park

Got some skeptic news items? Send them to us, and we'll think about adding them.
Book of the Week:
The Trouble with Physics: the Rise of String Theory, the Fall of a Science, and What Comes Next, by Lee Smolin.





"In The Trouble with Physics, Lee Smolin, founder of the Perimeter Institute of Theoretical Physics in Ontario, Canada, and the author of several popular science books, including The Life of the Cosmos and Three Roads to Quantum Gravity, takes a complex debate on a highly theoretical topic and makes it accessible and interesting to the general public. With gusto, the author describes the infighting and politics that hinder progress in physics. Opinions vary on the success of Smolin's call to action in sections where he skewers his colleagues in theoretical physics for their shortsightedness. Reviewers, however — most of them physicists — tend to agree that string theorists' inability to empirically test their results will continue to undermine their efforts."

— Bookmarks Magazine
---
This Week's Most-Viewed Pages:
Forum Topics:

Articles:

There were 4,813 daily visitors this week.
Last Month's Most-View Pages:
Forum Topics:

Articles:

There were 19.188 daily visitors in December, 2006.
---
More issues of the Skeptic Summary can be found in our archive.

The Skeptic Summary is produced by the staff of the Skeptic Friends Network, copyright 2007, all rights reserved.
---
Read or Add Comments about the Skeptic Summary
Back to Skeptic Summary