Skeptic Summary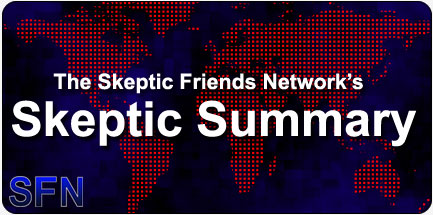 Skeptic Summary #368
By The Staff
Posted on: 7/15/2012

A real guy, life on Mars, gay marriage, equal criticism, the Affordable Care Act, hating soccer, TAM 2012 and more!



Week ending July 15, 2012 (Vol 9, #17)


Welcome to the Skeptic Summary, a quick week-in-review guide to the Skeptic Friends Network and the rest of the skeptical world.



Forum Highlights:
Is this guy for real? - Unfortunately.

Mars living - They'll need strict toilet etiquette.

Ten reasons to oppose gay marriage - Or not.

Editor's Choice: Equal criticism - We need to clean our own homes.

New Article This Week:
Sports Fandom and Soccer - Why don't Americans like soccer? (Hint: What sports media pundits have been telling you is wrong.)

This Week's Poll:
The Affordable Care Act - How healthy is it?

Kil's Evil Pick:
Well folks, there will be no regular Evil Pick this week because I'm out of town. If the Skeptic Summary is actually published on Sunday, I'll probably be sitting in the Del Mar, in The South Point Hotel sucking on e-cigarettes and drinking beer when it happens. I'll be there with fellow skeptics who also attended what is probably the biggest skeptic convention in the known universe. This is my 7th trip to The Amazing Meeting. If you're a skeptic, and you haven't made this little trek, I strongly recommend it. There's always next year!





TAM4, my first TAM


I almost didn't make it this year. But thanks to a JREF forum grant, and donations from fellow SFN members, I'm there. This presumably being Sunday night (but it could easily be Monday), the official TAM events are pretty much over and we're relaxing and no doubt talking about the event that just ended. Or not.

(I'm taking a netbook with me to send updates to our SFN forum. So look for those. I'll start the thread before I leave. Hopefully there will be no glitches [there were — Ed.], and the updates will happen and should be online, by the time this hits the interweb.)

This year's TAM didn't arrive without some controversy. Perhaps by now (meaning five days from now) I will have reported back on some of what I have learned about that, and then again, I don't really know, not being able to see into the future and all.





The South Point Hotel and Casino. This has been the venue of choice for TAM since TAM7


Anyhow, I must get packing. I'll be bringing back photos and if all goes well, my usual TAM buzz. Let me say it again with emphasis: a very big thanks to those of you who made this year's TAM possible for me. I hope I do SFN and the JREF forum proud.
SkeptiQuote:

A subtle thought that is in error may yet give rise to fruitful inquiry that can establish truths of great value.

— Isaac Asimov

Chat Highlights:
Wednesday: Topics in chat this week included (but weren't limited to) investments; Kil at TAM 2012; abstinence-only prisons; AIDS in decline except in US; feminism; Thunderf00t; how sitting kills you; the rabbit-juice honeymoon; retirement; commuting for girlfriends; alcohol proportions; dating and divorce; storms and weather, and bad jokes.

Come chat with us.

New Members This Week:
androcon
senlybaby
jgiorgi

(Not a member? Become one today!)
---

Elsewhere in the World:
10 questions that every intelligent Christian must answer

Afterlife

All dinosaurs may have had feathers

Alternative cancer treatment might have caused four deaths in Perth

Americans favor Obama to defend against space aliens

Angels of Flight 93: One woman's interpretation of a tragic scene

Apes With Apps

No evidence of aquatic humanoids has ever been found.

Are UFOs a hazard to national security?

Atheist Acceptability on the Rise in America

Author caught fabricating HUGE number of scientific papers

Becoming a 'Steampunk' best way to prolong virginity

Born Evil: That's What the Mormon Church Taught Me as a Brown and Female Child

Breaking bad: CNN and Fox's epic fail

Catholic school girls denied HPV vaccine by bishops

Could the Baltic Sea mystery be a hype to lure tourists?

Creation Museum running dry on funds and slow on visitors

Crouches Accused of Covering Up Granddaughter's Rape

The Curmudgeon's Guide to Opposing Creationism

Doubtful Newsblog

'Ex-Gays' Beginning to Acknowledge Reality

Extinct tortoise rediscovered — sort of — and hope for Lonesome George's clan

Exxon on climate change impacts: "Don't worry, engineering will fix it"

Florida lifeguard says he's been offered his job back

Freshwater: Ohio Supreme Court accepts F'water's appeal on two Propositions of Law

From all appearances, the Virgin Mary does not understand economics

FTB Blocked on Air Force Computers; Christian Fighter Pilot Not Blocked

Fundamental errors with evangelist schooling

Ghostly apparition appears, call in ghost chasers and mediums

Government Creationism in Northern Ireland

How nasty can cat poop be? Can it kill you?

How old does a toddler have to be before it stops trying to kill itself?

Israeli draft pits secular Jews vs. ultra-Orthodox

Is the tide turning on Jenny McCarthy's autism leadership role?

Kansas Board of Health Revokes License of Doctor for Not Forcing Ten-Year-Olds to Give Birth

Last-of-his-tortoise-species, Lonesome George, a Galapagos icon, dies at 100

Laredo infrared UFOs. What could they be?

Miracle buster: Why I traced holy water to leaky drain

Mom shocked at severity of measles, regrets not vaccinating her children

'Memory Man' skilled in facial recognition spots criminals at large for police

NASA finds hidden ocean on Saturn's moon Titan

New TBN Lawsuit Alleges Rape Cover-Up

Nobel Laureate Luc Montagnier hits a new low: Age of Autism rallies to defend him

North Carolina Sea Level Rises Despite State Senators

Not everyone in Hollywood buys into psychics

One ton giant crocodile in Philippines brings in the tourists

Paul McBride reviews Science and Human Origins — SPOILER ALERT, it's not great

Phylogeny: Rewriting evolution

Protest for Indonesian Man Jailed for Atheism This Friday in New York City

Psychics' prediction about murder case proves predictably wrong

Questions over Greg Mortenson's stories

Really scary thing seen in space

Rob Schneider on California Bill AB 2109: The latest celebrity antivaccinationist to make a fool of himself

Ruh Roh. Universe may not be what we thought it was.

Sagan Papers Going to LoC, Thanks to Seth MacFarlane

School mass was boring, so evil spirits come by to liven things up

SETI Will Eventually Destroy Creationism

The Skeptic's Dictionary Newsletter, July, 2012

Skepticality #186 — Walking with the Psychic Blues

Sylvia Browne reading prompts family to request reopening murder case

TCM pushed on schoolkids in China

The Texas Republican Party platform: Creationism, denialism, "health freedom," and "vaccine choice" all rolled up into one big antiscience ball

"This is how science works" on global warming, court rules

UCLA biologists reveal potential 'fatal flaw' in iconic sexual selection study

UK homeopaths flustered over law that may signal their demise

US Catholic bishops' abuse of 'religious freedom'

What do polio, pesticides, and cell phone radiation have in common?

Why I Will Feed The Trolls If I Damn Well Want To

Wisconsin Supreme Court to take up faith healing case where child died

Wiseman on the science of self-help

Xocai is not okay! Legal threat against skeptical critic in Norway (Update: Xocai tries to cover their tracks)

You can get vaccinated against Lyme disease. Oh, wait. You can't. Thanks anti-vaxxers!

Got some skeptic news items? Send them to us, and we'll think about adding them.

Book of the Week:
Why Is the Penis Shaped Like That?: And Other Reflections on Being Human, by Jesse Bering.





"Why do testicles hang the way they do? Is there an adaptive function to the female orgasm? What does it feel like to want to kill yourself? Does 'free will' really exist? And why is the penis shaped like that anyway?

In Why Is the Penis Shaped Like That?, the research psychologist and award-winning columnist Jesse Bering features more than thirty of his most popular essays from Scientific American and Slate, as well as two new pieces, that take readers on a bold and captivating journey through some of the most taboo issues related to evolution and human behavior. Exploring the history of cannibalism, the neurology of people who are sexually attracted to animals, the evolution of human body fluids, the science of homosexuality, and serious questions about life and death, Bering astutely covers a generous expanse of our kaleidoscope of quirks and origins.

With his characteristic irreverence and trademark cheekiness, Bering leaves no topic unturned or curiosity unexamined, and he does it all with an audaciously original voice. Whether you're interested in the psychological history behind the many facets of sexual desire or the evolutionary patterns that have dictated our current mystique and phallic physique, Why Is the Penis Shaped Like That? is bound to create lively discussion and debate for years to come."

— Book description
---

This Week's Most-Viewed Pages:
Forum Topics:

Articles:

There were 7,375 daily visitors this week.
---
More issues of the Skeptic Summary can be found in our archive.

The Skeptic Summary is produced by the staff of the Skeptic Friends Network, copyright 2012, all rights reserved.
---
Read or Add Comments about the Skeptic Summary
Back to Skeptic Summary