Skeptic Summary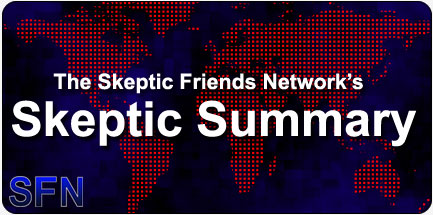 Skeptic Summary #151
By The Staff
Posted on: 7/29/2007

Possum, Paul, convention, feedback, WWN and more!



Week ending July 28, 2007 (Vol 4, #28)


Welcome to the Skeptic Summary, a quick week-in-review guide to the Skeptic Friends Network and the rest of the skeptical world.

Forum Highlights:
Possum on the Half Shell - Another not-to-be-missed piece from filthy.

Skeptical of Ron Paul's Internet Popularity - So are others.

Editor's Choice: Skeptic Events Dragon*Con 2007 - A scifi/fantasy convention with skeptical track… can't beat that.
This Week's Poll:
How are we doing?
Kil's Evil Pick:
According to Wikipedia, the print (and possibly the online) version of The Weekly World News is shutting down. The last issue will be printed on August 3rd.

If you are anything like me, your time spent in line at the supermarket will be a lot drearier then it is now. You might even encounter a fact now and then while thumbing through whatever tabloids are left.

And so, my official pick for this week is an Interview with David Pearl, executive vice president of the Weekly World News and president of AMI Books, he did for BadMouth.net back in 2005.

I have mined the WWN from time to time for Evil Picks, and it now looks like this one may be my last.

Do visit the The Weekly World News site this week. My guess is that it will be up for a while, but this may be your last chance to enjoy new content at "The Worlds Only Reliable Newspaper" site…
Chat Highlights:
Sunday: The Sunday chat is on vacation along with its host.

Wednesday: Clavis starts off chat by making a bold statement: all skeptics are interesting. Strangely enough, no one questions it. Then laboratories, chocolate labs, and dogs. Appended to Clavis's original theory is the following corollary: most skeptics have dogs. This was followed by a discussion on whether or not comedians can make good actors. Shortly after, YouTube clips of Eddie Murphy (not work safe). When I had my back turned, everyone snuck out of chat and that was the end for this week.

Come chat with us.
New Members This Week:
Jinkies
Grayven
Chusa
ryri
inafoxhole88
andymonk
Cmon Sense

(Not a member? Become one today!)
---
Elsewhere in the World:
Bad Science

Skepticality #057 — On being a Skeptic of Faith, Dr. Hal Bidlack, Ph.D.

Yet Another Creationist Meltdown

What's New by Bob Park

Got some skeptic news items? Send them to us, and we'll think about adding them.
Book of the Week:
The Blunder Book, by M. H. Goldberg.





"The pantheon of error making is large and always growing. History is replete with notables who have made serious mistakes, who have every right to hide their red faces from the limelight: people like Columbus, Gutenburg, Washington, Einstein. All of them — and many others — have had to overcome the errors of their ways to make their marks in the world.

This book presents the many ways in which error has become ingrained in our government, science, medicine, and the arts, how error has changed history, crept into our libraries, altered our thoughts, and affected out daily existence."

— Book Description
---
This Week's Most-Viewed Pages:
Forum Topics:

Articles:

There were 5,131 daily visitors this week.
---
More issues of the Skeptic Summary can be found in our archive.

The Skeptic Summary is produced by the staff of the Skeptic Friends Network, copyright 2007, all rights reserved.
---
Read or Add Comments about the Skeptic Summary
Back to Skeptic Summary