Skeptic Summary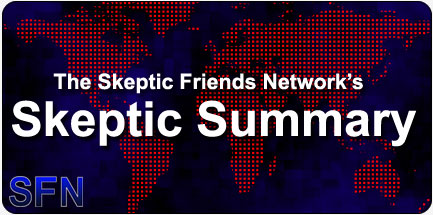 Skeptic Summary #171
By The Staff
Posted on: 12/24/2007

Happy something, denial en masse, creationist kills, it's viral, a new contest, skeptical ignorance and more!



Week ending December 22, 2007 (Vol 4, #48)


Welcome to the Skeptic Summary, a quick week-in-review guide to the Skeptic Friends Network and the rest of the skeptical world.

A big "HAPPY WHATEVER" to you and yours from the staff of the SFN. If none of the major events appeal to you, then pick something and have fun ("Yippee, it's Wednesday!").

Forum Highlights:
An international team of MMGW deniers (scientists) - Both the thread and the climate change pick up speed…

Creationist kills scientist after bar argument? - Did you say survival of the fittest?

Favorite Viral Videos! - Join in, please.

Editor's Choice: 2008 Psychic Contest - Don't miss out like you did last year.
Kil's Evil Pick:
"Skepticism" and Ignorance, By George M. Felis.

Imagine you found a pretty crystal while on a hike at a park. Suppose that a few hundred meters further on the hike, you ran into another hiker and struck up conversation. In that conversation, you show them your pretty crystal: "Hey, look at this neat-o quartz I found!"

Suppose your new hiker acquaintance responds by saying, "Actually, that's not quartz at all, it's feldspar. When I'm not a nature hiker, I'm a geology professor and a licensed gemologist."

Naturally, your reaction (assuming you are not yourself a geologist or something) would be to say, "I don't think so. I still say it's a quartz. It looks all… quartz-y!"

What? That wouldn't be your reaction?

No, of course not. Such a response would be perfectly ridiculous. Disagreeing with someone who knows much more than you about a subject, based on nothing more than your own feelings or intuitions, would be the height of foolishness. Right?

So why are there so many evolution doubters and global warming deniers and other self-styled "skeptics" who feel perfectly comfortable rejecting the well-supported conclusions of the overwhelming majority of scientific experts based on nothing more substantial than their own uninformed convictions about the matter?

Read on.

Great essay and, while not so new, still timely considering some recent topics on our forum…
SkeptiQuote:
To know much is often the cause
of doubting more.
— Michel de Montaigne
Chat Highlights:
Sunday: Chit-chat about the weather; school grades; preparations and plans for Christmas.

Wednesday: With the holidays coming up, food an alcohol were on everyone's minds. Candies, latkas, ham, chicken, and of course vodka to wash it all down. Then paranormal activities pertaining to UFOs. Aliens are really only scary when government officials believe in them, such as one in Japan. Dave finally got a new keyboard after months of typos. After this it was back to vodka and other types of alcohol. boron popped in out of no where and told how the aircraft carrier he had been on saved a girl with a ruptured appendix. Chat ended with esoteric programming languages such as LOLcode and Whitespace.

Come chat with us.
New Members This Week:
JohnGalt
mastercho
rain

(Not a member? Become one today!)
---
Elsewhere in the World:
Asteroid May Hit Mars in Next Month

Chocs away! Eat, drink and be merry

Global warming pact set for 2009 after U.S. backs down

Laws of Nature, Source Unknown

What's New by Bob Park

Got some skeptic news items? Send them to us, and we'll think about adding them.
Book of the Week:
Lies My Teacher Told Me: Everything Your American History Textbook Got Wrong, by James W. Loewen.





"Americans have lost touch with their history, and in Lies My Teacher Told Me Professor James Loewen shows why. After surveying eighteen leading high school American history texts, he has concluded that not one does a decent job of making history interesting or memorable. Marred by an embarrassing combination of blind patriotism, mindless optimism, sheer misinformation, and outright lies, these books omit almost all the ambiguity, passion, conflict, and drama from our past.

In this revised edition, packed with updated material, Loewen explores how historical myths continue to be perpetuated in today's climate and adds an eye-opening chapter on the lies surrounding 9/11 and the Iraq War. From the truth about Columbus' historic voyages to an honest evaluation of our national leaders, Loewen revives our history, restoring the vitality and relevance it truly possesses.

Thought provoking, nonpartisan, and often shocking, Loewen unveils the real America in this iconoclastic classic beloved by high school teachers, history buffs, and enlightened citizens across the country."

— Book Description
---
This Week's Most-Viewed Pages:
Forum Topics:

Articles:

There were 8,241 daily visitors this week.
---
More issues of the Skeptic Summary can be found in our archive.

The Skeptic Summary is produced by the staff of the Skeptic Friends Network, copyright 2007, all rights reserved.
---
Read or Add Comments about the Skeptic Summary
Back to Skeptic Summary