Skeptic Summary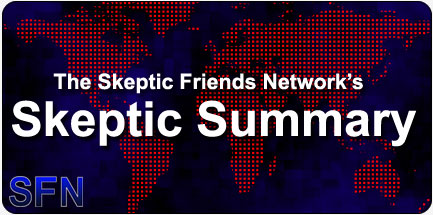 Skeptic Summary #218
By The Staff
Posted on: 12/27/2008

Art, answers, morality, theft, death and more!



Week ending December 27, 2008 (Vol 5, #46)


Welcome to the Skeptic Summary, a quick week-in-review guide to the Skeptic Friends Network and the rest of the skeptical world.



Forum Highlights:
Art. How wrong am I? - You are less wrong than Battlefield Earth, that's for sure.

Atheists have an answer to prayer day - Let's hope it's a good one.

From Javier, the xian concept of 'morality' - Do as I say, not as I do.

Editor's Choice: The stupid season is offically here (Hooray)! - Steal your baby Jesus today!

Kil's Evil Pick:
From Scientific American Mind Magazine comes the article, "Never Say Die: Why We Can't Imagine Death — Why so many of us think our minds continue on after we die," by Jesse Bering. As the end of the year approaches, I thought this might be a fun time to contemplate death and conciseness:

Key Concepts:

Almost everyone has a tendency to imagine the mind continuing to exist after the death of the body.
Even people who believe the mind ceases to exist at death show this type of psychological-continuity reasoning in studies.
Rather than being a by-product of religion or an emotional security blanket, such beliefs stem from the very nature of our consciousness.

My favorite quote from the article is this one:

One particularly vehement extinctivist thought the whole line of questioning silly and seemed to regard me as a numbskull for even asking. But just as well — he proceeded to point out that of course Richard knows he is dead, because there's no afterlife and Richard sees that now.

While the subject is a grave one, I am dead serious in my recommendation of this article. Enjoy!
SkeptiQuote:

Think of how many religions attempt to validate themselves with prophecy. Think of how many people rely on these prophecies, however vague, however unfulfilled, to support or prop up their beliefs. Yet has there ever been a religion with the prophetic accuracy and reliability of science? … No other human institution comes close.

— Carl Sagan

Chat Highlights:
Sunday: How time ticks in different countries; They Might Be Giants; a book called Flatland. Also: Guild Wars.

Wednesday: The chat was about pizza and brandy-laced eggnog. Well, it was for me anyhow. Michelle wrapped gifts in the living room while I (Kil) sat with the few people who were free and willing to chat. Ricky and Dave didn't make it, which meant that it was actually possible to have a discussion, without getting ridiculously sidetracked, having to run a minefield of very slightly amusing but ultimately irrelevant links that mostly serve to end all conversations. Of course, I don't remember what we talked about because I was sipping the eggnog laced with brandy all night. But I know it was deep…

Come chat with us.

New Members This Week:
jjoensuu

(Not a member? Become one today!)
---

Elsewhere in the World:
The "Intelligent Design" Movement on College and University Campuses is Dead

Lacking control drives false conclusions, conspiracy theories and superstitions

The Last Christmas of the American Golden Age

Vintage year for iffy studies and selective reporting

What's New by Bob Park

Got some skeptic news items? Send them to us, and we'll think about adding them.

Book of the Week:
An Anthropologist On Mars: Seven Paradoxical Tales, by Oliver Sacks.





"According to Sacks… developmental defects, diseases, and disorders play a paradoxical role in human lives. Ravenous and destructive on the one hand, they also bring about unexpected growth and evolution of the extremely adaptive nervous system as it is forced to develop new paths and new ways of doing things. Sacks offers seven portraits exemplifying the 'creative' potential of disease, including an artist who loses all sense of color in a car accident but finds a new sensibility and creative power in black and white; a surgeon consumed by the compulsive tics of Tourette's Syndrome unless he is operating; and an autistic Ph.D. who cannot interpret the simplest social exchange between humans but has built a career out of her intuitive understanding of animal behavior. Taking leave of his white coat and the hospital environment, Sacks explores his subjects closely. True to his past work, he offers compelling stories told with the cognizance of a clinician and the heart and compassion of a poet…"

— Library Journal
---

This Week's Most-Viewed Pages:
Forum Topics:

Articles:

There were 12,597 daily visitors this week.
---
More issues of the Skeptic Summary can be found in our archive.

The Skeptic Summary is produced by the staff of the Skeptic Friends Network, copyright 2008, all rights reserved.
---
Read or Add Comments about the Skeptic Summary
Back to Skeptic Summary