Skeptic Summary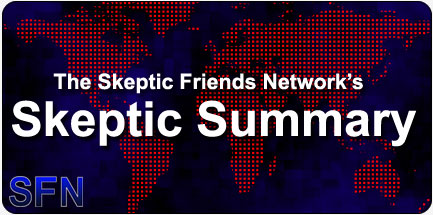 Skeptic Summary #257
By The Staff
Posted on: 10/24/2009

Goodness, divisiveness, nerdiness, musicalness, photogenicness and more!



Week ending October 24, 2009 (Vol 6, #39)


Welcome to the Skeptic Summary, a quick week-in-review guide to the Skeptic Friends Network and the rest of the skeptical world.



Forum Highlights:
Has the Catholic Church been a force for good? - Only if you're into that sort of thing.

Kurtz ousted from CFI - CFI leaders described as "fundamentalist board-members"

Editor's Choice: Prayer Servers Downed by DDOS Attack - One can dream.

From the Archives: Verlch's Song… - Still not in the Top 40.

Kil's Evil Pick:
Wellcome Image Awards 2009



Wellcome Images is the world's leading source of images of medicine and its history, from ancient civilisation and social history to contemporary healthcare, biomedical science and clinical medicine. Over 180,000 images ranging from manuscripts, rare books, archives and paintings to X-rays, clinical photography and scanning electron micrographs are available online.

Winners' Gallery

Start with the homepage and watch the video. What is very cool besides the pictures themselves, which are absolutely stunning, are the descriptions or the what of each photo and the how the photo was done.

Enjoy!
SkeptiQuote:

There is no field of medicine that can be called "alternative"; there is only medicine that works and medicine that doesn't.

— Bob Park

Chat Highlights:
Wednesday: Role playing games got things, well, rolling. Shermer comes to M(ichigan)SU to give his "Why people believe weird things" talk. Then libertarians, librarians, libertines, and Liberians. Awesome band names led to a walk down memory lane with Verlch's Song. Spine puns, religious art, and tons of movie talk brought chat to a close.

Come chat with us.

New Members This Week:
wesgoodman

(Not a member? Become one today!)
---

Elsewhere in the World:
Suzanne Somers carpet bombs the media with napalm-grade stupid about cancer

HIV and Aids: debate or denial?

Skepticality #111 — Pop Controversy

What's New by Bob Park

The zombies will sup on Karen Armstrong with a straw

Got some skeptic news items? Send them to us, and we'll think about adding them.

Book of the Week:
The New Atheism: Taking a Stand for Science and Reason, by Victor J. Stenger.





"In recent years a number of bestselling books have forcefully argued that belief in God can no longer be defended on rational or empirical grounds, and that the scientific worldview has rendered obsolete the traditional beliefs held by Christianity, Judaism, and Islam. The authors of these books — Richard Dawkins, Daniel Dennett, Sam Harris, Christopher Hitchens, and Victor J. Stenger — have come to be known as the 'New Atheists.' Predictably, their works have been controversial and attracted a good deal of critical reaction.

In this new book, Victor J. Stenger, whose God: The Failed Hypothesis was on the New York Times bestseller list in 2007, reviews and expands upon the principles of New Atheism and answers many of its critics. He demonstrates in detail that naturalism — the view that all of reality is reducible to matter and nothing else — is sufficient to explain everything we observe in the universe, from the most distant galaxies to the inner workings of the brain that result in the phenomenon of mind.

Stenger disputes the claim of many critics that the question of whether God exists is beyond the ken of science. On the contrary, he argues that absence of evidence for God is, indeed, evidence of absence when the evidence should be there and is not.

Turning from scientific to historical evidence, Stenger then points out the many examples of evil perpetrated in the name of religion. He also notes that the Bible, which is still taken to be divine revelation by millions, fails as a basis for morality and is unable to account for the problem of unnecessary suffering throughout the world.

Finally, he discusses the teachings of ancient nontheist sages such as Buddha, Lao Tzu, and Confucius, whose guidelines for coping with the problems of life and death did not depend upon a supernatural metaphysics. Stenger argues that this 'way of nature' is far superior to the traditional supernatural monotheisms, which history shows can lead to a host of evils.

The New Atheism is a well-argued defense of the atheist position and a strong rebuttal of its critics."

— Product Description
---

This Week's Most-Viewed Pages:
Forum Topics:

Articles:

There were 17,666 daily visitors this week.
---
More issues of the Skeptic Summary can be found in our archive.

The Skeptic Summary is produced by the staff of the Skeptic Friends Network, copyright 2008, all rights reserved.
---
Read or Add Comments about the Skeptic Summary
Back to Skeptic Summary