Skeptic Summary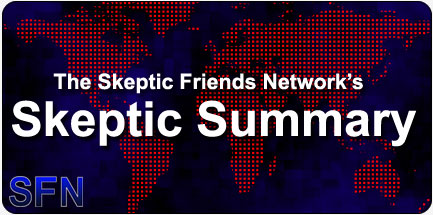 Skeptic Summary #103
By The Staff
Posted on: 8/5/2006

Passion, armageddon, hope, terror and more!



Week ending August 5, 2006 (Vol 3, #30)


Welcome to the Skeptic Summary, a quick week-in-review guide to the Skeptic Friends Network and the rest of the skeptical world.

Forum Highlights:
An overt 'passion' for the fruit? - Although I don't think it's the same fruit meant by "Fruit of the Spirit."

Armageddon's the story on prime time news - In other news, all news anchors have quit.

Is there hope for Kansas? - Perhaps no more hope than in 1998.
Kil's Evil Pick:
"Simply put, this is the most terrifying thing I have ever seen. Ever." - Phil Plait
Chat Highlights:
Sunday: Chat started off with the question, "Is America really a secret dictatorship?" For the majority of the time, the discussion was comparing and contrasting American and Canadian politics, pointing out the strengths and weakness in each system. After we solved all the political problems for each country, the discussion underwent a radical change to Aspartame and whether or not it causes fat retention. While no compelling evidence was found, neither was any evidence to the contrary.

Wednesday: Movies were first up: Clerks II and An Inconvenient Truth (the Al Gore film). A spoiler for the latter: the Earth is getting hotter. This naturally lead into a political discussion about whether will Al Gore run again, and how much we are going to be screwed come next election. There was talk of McCain, Hilary, Bill, and Lewinsky, in that order. After the political discussions resigned, next up was musicians, or more specifically, dead musicians. A quick browser chat, and finally a video on the Bible by The Kids in the Hall ended out the night.

Come chat with us.
New Member This Week:
John
Daniel
jlawrence

(Not a member? Become one today!)
---
Elsewhere in the World:
Bad Science

Is ID DOA?

Moon's odd bulge finally explained

What's New by Bob Park

Got some skeptic news items? Send them to us, and we'll think about adding them.
Book of the Week:
Why Is Sex Fun? The Evolution of Human Sexuality, by Jared Diamond.





"Diamond's case is that our sex lives are better understood in terms of genetics than of grand opera. He is among the best of a talented bunch of writers on evolutionary biology. This book is… engaging and interesting to read. It is much more than yet another infantile attempt to use a string of unconnected anecdotes to explore the human spirit through the eyes of nature. Why Is Sex Fun? contains many strange and memorable tales of our sex lives and those of our relatives. It is guaranteed to keep a potential partner amused and amazed at the vagaries of what people — and animals — get up to when it comes to passing on their genes."

— Steve Jones, New York Review of Books
---
This Week's Most-Viewed Pages:
Forum Topics:

Articles:

There were 3,829 daily visitors this week.
July's Most-Viewed Pages:
Forum Topics:

Articles:

There were 16,190 daily visitors in July.
---
More issues of the Skeptic Summary can be found in our archive.

The Skeptic Summary is produced by the staff of the Skeptic Friends Network, copyright 2006, all rights reserved.
---
Read or Add Comments about the Skeptic Summary
Back to Skeptic Summary