Skeptic Summary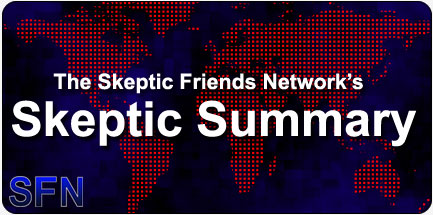 Skeptic Summary #178
By The Staff
Posted on: 2/17/2008

ID questions, expelled questions, science questions, true questions, perpetual questions, predictable questions, rights questions, Scientology questions, scary questions and more!



Week ending February 16, 2008 (Vol 5, #6)


Welcome to the Skeptic Summary, a quick week-in-review guide to the Skeptic Friends Network and the rest of the skeptical world.

Okay, we're going to try to make up for missing a week, too.



Forum Highlights:
Conservative Christian - andrew19 asks about ID.

Expelled: No Intelligence Allowed! - Lotsa news this week. Wow!

FL public hearing on new science standards - Creationism has something to do with fruit, of this much we are sure.

On Truth - Skeptical refugees get philosophical on SFN.

Super generator? Perpetual motion? Another grift? - It's spinning… spinning… spinning…

Editor's Choice: ID predicts… - This past week, the predictions are actually in!

From the Archives: NAMBLA and the good ol' ACLU - Disgust from bill scott at the ACLU defending free speech.



Kil's Evil Pick:
#1: In keeping with the spirit of Anonymous's Message to Scientology and last week's world-wide protests of scientology centers, which you will be hearing about this week if you haven't already, because they happened, I thought a little documentary on The Secret Life of L. Ron Hubbard would be timely.

It looks like Scientology is in for a rougher then usual ride for a while. Too bad for them…

#2: Top 10 False Health Scares of 2007 - I think the year is still young enough to not scare you. What is interesting about this list, at least to me, are the health scares that have been around for what seems like forever, and will not go away. They will be on this year's list and next year's list. If anything, it is that likelihood that scares me…
SkeptiQuote:
…getting angry at skeptics for
being skeptical on a skeptic
site is ridiculous.
— HalfMooner

Chat Highlights:
Sunday: Our chat host was busy recovering.

Wednesday the 6th: A neophyte skeptic stumbled into chat this week, and as such, most of the beginning talk was on finding local skeptic groups. TAM6 was also in there as well, since the prices had just come out. Tech talk ensued as forum modifications were suggested and tabled, as well as a discussion on just how great Google is. Stealing a line from Colbert, all opinions were between "great" and "the greatest." @tomic dropped by as chat was dying down, and things went quiet shortly after.

Wednesday the 13th: Phil Plait (the Bad Astronomer) hosted his first chat Wednesday night which ended shortly after 10pm (EST), exactly when our chat started. JohnOAS was able to pull a few of BA's chatters into our room. A variety of topics were discussed including superstitions, limericks, and phonemological arguments. Much of the night was spent talking about the Infidel Guy and his response to Kil's post.

Come chat with us.

New Members This Week:
ieleven
fpbarbi
rglindley
JustMe
odds_lane
HoldMeCloserTonyDanza
Fikir Felagi
Varius
SockPuppetlikespeetchuh
Lambchopsuey
NVDan
LeonKennedy
The_Death_Of_Achilles
andrew19
EdSG
michael1
Mindcore
justin
Getsul
Anglagard

(Not a member? Become one today!)
---

Elsewhere in the World:
Dumb and Dumber: Are Americans Hostile to Knowledge?

Fluoride, teeth, and an argument that's full of holes

Nonsense dressed up as neuroscience

What's New by Bob Park (the 8th)

What's New by Bob Park (the 15th)

Got some skeptic news items? Send them to us, and we'll think about adding them.

Book of the Week:
The Portable Atheist: Essential Readings for the Nonbeliever, by Christopher Hitchens (editor).





"Christopher Hitchens continues to make the case for a splendidly godless universe in this first-ever gathering of the influential voices — past and present — that have shaped his side of the current (and raging) God/no-god debate. With Hitchens as your erudite and witty guide, you'll be led through a wealth of philosophy, literature, and scientific inquiry, including generous portions of the words of Lucretius, Benedict de Spinoza, Charles Darwin, Karl Marx, Mark Twain, George Eliot, Bertrand Russell, Emma Goldman, H. L. Mencken, Albert Einstein, Daniel Dennett, Sam Harris, Richard Dawkins, and many others well-known and lesser known. And they're all set in context and commented upon as only Christopher Hitchens — 'political and literary journalist extraordinaire' (Los Angeles Times) — can.

Atheist? Believer? Uncertain? No matter: The Portable Atheist will speak to you and engage you every step of the way."

— Book Description
DVD of the Week:
The Universe — the Complete Season One, from the History Channel.





"From the mysteries of our own solar system those that surround unexplored galaxies, history and science collide in this ambitious investigation of the Universe.

Questions about the Universe have consumed man since the dawn of time. In the 50 years since humans made their first tentative explorations of space, we have increased our knowledge of the cosmos dramatically, using powerful telescopes, robotic probes, and manned missions. But only recently has computer technology allowed scientists to illustrate in stunning detail their awe-inspiring conclusions. The Universe, a groundbreaking series from the History Channel, employs cutting-edge computer-generated imagery to bring distant planets and faraway stars up close, allowing viewers to gaze at black holes and comets, and witness the births and deaths of galaxies and solar systems.

This epic miniseries takes viewers on an exhilarating voyage through the cosmos. From the farthest reaches of distant galaxies back to the familiar face of our moon, The Universe brings the mysteries of the heavens down to earth."

— Product Description
---

This Week's Most-Viewed Pages:
Forum Topics:

Articles:

There were 9,810 daily visitors this week.
---
More issues of the Skeptic Summary can be found in our archive.

The Skeptic Summary is produced by the staff of the Skeptic Friends Network, copyright 2008, all rights reserved.
---
Read or Add Comments about the Skeptic Summary
Back to Skeptic Summary