Skeptic Summary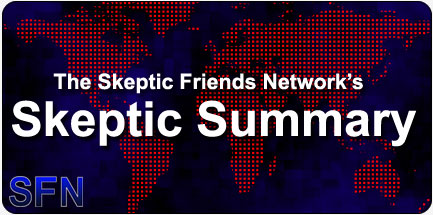 Skeptic Summary #231
By The Staff
Posted on: 4/11/2009

The Pigasus cometh, evolution was created, dietary detox, reading lips, the benefits of Christianity and more!



Week ending April 11, 2009 (Vol 6, #13)


Welcome to the Skeptic Summary, a quick week-in-review guide to the Skeptic Friends Network and the rest of the skeptical world.



Forum Highlights:
The 2008 Pigasus Awards are in! - And are flying faster than ever.

Created evolution? - What's the point?

Detoxification diet - Removes a lot of waste from your wallet.

Editor's Choice: Read my lips… - …no more hysterics.

Kil's Evil Pick:
"Is Christianity Good for the World?" — Here, Christopher Hitchens and Douglas Wilson Debate at the Westminster Theological Seminary. This is one in a series of debates that Hitchens had with Wilson, and for my money, it's the best. Hitchens is firing on all cylinders here without the need to resort to rancor and other tactics that are a part of his quiver, which is formidable. This is Hitchens as laid back as I have ever seen him, making his point.

The debate can also be found on YouTube, broken up into 12 videos. The picture quality is better there, and maybe easier for some people to watch, computer-wise, because the segments are shorter. The debate linked to in the title does not include the question-and-answer session which starts in video 7 on the YouTube version. I watched the debate and then moved on to YouTube Q&A session which meant I didn't have sit by my computer the whole time.

Enjoy!
SkeptiQuote:

Science, plus beer, equals good!

— Adam Savage, MythBusters

Chat Highlights:
Wednesday: Full house. Many subjects covered. Everyone had a good time, I'm pretty sure. I can't be positive of that, but I'm pretty sure. Norm needed some math done. Something to do with optics. Ricky helped him with that. Dave had a cold and endured reading a silly thread at the Skepticality forum, on my suggestion, which probably made his illness worse. @tomic is at Disneyland. Cuniformist has moved West and Boron10 thought it would be fun to let his baby do the typing. I (Kil) left rather early knowing that our chat host was still on the job, and writing this summary would be in his able hands…

Come chat with us.

New Members This Week:
AnthroGeek
Burbles
arPos

(Not a member? Become one today!)
---

Elsewhere in the World:
Are Your Children Playing With Lucifer's Testicles?

Cato copies the Discovery Institute

Cliche-O-Matic

eSkeptic newsletter for 4/8/09

Matthias Rath — steal this chapter

Sam Tyler-smith debates Ray Comfort in New Zealand

Sandra Magnus' Blog from Space

Skepticality #98 — What Do I Do Next?

South Park: Fantastic Easter Special

We watch FOX so you don't have to

What's New by Bob Park

Wherein Michael Ruse Avoids My Questions

Got some skeptic news items? Send them to us, and we'll think about adding them.

Book of the Week:
Relics of Eden: The Powerful Evidence of Evolution in Human DNA, by Daniel J. Fairbanks.





"Genetics professor Fairbanks, author of several science books for laymen (Genetics: The Continuity of Life), presents the details of evolution as gleaned from a close study of genetics, but marshals his evidence in a conversational style readily comprehensible to general readers. Fairbanks excels at explaining the momentous discoveries in genetics in the past 20 years in clear, concise language, helpfully defining relatively new terms (introns, telomeres, transposable elements) as well as older terms (mutation, natural selection). Using comparative genomics, in which the human genome is compared to those of other primates, mammals, vertebrates, insects and bacteria, Fairbanks shows how the human genome can only be explained as the evolutionary product of numerous pre-existing species, placing humans in a family tree that ties together all life on Earth and maps its genetic changes over time. From there, he engages in a familiar critique of the 'intelligent design' theory of creation ('When Faith and Reason Clash'); himself a Mormon, Fairbanks makes some interesting points regarding the canard that the sciences in general, and evolution in particular, are at odds with religion. Notes, references and extensive appendices go into greater technical detail; general readers looking for an overview of current genetics and evolution science will find this a great place to start."

— Publishers Weekly
---

This Week's Most-Viewed Pages:
Forum Topics:

Articles:

There were 9,370 daily visitors this week.
---
More issues of the Skeptic Summary can be found in our archive.

The Skeptic Summary is produced by the staff of the Skeptic Friends Network, copyright 2008, all rights reserved.
---
Read or Add Comments about the Skeptic Summary
Back to Skeptic Summary