Skeptic Summary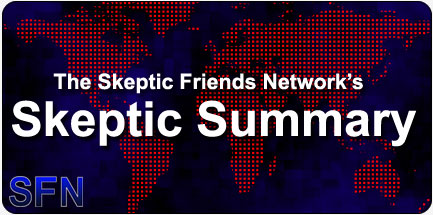 Skeptic Summary #246
By The Staff
Posted on: 7/25/2009

Morality, lies, unsupported junk, photographs, the future and more!



Week ending July 25, 2009 (Vol 6, #28)


Welcome to the Skeptic Summary, a quick week-in-review guide to the Skeptic Friends Network and the rest of the skeptical world.



Forum Highlights:
Moral absolutes? - Doesn't look like there are any.

New movie, more Expelled-type deceptions - When will we learn?

Unscientific America - The new book that rocked the blogosphere.

Editor's Choice: TAM7 - Look at that! Kil did give us more details and photos.

Kil's Evil Pick:
"Where Do We Go From Here? Has classic skepticism run its course?" by Daniel Loxton. — Yup. Sometimes things take a while to get to me. I have no idea how this essay slipped my notice for almost two years, but there you go.

So, is our pursuit of living in a world in which most people default to critical thinking in vain? We know it won't happen, not anytime soon anyhow, so why do we persist? Has our promotion of science made a dent in the onslaught of paranormal and pseudo-scientific claims, after 30 years of debunking many of those same claims, over and over again? Are we becoming a tired movement with nothing much to show for our efforts? What now?

Those are the kinds of questions that Loxton asks us skeptics, as he leads us toward the obvious answer.

This may be the first PDF file I have picked, but there you go. Please download it and read it. It just may be the tonic that you need.
SkeptiQuote:

I… see coincidence everywhere as an inevitable consequence of the laws of probability, according to which having no unusual coincidence is far more unusual than any coincidence could possibly be.

— Isaac Asimov

Chat Highlights:
Wednesday: First up was blogging and software woes, including but not limited to Cune banning himself from chat. Next was Skeptrack at Drgon*Con, they have a rather impressive list of speakers stacked up. dglas stormed out of chat as soon as the word "Shermer" was mentioned, but the rest of us remained reminiscing his old works (Why People Believe Strange Things) and sharing contempt for the new (his book, Mind of the Market). A must-read is the review by Carroll. Chat ended with a small discussion on the scientific achievements made by the Moon landing, as well as Bob Park's appearance on the Colbert Report.

Come chat with us.

New Members This Week:
ecarvalho
jr2kewl

(Not a member? Become one today!)
---

Elsewhere in the World:
DSHEA: a travesty of a mockery of a sham

Thou shall not bear false witness… unless you're the Baptist Messenger

Top 10 Ironic Ads From History

What's New by Bob Park

Got some skeptic news items? Send them to us, and we'll think about adding them.

Book of the Week:
Extraordinary Popular Delusions and the Madness of Crowds, by Charles Mackay.





"First published in 1841, Extraordinary Popular Delusions and the Madness of Crowds is often cited as the best book ever written about market psychology. This Harriman House edition includes Charles Mackay's account of the three infamous financial manias — John Law's Mississipi Scheme, the South Sea Bubble, and Tulipomania.

Between the three of them, these historic episodes confirm that greed and fear have always been the driving forces of financial markets, and, furthermore, that being sensible and clever is no defence against the mesmeric allure of a popular craze with the wind behind it.

In writing the history of the great financial manias, Charles Mackay proved himself a master chronicler of social as well as financial history. Blessed with a cast of characters that covered all the vices, gifted a passage of events which was inevitably heading for disaster, and with the benefit of hindsight, he produced a record that is at once a riveting thriller and absorbing historical document. A century and a half later, it is as vibrant and lurid as the day it was written.

For modern-day investors, still reeling from the dotcom crash, the moral of the popular manias scarcely needs spelling out. When the next stock market bubble comes along, as it surely will, you are advised to recall the plight of some of the unfortunates on these pages, and avoid getting dragged under the wheels of the careering bandwagon yourself."

— Book Description
---

This Week's Most-Viewed Pages:
Forum Topics:

Articles:

There were 12,138 daily visitors this week.
---
More issues of the Skeptic Summary can be found in our archive.

The Skeptic Summary is produced by the staff of the Skeptic Friends Network, copyright 2008, all rights reserved.
---
Read or Add Comments about the Skeptic Summary
Back to Skeptic Summary