Skeptic Summary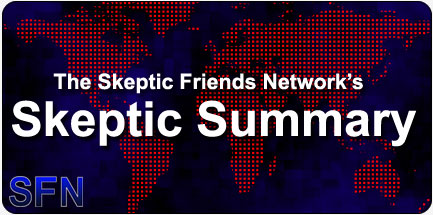 Skeptic Summary #252
By The Staff
Posted on: 9/12/2009

A book, a death, a speech, a break, a justice system and more!



Week ending September 12, 2009 (Vol 6, #34)


Welcome to the Skeptic Summary, a quick week-in-review guide to the Skeptic Friends Network and the rest of the skeptical world.



Forum Highlights:
Creation/Evolution/Intelligent Design - Drive-by spammer gives us a good laugh.

Hulda Clark has died - One fewer quack in the world.

The President's speech - Take 3 shots for every accusation of breaking a commandment.

Editor's Choice: What on Earth: a new beginning - The end of an era, and the start of another.

Kil's Evil Pick:
"Criminal Injustice: The Flaws & Fallacies of the American Justice System," by Steve Salerno — This article appears in last week's eSkeptic, the newsletter of Skeptic and Skeptic Magazine. Michael Shermer's introduction:

In this week's eSkeptic, we bring you a very controversial article on the criminal justice system by investigative journalist Steve Salerno, who previously debunked the self-esteem and self-help movements for Skeptic. It's controversial because the subject is so often politically divided between left and right on whether or not we are too hard or too soft on criminals.

Here Salerno explores some of the more controversial areas in the criminal justice system, bringing to the forefront talking points for discussion for our readers, some of whom turn out to be prisoners themselves, many of whom apparently read Skeptic magazine. One prisoner, incarcerated for life for a triple murder, responds to Salerno.

In my Skepticblog post this week, I provide my comments on his letter (quoting extensively from the letter, which we chose not to print out of respect for the families of his victims). Feel free to forward this week's eSkeptic and Skepticblog, and/or the links to them.

This is a worthy read which I highly recommend.
SkeptiQuote:

Mystical explanations are thought to be deep; the truth is that they are not even shallow.

— Friedrich Nietzsche

Chat Highlights:
Wednesday: With a number of skeptics having heart or vascular problems, chat started off with a rather in-depth discussion on sodium with the help of Nutrition Data. Of particular interest to many chatters were the nutrition facts of beer. It has no fat, so it must be good for you. The discussion quickly branched out to all areas of health, including that of friends and family, and stories of various hospital visits. At this point all but a few headed out, but for those who stayed, the night ended with the drinking age, ancient technology (10+ years old), some mathematics, and various illicit drugs.

Come chat with us.

New Members This Week:
Vitaliy
Brent W

(Not a member? Become one today!)
---

Elsewhere in the World:
Austrian crushed after popping in to thank God

The mainstreaming of crazy

Peer review is flawed but the best we've got

Saving gods by making them even emptier of meaning

Skepticality #107 — Wild Justice

What's New by Bob Park

Got some skeptic news items? Send them to us, and we'll think about adding them.

Book of the Week:
The Infiltrator: My Undercover Exploits in Right-wing America, by Harmon Leon.





"Called 'a cross between Michael Moore and South Park,' gonzo journalist Harmon Leon shared his undercover exploits among fringe right-wingers in the riotously funny book Republican Like Me. Now, in The Infiltrator, Harmon exposes more of the harrowing and hilarious reality of living in red-state America.

Desperate for a job in the no-new-job Republican economy, Harmon becomes O.J. Simpson's sidekick helping him to pull off hidden-camera tricks on O.J.'s budding reality show. – Harmon joins a civilian vigilante group of senior citizens called the Minuteman Project and helps them 'patrol for illegal aliens' along the Mexican border by sitting in a lawn chair. – He becomes a Promise Keeper at one of the group's weekend stadium events, where he 'gets pumped up about Jesus' but finds that women are clearly not welcome. – Harmon infiltrates the Protest Warriors (who vehemently oppose liberal protestors) and meets a right-wing Warrior who boastfully confides to Harmon that he's infiltrated leftist protests. Harmon rises to become president of the local chapter. – Harmon shows his flair for drama when he trains to be a teen abstinence educator and makes an unforgettable impression using mime. – At a faith healing extravaganza, Harmon throws away his crutches and walks againóbefore being 'assisted' to the ground.

And there's much, much more in this twisted sampler of 'infiltration journalism.' Follow Harmon on each mission impossible as he dons various ingenious disguises, goes undercover, tries various ways to eke out a living, and then just barely escapes to report on the shocking and very funny truth about surviving in conservative America."

— Product Description
---

This Week's Most-Viewed Pages:
Forum Topics:

Articles:

There were 14,809 daily visitors this week.
---
More issues of the Skeptic Summary can be found in our archive.

The Skeptic Summary is produced by the staff of the Skeptic Friends Network, copyright 2008, all rights reserved.
---
Read or Add Comments about the Skeptic Summary
Back to Skeptic Summary