Skeptic Summary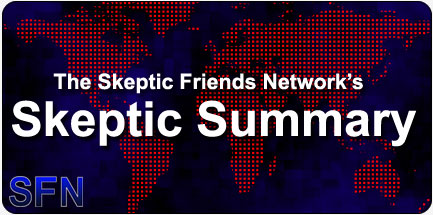 Skeptic Summary #274
By The Staff
Posted on: 3/1/2010

A meeting, a species, a depiction, an explanation, an attack, a continuation, a horrible injustice and more!



Week ending February 27, 2010 (Vol 7, #9)


Welcome to the Skeptic Summary, a quick week-in-review guide to the Skeptic Friends Network and the rest of the skeptical world.

On Saturday, there was a teeny-tiny SFN get-together: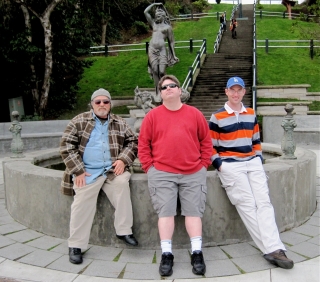 From left: Kil, @tomic and Boron10,
visiting Port Townsend, Washington, and
doing a bit of sight seeing in Puget Sound.

(Click image for full-size)

Forum Highlights:
As a species, we suck! - Unfortunately, CPAC members don't automatically qualify for the Darwin Awards.

Gene depictions? - cantbe323's best shot didn't even hit the barn from the inside.

Homeopathy Explained - If you're curious as to what the 4th level of hell feels like.

How could this happen! - People dumbfounded as serial killer whale strikes again.

Editor's Choice: Climate change denialist embarrassment - And they're still going.

Kil's Evil Pick:
48 Hours: A Cry For Innocence — Last night, CBS TV's 48 Hours did a piece on the West Memphis Three. And it's about time a major network looked at the case about the murder of three children, known as the Robin Hills Murders, who were allegedly ritualistically killed in a satanic crime. At the time, satanic crimes were all the rage, even though not a single case has ever turned out to be what those interested in that kind of crime claimed to be rampant across the country. Damien Echols, Jason Baldwin and Jessie Misskelley were caught in a witch-hunt and remain behind bars without a single shred of evidence that they did what they are accused of doing. Damien Echols has been on death row for 16 years now. Please watch this episode of 48 hours.

See also: Interview with Ken Lanning:

Retired FBI Agent Ken Lanning worked with the FBI Behavioral Science Unit on the West Memphis, Ark. murders. His investigation into reports of occult ritual crime concluded that there is no evidence of any satanic murders.
SkeptiQuote:

It doesn't matter how beautiful your theory is, it doesn't matter how smart you are. If it doesn't agree with experiment, it's wrong.

— Attributed to Feynman

Chat Highlights:
Wednesday: Chat started up this week with global warming and biology. Sticking with school subjects we moved on to history, specially the founding of the SFN and how much the founders forgot about it. Perhaps we were the first (true) skeptical forum on the internet, but we'll never know. We had a quick discussion on gays in the military and God Hates Protesters before plunging head first into bad jokes. Then trouble at Richard Dawkins Foundation forums and reports of an atheistic killing, if you ignore the three Bibles found. Chat ended with a turn toward a more serious discussion on how fanatical one must be before mental disorder definitions start to apply. Unfortunately it was late by this point, so we'll pick up the topic next week.

Come chat with us.

New Members This Week:
scooterKPFT
officerripley

(Not a member? Become one today!)
---

Elsewhere in the World:
Animal rights thugs: Researchers' children are not off limits

Atheists Make Monkey Addicted to Cigarettes, Cheap Whiskey

Caring for Pets Left Behind by the Rapture

Congratulations to Chris Mooney

Freshwater: The paranoia grows

Freshwater: One Board Member recuses herself, another should

Freshwater: Only a partial recusal

Homeopathy doesn't work. But are the claims for other medicines any better?

Imagine If All Atheists Left America

Is there anything more defeating than cute bats?

The making of Old Spice's commercial: The Man Your Man Could Smell Like

New Innovations In Integrative Medicine: Homeopuncture

Paleontologists: 'We've Been Looking At Dinosaurs Upside Down'

Parliament Emitting Angry Purple Aura, Say Homeopaths

Political Theory and the "Group Rights" Debate

Religion and Society

Skepticality #121 — Astronomy Overload Hour

Steele the Fiscal Conservative. Or Not.

The Templeton Bribe

What's New by Bob Park

Got some skeptic news items? Send them to us, and we'll think about adding them.

Book of the Week:
Beyond God: Evolution and the Future of Religion, by Kenneth V. Kardong.





"More than a hundred years of anthropological studies have demonstrated that religion is a fundamental and pervasive aspect of all human societies. Human beings appear to be inherently religious. But why? Religious practices determine the outcome of the struggle for existence and affect reproductive success. From an evolutionary perspective, such behaviors must bring biologically adaptive benefits, or the culling hand of Darwinian evolution would have eliminated religion long ago.

In his unique analysis of religion, biologist Kenneth V. Kardong argues that, in a pre-scientific world, religion was an evolutionary necessity for human survival. Going beyond the recognized psychological comforts of religion as a remedy for emotional insecurity and anxiety, Kardong instead explores what survival advantages religion first conferred on those humans faithfully practicing a locally adaptive set of cults and customs. By focusing on religion's survival advantages, he is then able to address why religion evolved in the first place and why it possesses some of the distinctive and occasionally troubling characteristics we see today.

Kardong concludes that because religion was adaptive it is still planted deep within us and in our future. These ancient religious impulses are often unyielding when confronted by our comparatively recent capacity for rational and scientific understanding. This intractable quality in certain contexts can lead to violence and the other evils that throughout history and today serve as the worst examples of religious behavior.

Beyond God makes an important contribution to the understanding of religion from an evolutionary perspective."

— Product Description
---

This Week's Most-Viewed Pages:
Forum Topics:

Articles:

There were 24,992 daily visitors this week.
---
More issues of the Skeptic Summary can be found in our archive.

The Skeptic Summary is produced by the staff of the Skeptic Friends Network, copyright 2008, all rights reserved.
---
Read or Add Comments about the Skeptic Summary
Back to Skeptic Summary