Skeptic Summary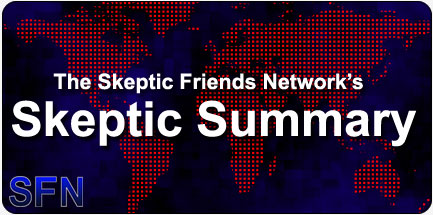 Skeptic Summary #190
By The Staff
Posted on: 5/26/2008

Skeptical exercise, a new tool, a question for the areligious, slowing down, the belief engine and more!



Week ending May 24, 2008 (Vol 5, #18)


Welcome to the Skeptic Summary, a quick week-in-review guide to the Skeptic Friends Network and the rest of the skeptical world.



Forum Highlights:
Perfect Push Up - A skeptical work-out.

The tools of skepticism - Announcement of a new tool, specifically tailored to creationists.

To atheists - What do you have against agnostics, secular humanists, brights, freethinkers, and Pastafarians? Huh?!

Editor's Choice: Slowdowns - Once again, we apologize.

Kil's Evil Pick:
"The Belief Engine," by James Alcock:

Our brains and nervous systems constitute a belief-generating machine, a system that evolved to assure not truth, logic, and reason, but survival. The belief engine has seven major components.

What are they? Just how do our beliefs work? Are we prone to error? What can we do about it? This CSI (formally CSICOP) essay is essential reading for the critical thinker. I just can't recommend it enough. Go read it!
SkeptiQuote:
To surrender to ignorance and call it
God has always been premature, and it
remains premature today.
— Isaac Asimov

Chat Highlights:
Sunday: Political and natural climate in California. Canada transplanted British and French socio-political culture. What has Bush done for the country? What's good and bad about democracy? The Democratic race, and options. Enjoying your employment?

Wednesday: The first order of business was to decide what Mab should serve at a wedding dinner (not his). Fish, and apparently things nuked from Ikea, were out. Don't ask me, I just write the summary. After an arduous debate which seemed as if to go on for… about 3 minutes… beef tenderloin stake was chosen. Since that problem was solved, it was time for another round of the blame game. Who miscalculated the GMT time in the chat announcements? The fault rested upon Kil's shoulders, never mind that he doesn't actually make the announcements but just copies them. Things got a bit heated when an argument erupted over a post on the forums. When talking about multiple letters (a's, b's, c's), is it proper to use an apostrophe? The conclusion was yes, but only if they are lowercase. However it is a personal choice to when they are uppercase. A's, B's, C's. If that previous sentence does not have apostrophes, I'm being censored. Chat ended with a trip down memory lane and something which I hesitate to call a discussion on religion.

Come chat with us.

New Members This Week:
soffian
SDuck
Emilianodelau
RadioMusicBox
mark1345
xinit

(Not a member? Become one today!)
---

Elsewhere in the World:
Childish superstition: Einstein's letter makes view of religion relatively clear

How to market a miracle cure

Robert Bakker plays blame-the-atheist

The Phoenix Mars Lander

Tree of Life Hacked Down!

What's New by Bob Park

Got some skeptic news items? Send them to us, and we'll think about adding them.

Book of the Week:
Physics of the Impossible: a Scientific Exploration into the World of Phasers, Force Fields, Teleportation, and Time Travel, by Michio Kaku.





"'If at first an idea does not sound absurd, then there is no hope for it.' Einstein's words make an apt motif for Kaku's premise: just because something is impossible today doesn't mean it will be impossible in the future. Kaku — a well-known theoretical physicist at the City University of New York and an accomplished writer — reminds us of how fantastic the World Wide Web would have seemed in 1908. He goes on to discuss a number of currently impossible technologies, categorizing them into technologies that are not doable today but may be so in the foreseeable future; those that are impossible in the foreseeable future but do not violate the laws of physics; and those that violate the laws of physics as we know them today. In the first category, for example, a combination of several technologies — a supercharged plasma window, a curtain of high-energy laser beams and a screen of carbon nanotubes — might one day create a realistic force field, not unlike the one Captain Kirk summoned with 'Shields up!' in countless episodes of Star Trek."

— Michelle Press, Scientific American
---

This Week's Most-Viewed Pages:
Forum Topics:

Articles:

There were 16,258 daily visitors this week.
---
More issues of the Skeptic Summary can be found in our archive.

The Skeptic Summary is produced by the staff of the Skeptic Friends Network, copyright 2008, all rights reserved.
---
Read or Add Comments about the Skeptic Summary
Back to Skeptic Summary