Skeptic Summary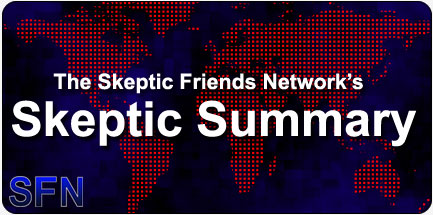 Skeptic Summary #256
By The Staff
Posted on: 10/17/2009

Balloon busting, antivaxxing, evolutionizing, death-dealing, fact checking, Beck parroting and more!



Week ending October 17, 2009 (Vol 6, #38)


Welcome to the Skeptic Summary, a quick week-in-review guide to the Skeptic Friends Network and the rest of the skeptical world.



Forum Highlights:
6 year old in helium balloon - Hoax or not? We report, you wildly speculate.

Bill Maher opposes vaccines?! - Doctor or not, I never expected Senator Frist to correct anyone's medical opinion.

Have you been evolutionized? - Sounds like another hit for Hendrix.

TX jurors consult Bible deciding death penalty - Defendant forgiven for murder, sentenced to death for eating shellfish.

Editor's Choice: CNN fact-checks SNL - Slowest news day ever?

Kil's Evil Pick:
"Glenn Beck, Republican strategist," by Gabriel Winant and Tim Bella. From the article:

Something strange has happened to rank-and-file Republicans since President Obama took office. These past few months, standard-issue gray lawmakers have sounded like fire-and-brimstone demagogues. Conspiracy theories and over-the-top legislation to fix imaginary wrongs are flying wildly around formerly mainstream GOP circles.

It turns out that like so much of what ails the world today, this can be traced back to Glenn Beck. Some fifth-term Iowa senator might be railing against death panels, but it's really Beck's voice you're hearing. With his show on Fox News, Beck has successfully positioned himself as the weirdo right's ambassador-at-large to the rest of the world. When the patron saint of the Tea Parties lets his freak flag fly, seemingly normal right-wing functionaries have been known to line up and salute. Republicans parrot Beck's crackpot notions and pet issues routinely — sometimes running with his manias the morning after he first airs them…

So are otherwise mainstream Republican politicians taking their cues from Glenn Beck? Has the Republican party truly become a party of wing-nuts? What's going on here?
SkeptiQuote:

Convictions are more dangerous enemies of truth than lies.

— Friedrich Nietzsche

Chat Highlights:
Wednesday: Boron starts a graduate certificate program to qualify as a military space professional, and was off doing homework for much of the night. Meanwhile Kil was oddly idle, like father like son I suppose. But while they were there talk focused mostly on space flight and babies, specifically boron's and marf's. Also talked about were cat experiments, My Word! and MythBusters. The night ended with Halloween costumes and cliches.

Come chat with us.

New Members This Week:
eltheous

(Not a member? Become one today!)
---

Elsewhere in the World:
Chiropractors cause controversy

Humans not yet Perfect? There must be a god involved!

Live at Five! The 121st Skeptics' Circle

Singh wins leave to appeal

Skepticality #110 — Pop for Science!

What's New by Bob Park

When you dismiss every scientific study, you open the door to believe anything

Got some skeptic news items? Send them to us, and we'll think about adding them.

Book of the Week:
The Gathering of Infidels: A Hundred Years of the Rationalist Press Association, by Bill Cooke.





"In 1899, a small group of men under the leadership of Charles Albert Watts founded the Rationalist Press Association (RPA) in London. Its mission was, among other goals, to promote rationalism and secular education as well as to publish free-thought books at affordable prices. For more than a century the RPA has served as a bastion of reason in an often irrational world. Its honorary associates have included such twentieth-century luminaries as Albert Einstein, Sigmund Freud, J. B. S. Haldane, Julian Huxley, Somerset Maugham, Bertrand Russell, and H. G. Wells, as well as others.

THE GATHERING OF INFIDELS, the first history of the RPA, delves into its archives to tell a fascinating and illuminating story. Experienced freethought historian Bill Cooke discusses the association's achievements and ideas and profiles the key people involved in its development. At the same time, he does not shy away from its difficulties and controversies, offering a critical perspective that rationalists will certainly appreciate. He covers the historical background of the RPA's formation, the crucial role played by Charles Albert Watts, the association's enormous publishing successes, the vicissitudes of war and peace, and the evolution of rationalist ideas. The appendices include RPA-related bibliographic information as well as listings of its honorary associates, office holders, and conference topics and speakers.

This scholarly yet highly readable and witty history of the Rationalist Press Association will be welcomed by all who value reason as humanity's best hope for the future."

— Product Description
---

This Week's Most-Viewed Pages:
Forum Topics:

Articles:

There were 16,924 daily visitors this week.
---
More issues of the Skeptic Summary can be found in our archive.

The Skeptic Summary is produced by the staff of the Skeptic Friends Network, copyright 2008, all rights reserved.
---
Read or Add Comments about the Skeptic Summary
Back to Skeptic Summary