Skeptic Summary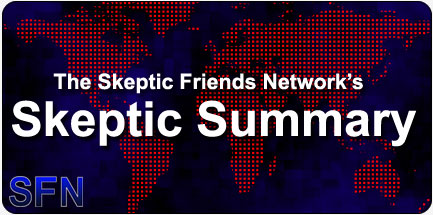 Skeptic Summary #132
By The Staff
Posted on: 3/3/2007

Jesus, predictions, smoke, flying saucers, psi-balls, parties and more!



Week ending March 3, 2007 (Vol 4, #9)


Welcome to the Skeptic Summary, a quick week-in-review guide to the Skeptic Friends Network and the rest of the skeptical world.

Forum Highlights:
Jesus' family tomb found? - Right next to blueprints for a perpetual motion machine!

A look back at 2006 - Time to see how well we did.

You may be a fundamentalist atheist if… - All smoke, no fire.

Editor's Choice: A flying saucer design - Speaking of perpetual motion machines…

From the Archives: Anyone seen 'psipog.net'? - If you drop a psi-ball on your foot, how much will it hurt?
Kil's Evil Pick:
AWOL this week, it seems.
This Week's Poll:
Party, party, party!
Chat Highlights:
Sunday: Southerners need to leard to drive carefully when it's snowy; activities in active threads; a tooth-fairy stole CDs; members' once in-a-lifetime sports deed; a good unit conversion tool (freeware); music and the importance of good lyrics; what makes a good singer?

Wednesday: The night started with talk of a possible joint chat in the upcoming future, and then went into political parties as the most recent poll went up. There was quite a bit of confusion as some members learned by experience that clicking "View Results" actually submits an anonymous vote. More computer talk lead Dave into telling a story on how much fun one may have with batch files and pretending to reformat the C: drive. Chat ended with some discussion on some of the more recent threads, as well as other skeptic forums.

Come chat with us.
New Members This Week:
Willow
klaudio
MrFancyPants
sharmarajgaurav
smoke
AbortedJesus

(Not a member? Become one today!)
---
Elsewhere in the World:
Bad Science

Fact or Fiction? Living People Outnumber the Dead

Scientists Say Enough to Right-Wing Manipulation of Their Work

What's New by Bob Park

Got some skeptic news items? Send them to us, and we'll think about adding them.
Book of the Week:
Field Notes from a Catastrophe: Man, Nature, and Climate Change, by Elizabeth Kolbert.





"On the burgeoning shelf of cautionary but occasionally alarmist books warning about the consequences of dramatic climate change, Kolbert's calmly persuasive reporting stands out for its sobering clarity. Expanding on a three-part series for the New Yorker, Kolbert (The Prophet of Love) lets facts rather than polemics tell the story: in essence, it's that Earth is now nearly as warm as it has been at any time in the last 420,000 years and is on the precipice of an unprecedented 'climate regime, one with which modern humans have had no prior experience.' An inexorable increase in the world's average temperature means that butterflies, which typically restrict themselves to well-defined climate zones, are now flitting where they've never been found before; that nearly every major glacier in the world is melting rapidly; and that the prescient Dutch are already preparing to let rising oceans reclaim some of their land. In her most pointed chapter, Kolbert chides the U.S. for refusing to sign on to the Kyoto Accord. In her most upbeat chapter, Kolbert singles out Burlington, Vt., for its impressive energy-saving campaign, which ought to be a model for the rest of the nation — just as this unbiased overview is a model for writing about an urgent environmental crisis."

— Publishers Weekly
---
This Week's Most-Viewed Pages:
Forum Topics:

Articles:

There were 5,148 daily visitors this week.
Last Month's Most-Viewed Pages:
Forum Topics:

Articles:

There were 20,530 daily visitors is February, 2007.
---
More issues of the Skeptic Summary can be found in our archive.

The Skeptic Summary is produced by the staff of the Skeptic Friends Network, copyright 2007, all rights reserved.
---
Read or Add Comments about the Skeptic Summary
Back to Skeptic Summary