Skeptic Summary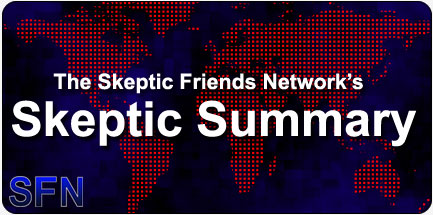 Skeptic Summary #168
By The Staff
Posted on: 12/1/2007

Info, Sunday, firing, faith, China, hoops, holidays and more!



Week ending December 1, 2007 (Vol 4, #45)


Welcome to the Skeptic Summary, a quick week-in-review guide to the Skeptic Friends Network and the rest of the skeptical world.

Forum Highlights:
Information - Wasting money and tying up valuable medical equipment for a moral issue.

Sunday schools for atheists and Sunday school - For some reason, atheists shouldn't teach their kids their values.

TEA science director forced to resign - More appropriately, she's been Expelled!

Editor's Choice: Taking science on faith - No matter how you slice it, this is a banging-head-on-desk exercise.

From the Archives: The Chinese like NASA buffoons - A breakballs (nee bigbrain) classic, in the days before sockpuppetry got you banned immediately…
Kil's Evil Pick:
Experience The Miracle Of Magic Hoop

What is MAGIC HOOP?

For the first time in the world, attached protrusions were added around the inner part of an exercise hoop. These 'Magic Fingers' provide acu-pressure, a slimming effect and a massage effect to the stomach and sides. Because Magic Hoop is two times heavier than a conventional exercise hoop, it is much more effective at burning fat. Magic Hoop provides a fast, fun, and slimming workout.

The Effect of Finger Pressure Therapy & Massage Effect

Magic Hoop's Finger stimulates and strengthens on the stomach and sides with its acupressure effects. You can experience 30,000 times finger massages for only 10 minutes workout. Germanium-added rubber attached inside of protrusions eases the contacts soft and help to prevent harsh stimulation on your body.

But wait, there's more!!

Prevention & Remedy Effect

Magic Hoop's optimal stimulation also strengthens intestines function, promotes blood circulation, and perfectly treats constipation and backache.

Stole this one from a thread at Skepticality. So sue me…
This Week's Poll:
Holidays 2007
SkeptiQuote:
There is no absolute knowledge.
And those who claim it, whether
they are scientists or
dogmatists, open the door to
all tragedy. All information
is imperfect. We have to treat
it with humility.
— Jacob Bronowski
Chat Highlights:
Sunday: Making good trades: one man's trash is another man's gold; nuclear power; government elections, three points of views: American, Australian and Swedish; what is yesteryear? Also: JEROME DA GNOME prolific at JREF forums; post count.

Wednesday: Rumors of a skeptically oriented online RPG game were spread around. Then an old friend of the SFN drops by after 10 years. He had apparently visited a month ago, but most people (including himself) forgot. There was talk of Dragon*Con and physics questions, which eventually led into jokes about the surface of the Sun and the magical "Z-axis." Also talked about were Web design and content management systems. After most people left, there was some staff talk, but I'm not allowed to write about any of that here.

Come chat with us.
New Members This Week:
No new members this week.

(Not a member? Become one today!)
---
Elsewhere in the World:
AIDS quackery in Africa, and nearer home

Americans United: 60 Years of Freedom

Cave Speak: Did Neandertals Talk?

Skepticality #066 — Virtue or Vice, Naughty or Nice? — Interview: Peter Sagal

What's New by Bob Park

Got some skeptic news items? Send them to us, and we'll think about adding them.
Book of the Week:
The Age of Everything: How Science Explores the Past, by Matthew Hedman.





"The age of some things is easy to determine. For instance, by looking at the Declaration of Independence, we can establish that the United States is 231 years old. With a little ingenuity we can decode elegantly carved symbols found deep in the rain forests of Central America and uncover stories from the Mayan civilization that flourished more than one thousand years ago. But before recorded history, determining the age of things becomes more challenging. Here, Matthew Hedman shows how scientists have determined the age of everything from the colonization of the New World over 13,000 years ago to the age of the universe, which is nearly fourteen billion years old.

Taking advantage of recent advances throughout the sciences, Hedman brings the distant past closer to us than it has ever been. He details, for example, how interdisciplinary studies of the Great Pyramids of Egypt can determine exactly when and how these incredible structures were built. He shows how the remains of humble trees can illuminate how the surface of the sun has changed over the past ten millennia. And he also explores how the origins of the earth, solar system, and universe are being discerned with help from rocks that fall from the sky, the light from distant stars, and even the static seen on television sets."

— Book Description
---
This Week's Most-Viewed Pages:
Forum Topics:

Articles:

There were 7,869 daily visitors this week.
Last Month's Most-Viewed Pages:
Forum Topics:

Articles:

There were 46,046 daily visitors in October.
---
More issues of the Skeptic Summary can be found in our archive.

The Skeptic Summary is produced by the staff of the Skeptic Friends Network, copyright 2007, all rights reserved.
---
Read or Add Comments about the Skeptic Summary
Back to Skeptic Summary